Hebrew Home at Riverdale is very clear about the rules when it comes to sexual relationships. Most importantly, you can have them.
The nursing home has a very explicit "sexual expression policy" that outlines resident's rights to physical as well as emotional intimacy. They are especially clear on the issue of consent, which becomes even trickier as age or infirmity limits communication for some:
This policy recognizes and supports the older adult's right to engage in sexual activity, so long as there is consent among those involved. Consent may be demonstrated by the words and/or affirmative actions of an older adult:

a) with intact decision-making ability; or b) with intact decision-making ability who is non-verbal; or c) with Alzheimer's disease or Dementia

The former may require, and the latter does require an assessment conducted by clinical staff, using the Home's "Assessing Consent to Sexual Activity" guidelines1, to confirm that consent was and continues to be given, and to insure the safety of those involved.
The New York Times reports that many facilities refuse to even acknowledge that anyone living within their walls has sexual relationships of any kind. They also cite the case of Henry Rayhons, who was charged with sexual abuse in 2015 after having sex with his wife who has Alzheimer's. He was eventually found not guilty, but a lack of policy leaves many people in limbo:
The case helped call attention to the lack of clear guidelines for many nursing homes; only a few, like the Hebrew Home, have any formal policy at all.

Dr. Cheryl Phillips, senior vice president for public policy and health services for LeadingAge, an industry group that represents more than 6,000 nonprofit elder-care service providers, including about 2,000 nursing homes, said sex would come up more often as baby boomers moved in. "They've been having sex — that's part of who they are — and just because they're moving into a nursing home doesn't mean they're going to stop having sex," she said.
G/O Media may get a commission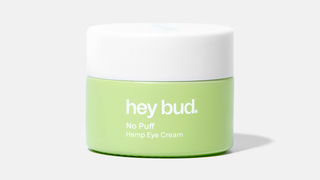 15% off
Hey Bud - No Puff Hemp Eye Cream
Saying it's okay for residents to pursue romantic relationships hasn't eliminated drama, and in some ways has increased it:
The dining room can be a land mine. Sometimes, one member of a couple will get jealous when the other pays attention to someone else. Other couples become too amorous, prompting calls to "keep it in your room."

Still, Eileen Dunnion, a registered nurse who has three couples on her floor, said she encouraged her patients to take a chance on a relationship, reminding them, "You get old, you don't get cold." A few years ago, she served as a lookout for a man who had two girlfriends. He never got caught. "I did my job well," Ms. Dunnion said. "Nurses wear many hats."
Hebrew Home seems to even go above and beyond running game with grandpa players. They've organize a prom and also run a dating service called G-Date, or Grandparent Date, setting up people from around the home. No one has found romance through the service yet, but they remain hopeful.
A resident named Francine Aboyoun met a man in another facility who she had a deep connection to, but who passed away this year. She says, "I think of him as my second husband... It was great and unexpected, and wonderful while it lasted."
---
Image via Flickr.