Unlike the stuffy, proper garments you see at movie star events, the dress code at music award shows is usually a little wacky, very risqué and a lot of fun. And last night at the 2013 Billboard Music Awards, instead of good, bad, and ugly, the style was more good, bad, and ass-hanging-out.
Let's start with the gentlemen. Keeping things very casual, like they don't even give a fuck: Roshan Fagan; Ed Sheeran; SkyBlu of LMFAO.
Trying a little harder: Psy; Will.i.am; Chris Brown.
G/O Media may get a commission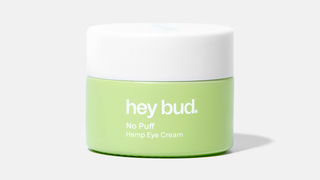 15% off
Hey Bud - No Puff Hemp Eye Cream
Downright dapper: NBA player Chandler Parsons; David Arquette. And then there's Mike Tyson, spreading a message of peace.
Cute, coordinating couples: Rosie and Sophia Grace are adorably age-appropriate and pretty in pink; Chad Kroeger and Avril Lavigne are hell-bent for leather; Wiz Khalifa and Amber Rose are both into black on black and big smiles.
Usually we save the best for last, but today we'll reserve the ass for last. And so, representing for The Good category: Taylor Swift. She often veers toward whites and neutrals, but short, glittery sapphire blue — with a bright pink lip — is great on her.
Also good: Miley Cyrus doing her best Harley Quinn. It's a jumpsuit, it's bedazzled, it's crocheted, it has zippers, it's weird and it's cool and I like it.
Karolina Kurkova wore dark, goth version of this gown at the Vanity Fair Oscar party, but it's a happy, bright poppy look for Selena Gomez. A teeny bit revealing, but just in a flirty way.
Good, but not terribly exciting: Hayden Panettiere in a flattering column; Jennifer Lopez doing her usual LOOK AT MY BODY™; Nicki Minaj in flowing Melisandre Red Priestess realness.
Pretty good, but almost meh: Kimberly Perry (of The Band Perry); Jennifer Nettles; Shania Twain.
On the fence about these: In junior high I would have loved the prommy Black Swan meets Toddlers & Tiaras gown Ariana Grande is rocking. Sheer, dotty slink actually looks great on Emmy Rossum; but we could do without Carly Rae Jepsen's navel and skirt-tails, no?
Let's move on to The Bad. Short, tight, black and gold: Shaun Robinson; Kacey Musgraves; Audrina Patridge.
The little black number on Rocsi Diaz seems a tad ill-fitting. Alyssa Milano's luxe tunic with one bare shoulder is great, but those sheer-leg trousers are hideous. Castle is fun and Stana Katic's thick thick hair is gorgeous but that jumpsuit is not doing good things for her feet, legs, crotch or sternum. Add a fedora and you're in gangster girl costume territory.
Sometimes The Ugly category is pretty exciting. For instance: Z Lala longs to be Gaga but comes off as an exploded Jiffy Pop package. Fly away. Poor Nayer seems confused about the weather forecast — gloves and a hood and a cuddle buddy, but no shirt? Hmm. As for Jenny McCarthy, someone needs to take away her scissors, STAT.
Last, but not least: The Asses. Ke$ha must have seen Gwyneth's hindquarters last month and felt a twinge of jealousy. It's aiight girl! We'll look at your glutes too, no problem. And isn't this rather subdued for Ke$ha? Is everything okay?
Finally, Jennifer Morrison decided that a bony bustier/sheer skirted-dress worn with satiny briefs would be a cheeky idea. She was right.
Images via Getty.