The obvious conflict between Katy Perry and Taylor Swift—which we can now confirm started as a dispute over tour dancers (oh god)—has been as glaring as a cyst sitting below the surface of your epidermis, completely visible to the public. Instead of guesses and subtle barbs, though, the drama is formally out in the open thanks to Perry and her nonstop promotional cycle for her new album Witness.

Some might consider this tension too petty to even warrant public feuding, or chalk it up to marketing tactics on both ends. Instead of communicating with their talking voices, Perry has kept her expressions subliminal yet undeniable on social media, while Swift disguised her displeasure in a highly popular song and titled it "Bad Blood." Career strategizing, public interest and maybe personal disappointment from both parties have brought us to this place.
One publicist, making a conventional observation, says Perry and Swift are playing into the idea of a feud and taking advantage of a rap marketing tradition—"The real story here is how the concept of hip-hop beefs have bled into mainstream America," the publicist wrote via email. "This type of stupidity only breeds record sales." In her ride-around with James Corden as part of his all-important Car Pool Karaoke segment, Perry said that what happens from hereon is up to Swift.
The best guess is that Taylor will take her time to respond in a manner that best aligns with her brand without alienating her fans. Like a Housewives storyline coming to a close, Perry said she's "ready for that B.S. to be done." Much of the beef is about image and branding. Are there any losers here from a PR standpoint? (As always, yes, it's me and all of us.)

G/O Media may get a commission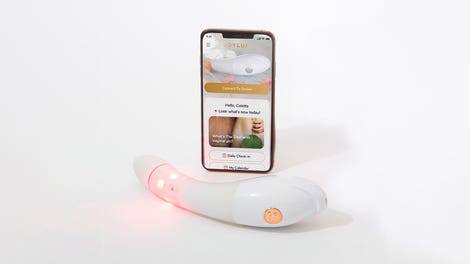 $50 Off
Joylux vFit Gold Device
Publicist #1 (Anonymous, Music PR):
"Katy, since she has an album coming out, has given the media extra meat to slap onto her story and some backstory as to why we should check out her new music. Taylor should sit tight and stay off the social media back and forth. She will only be promoting Perry's new tour. Taylor needs to book a big festival, surprise everyone with a response and call it a day. But no social media, please."
Publicist #2 (Anonymous, Film & Corporate PR):
"From my viewpoint, it seems that this feud is mutually beneficial for both pop stars but is currently in Katy's corner. Whenever the feud strikes up, it gets tons of coverage and helps whoever has the current single or whatever is being promoted. On Taylor's end, having her not speak out might seem diplomatic, but what has happened here is someone from Taylor's squad has started to speak ill of Katy on social media (this time Ruby Rose) and having someone else do your dirty work seems like a poor decision on Taylor's end. While she shouldn't speak up necessarily about the feud, staying silent leaves people who seem to be defending her out to dry, which is not a great PR move."
Publicist #3 (Music PR):

"If Taylor was my client, I would definitely advise her not to respond unless it is for a major opportunity i.e. the cover of Vanity Fair or V Magazine, but even then her response would be brief (4 sentences in a 4-page feature max). While both artists are A List, Katy definitely needs the PR more than Taylor because of her new album, but let's be clear Taylor is MEGA A LIST (Katy is just A List)! Plus, at the end of the day, the more Katy talks about it and Taylor remains silent, the more Katy looks like a bully and Taylor remains America's sweetheart, which is her #1 goal."
Publicist #4 (Anonymous, Music PR):
"Honestly can't stand Taylor Swift and her brand of selling out her friends, exes and anyone else she feels like using her power against. It's gross and alienating, and unlike other artists who will speak up and say [that they beef and actually stand up for something, she passive aggressively writes a song or posts a video with her 'real friends' and plays victim. I salute Katy Perry for calling her out, it's about time someone in their realm of celebrity does."