Nicki Minaj and Remy Ma used to be music-industry friends, but now they are sworn enemies. Over the weekend, Remy Ma released her excellent diss record, "ShETHER," a song that combines simple facts ("You wore a pink diamond chicken wing chain," she raps, citing one of Nicki's red carpet looks) with dozens of vicious, targeted allegations about Nicki's alleged ass implants, her alleged sexual relations with men in music (Trey Songz, Hot 97's Ebro) and her alleged financial situation. If you know anything about rap, then you know the mic is metaphorically in Nicki's hands now and that she must, on all accounts, respond. Or must she?

Ever since "ShETHER" dropped, Nicki's sole response has come via social media. On Instagram, she shared a post about Remy's comparatively low record sales, only to delete that post and share a photo of herself with Beyoncé, as if to say: You're beneath me. If you look closely, she's also favorited many, many negative tweets about Remy from other Twitter users. Is all of this petty and unnecessary? Absolutely. Is it entertaining? Yes, and the art of the battle remains an integral part of hip-hop, a chess match that establishes champions.
Remy has effectively challenged Nicki to rap better. And though an artist of Nicki's caliber doesn't need to square up, her reputation is on the line since it's unanimous that "ShETHER" destroyed her in terms of rapping. It's tough to ignore, especially when you have places like Bossip goading her with headlines like, "That's Cool, Butt: Nicki Minaj Puts Her Cakey Frame On Display, Where's The Remy Ma Response Tho?" 
There's a good chance ego will compel Nicki to do what every rap fan wants, which is to say something on record. But would a publicist advise this? Did Nicki already make the wrong move by heading to social media first? One publicist says, "She doesn't need to do anything else but rise above it." Another thinks, "It's not worth speaking out while you're in your feelings."
Publicist #1 (Anonymous, Music PR):
From an image point of view, Nicki has been vocal about attacks on her character in the past (Taylor and Miley) so she should stay on brand with being vocal. But her recent break up with Meek and his very public beef adds another layer of intensity. This is bringing more listeners to her music as this situation is a big topic of discussion. I would hope she seizes the moment to just promote whatever ventures she might be working on.

At the end of the day, her response will mark the rest of her career. Buying out some billboards in Times Square with a stark message; curating an entire playlist on Spotify, Apple music and Tidal with responses; buying all of Remy's physical CDs left in stores to trash them; surprising people at the iHeart music awards with a performance; merchandise with her stats compared to Remy similar to this sports infographic; a social media frenzy from her die hard fans hashtagging #whentheyreminisceoveryou.

Her response just needs to be outlandish and over the top... pulling Remy into an area where she has less reach will give her an edge. Her brand will survive though. The same way Ross, Meek and Jay-Z have survived to make more music.
G/O Media may get a commission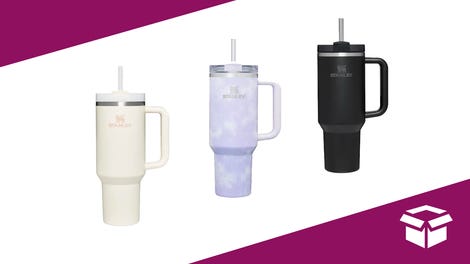 Up to 45% off
Stanley Cup Sale
Publicist #2 (Anonymous, Music PR):
The only way to respond would be a killer track filled with real facts, assuming that Nicki has any on Remy. It feels like lots of time has passed since "ShETHER" dropped already... No IG or Twitter comments, no interviews. Remy should not comment to the press about any of this either. I'm looking at this as a pure rap battle, which is not rated by the amount of endorsements that one has over the other.

If Meek Mill had hit Drake or had responded to Drake with some real fire, he would have come up on top, regardless of how many records Drake sold and how many top 40 singles he has. Reality is Meek didn't come with fire and he caught another major L in that situation. If Nicki is so comfortable in her position of top female MC (and I believe she is a good one, although I am not sure if she writes her own stuff) she should clap back with no fear. Her IG thing was just super predictable. What else? This is the rap game after all.
Publicist #3 (Anonymous, Music PR):
Remy set her up good to get a response. But I don't think she will; career-wise Nicki is such a bigger name that responding would be dragging herself down a few notches. She just lived through the Drake / Meek Mill beef that ultimately probably hurt their relationship—as Meek obviously wasn't ready for the onslaught that Drake unleashed and embarrassed her as well.

PR wise, leaving the drama alone is always the best bet, unless the artist or talent just really feels they have the upper hand and the person bringing the drama up is beneath their level of talent and they know the facts they share or raps they give will win. Nicki has been posting nonstop of some sexy collab with Future right now and she is LIVING. She doesn't need to do anything else but rise above it.
Publicist #4 (Anonymous, Film PR):
Nicki has to respond to "shETHER." Remy Ma went in on her from every single angle possible, period. She broke down Nicki's 360 deal, referenced Nick Cannon, Nick Nolte, Nick Jonas and Nickelodeon in one of the best diss tracks I've heard in a while. Nicki not responding and opting to post various pictures on her Instagram is only fueling the need for an actual response. It doesn't make her look unbothered, but only backs up Remy's claim "to be the Queen of Rap you gotta actually rap." People are waiting for a comeback and she should give it to them or take this loss.
Publicist #5 (Jonathan Hay, Celebrity PR):
Yes, of course Nicki Minaj should respond with a diss record and I think there's no doubt that she will. From a PR perspective, Nicki has nothing to lose here as she is a true battle rapper at heart and this will show her amazing skills as a true emcee. When I heard Remy Ma on "ShETHER," I'm sorry but all I heard was Papoose [Ed Note: Remy Ma's husband, a rapper]. It sounds to me like he probably ghostwrote the diss record for her. I think at the very least, it's obvious that he had some heavy involvement with the lyrics.

I do feel like the title "ShETHER" and the concept of flipping the classic record by Nas was brilliant. However, I think without question, Nicki Minaj is the greatest female rapper of all time. When Nicki Minaj drops her response record, I think she will absolutely crush Remy Ma completely. Remy can't touch her like that, not with Nicki's complicated rhyme schemes, cadences, lyrics, tone and delivery. She's not one-dimensional like Remy is either so I believe that she will also add some singing on it too... just to show off.

At this point, nobody can say that Nicki Minaj can't sing. She's the complete package and of course, incredibly beautiful. There's not one category that Remy has over her. As a hip-hop head, it's been amazing to see Remy Ma's comeback and everyone has to respect that... But she's nowhere near the caliber of artist that Nicki Minaj is. I believe that this is great for both of their careers and hip-hop culture in general."
Publicist #6 (Anonymous, Music PR):
I'd tell Nicki to not respond. The internet has a very short attention span and will forget about this whole thing very soon. It's not worth speaking out while you're in your feelings and further digging yourself into a hole and then not being able to get out of it. So like Issa Rae quite eloquently said, "Nicki, don't Meek this up."
Publicist #7 (Anonymous, Music PR):
I'm sure Nicki's publicity team is communicating the pros and cons. As a brand, she's under a tight microscope right now by all angles, and it's best to re-channel the energy into the priorities of her brand, especially in the music sector. I'm sure she's weighing all of this before she makes a move to respond in a strategic manner. Or the response may be what she is revealing in her social media feeds.