In one of the most cunning pieces of asshattery we've encountered in many a moon, two New York Times food writers set themselves the cutely novel challenge of preparing warring dinners for under $50.
Shrieks "judge," critic Frank Bruni:

Less than $8.50 a person for a full dinner? I didn't see how this budget allowed for much strutting, not even from home cooks as gifted and resourceful as these two kitchen goddesses. Have I mentioned the office seating arrangement?...They took different approaches, reflecting different personalities. Kim's meal was the brasher, spicier one. It shouted "fiesta," tugging us south of the border and encouraging us to eat with our hands. It declared that no budget was too tight for an adventure - a bounteous one at that...Julia's meal was more precise and controlled. Right after a tomato-cilantro soup, served in espresso cups, came an audaciously uncomplicated salad of escarole and nothing more. Correction: there was something more, not obvious to the eye but evident to the palate. Julia had coated her perfectly washed, perfectly crisped greens with a pitch-perfect anchovy dressing. It declared that sophistication didn't have to cost a lot. Kim brandished homemade tortillas for a main course of carnitas. Julia fired back with homemade gougères before a main course of bucatini.
As a general rule, I pride myself on not resorting to the verbal laziness of profanity, but that said: Fuck that shit.
Not only is $50 for six no challenge to a cook on a normal budget (see: any issue of Taste of Home), not only is such a "competition" an insult to those of us who adhere to such constraints, not only is the raillery of the contest precious and irritating, but, the menus are too intricate for the average working person to tackle. Not the point? Maybe not - but it's a further bit of alienation for those of us who cook as a daily necessity.
G/O Media may get a commission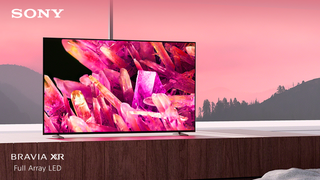 $400 off
Sony 55 Inch 4K Ultra HD TV X90K Series
No one's making a habit of this, but you want a menu? I got a menu for you. Easy, cheap, good, and real life-approved. (All serves 6-8 per challenge.)
Chicken with Smothered Potatoes:
(Adapted from Marion Cunningham)
T olive oil, extra-virgin
1 chicken, under 3 lb., butterflied
Salt and pepper, to taste
3 medium red onions, peeled and cut into quarters
8 new potatoes, cut into 1" chunks
1 T chopped fresh rosemary
2 large cloves garlic, finely chopped
1. Preheat oven to 425°.
2. Film a 9 x 13-inch baking dish with 1 T olive oil.
3. If you haven't bought a butterflied chicken: split chicken along the edge of its backbone with sharp knife. Then cut along other side of backbone and remove it. Remove fat pads from around breast and cavity.
4. Salt and pepper onions and potatoes.
5. Place potatoes in middle of baking dish.
6. Sprinkle with rosemary and garlic.
7. Flatten chicken out over potatoes.
8. Surround with onions.
9. Drizzle remaining 2 T olive oil over chicken and salt and pepper generously.
10. Roast for 45 - 50 min. or until chicken skin is nicely browned.
11. Pour off all liquid.
12. Serve hot or cold.
For vegetarians or vegans, I like this:
Root Vegetable Couscous
(From Nigella)
3 T olive oil
2 med. onions, quartered & sliced thickly
2 garlic cloves, minced
1 t each ground cinnamon, cumin & coriander
1/2 t paprika
generous pinch of saffron (if you have it around)
3 med. carrots, peeled & cut into a 1 inch dice
2 med. parsnips, peeled & cut into 1 inch dice
2 medium turnips, peeled & cut into a 1 inch dice
1 small kabocha or butternut squash, peeled & cut into a 1 inch dice
1/2 med. rutabaga, peeled & cut into a 1 inch dice
3 zucchini sliced 1/2 inch thick (you can peel if you like)
4 1/2 cut chicken, beef or vegetable stock
1/2 can (14.5 oz) diced tomatoes with liquid
2/3 c sultanas
1 1/2 c (14 oz each) chickpeas
salt
few drops chili oil or 1 t harissa if you have it
1/2 c pine nuts
4 c quick-cooking couscous
2 T butter
1. Heat the olive oil in a big, deep pot & turn the onions in it for a few minutes.
2. Add the garlic, cinnamon, cumin, coriander, paprika and saffron, and stir over low to medium heat for 5 minutes.
3. Add the carrots, parsnips, turnips, squash, rutabaga and zucchini and turn briskly.
4.After about 5 minutes add the stock, tomatoes, orange zest, sultanas and chickpeas. Turn again & try to get everything at least partially covered by the stock. Add more stock or water if needed. Season with salt.
5. Cook for 20-30 minutes, until the vegetables are tender but not mushy (at least not all of them - some will be beginning to fray around the edges, and that is good) and the liquid has formed a thin but not watery sauce.
6.Taste and chili oil or the harissa if you want it to have more punch.
Serve with couscous, pine nuts.
For dessert, this is good.
You'll be well under "budget." Although I can't vouch for the adventure quotient.
Old World With New Twists [New York Times]
A Mexican Feast With Artisanal Technique [New York Times]
Comrades at Arms: Two Food Writers in a Kitchen Smackdown [New York Times]