Early Friday morning, actor Asia Argento, who has become vocal within the #MeToo movement after detailing her own experience being assaulted by Harvey Weinstein in 1997, tweeted extensively about her her time working with the film director Catherine Breillat.
Breillat is a renowned French filmmaker whose deliberately graphic, controversial movies like A Real Young Girl and Fat Girl often focus on female sexuality and violence against women. She directed Argento in her 2007 movie The Last Mistress and the actor writes in her thread that Breillat "took extreme pleasure on humiliating both her actors and crew during the shoot."
In addition to allegations of Breillat humiliating actors on set, Argento also cites an incident in with the director did not correctly end a scene in which Argento was strangling another actor. "During the scene she wouldn't call CUT , so the main actor almost fainted and he took it on me," she writes. "We got in a 'fist fight' while Breillat sneered in the back."
Argento's comments are particularly striking because they allege on-set abuse and harassment at the hands of a female director, while the discussion of incidents like this in the past few months have largely concerned the actions of male directors, producers, actors, and more. You can read Argento's tweets in full here.
G/O Media may get a commission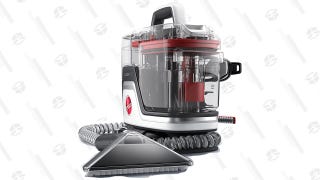 Save $10
Hoover CleanSlate Plus Carpet & Upholstery Cleaner
The tweet thread comes after Breillat gave an interview on the Murmur podcast, during which she calls Argento a "mercenary and a traitor." The episode, which was previously tweeted about, now seems to have been removed, with the page going to a dead link, but the site IndieWire transcribed most of her comments. Breillat says:
For Asia, it was obviously, let's say, motivated by self-interest — it was a kind of semi-prostitution. Harvey Weinstein's not the worst man there is; he's not the most stupid, either. Asia may have been disappointed that she didn't become a great Hollywood actress she might have been, but there were lots of other things: drugs, many other things. She feels bitter. Because bitterness, too, can lead people to denounce if you wanted to obtain something and you didn't obtain it, if you feel humiliated. Quite honestly, I don't like Asia. I think she's a mercenary and a traitor.
Breillat also spoke at length about the #MeToo movement and France's #BalanceTonPorc movement ("rat out your pig"), arguing that women can't conflate verbal and physical violence and that women who go to a man's hotel room when they're 25 or 30 "know the game." "Women shouldn't present themselves as bimbos or innocent young things regardless of their age," she said. "Rather, we have to educate young girls so that they're better equipped to defend themselves and so they don't feel soiled just because someone said something to them."
Breillat's comments echo those that Catherine Deneuve, Catherine Millet, and several other French women made in a letter to the newspaper Le Monde in January, critizing the #MeToo movement for being a witchhunt. Argento ended her thread by tweeting:
Jezebel has reached out to Murmur and will update this post when they respond.