Cheating website Ashley Madison said on Friday that it will pay $11.2 million to settle a class action lawsuit brought by 37 million U.S. users whose personal information was leaked in July of 2015.
According to CNBC, violated users can get up to $3,500 depending on "how well they can document their losses attributable to the breach." I like to imagine a gaggle of men tearfully typing up these documents at their local libraries, bindles propped agains the book-drop. What percentage of one's dignity can be purchased with $3,500? Not much, I'd say.

The breach cost parent company Ruby Corp—formerly Avid Life Media—more than a quarter of its revenue, in addition to the requirement that it spend millions improving its security. Ruby also said it no longer uses "fembots"—fake computer-generated women designed to lure men into their pixelated clutches.
Ruby wouldn't admit wrongdoing, but according to the deal filed in St. Louis federal court, will make payouts to those who used the site before July 20, 2015, when the company confirmed that the names and personal preferences of the site's users would be published unless Ashley Madison was shut down.
Regardless of all this, the website has reportedly added several million users since the hack, which is completely insane.
G/O Media may get a commission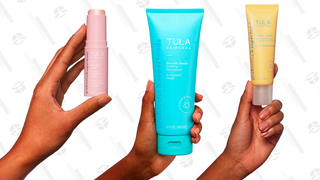 [CNBC/Wall Street Journal]
---
Mischa Barton appeared on The View with her attorney, Lisa Bloom, to discuss Barton's revenge porn ordeal, in which her ex and a friend allegedly tried to sell compromising footage of the actress for $500,000.

Barton described her relationship as "a bit of a whirlwind," but was forced to end it when she realized that her boyfriend, Jon Zacharias, had ulterior motives for dating her—and that he'd been secretly filming her with multiple cameras without her knowledge.
"I was shocked, I couldn't believe it, I didn't want to believe it, I didn't think that anybody would ever do this to somebody. Why would you want to do something like that?" she said. "When I found out that he was bragging about it, I was devastated to learn that it was most likely true."

She said she's not sure what motivated either man to do something like this, but surmises it was for "personal motivation and financial gain." Lawyers for both men insisted they were innocent.
"It's a tough deal," Caitlyn Jenner added, helpfully."We've had to deal with this, obviously in our family. Rob was stupid for doing that. He kind of apologized," she said, referring to Rob's now infamous Instagram rampage.

Bloom, who is representing both Blac Chyna and Barton, said that though the cases are different (Chyna knew when she was being photographed; Barton did not), anyone can get a domestic violence restraining order to prevent their private images from being released. Good to know!
[The View]
---
Here's Beyoncé a mere month after she evacuated two human beings from her body.

I bet her stomach is already as taut as a piece of plastic wrap stretched over a plate of leftovers. I hate her.
---