Devar Hurd, the man who stalked Ashanti, has been sentenced to up to four years in prison for incessantly threatening and sexually harassing the singer on social media.
Hurd, who defended himself in a Manhattan court during the proceedings, then demanded leniency (i.e., "no jail time") for doing so, arguing that if the NYPD officer who gunned down Akai Gurley in a stairwell was given a lenient sentence, then so should Hurd.
Nope, I'm not seething over his delusional sense of entitlement at all.
As Page Six reported:
"Ashanti's deranged stalker bizarrely compared his case to that of ex-cop Peter Liang ​in a bid for no jail time for sending the R&B singer sexually explicit tweets​ –​ but ​a Manhattan ​judge was unswayed and meted out the max of 1 1/3 to 4 years​ behind bars​.
​Devar ​Hurd, 37, ​argued before Justice Kirke Bartley Jr. that ​because ​the former officer, convicted of manslaughter for shooting an unarmed man in the stairwell of a Brooklyn housing project, might not have to serve a day behind bars​, neither should he​."
Hurd then stated that "a man's life was taken during the course of that situation and the DA, the head DA recommended no jail time, and here I am in Manhattan Supreme Court, and I didn't do none of that."​
"I didn't so much as threaten anyone, didn't so much as throw a pebble​,​"​ Hurd added.
G/O Media may get a commission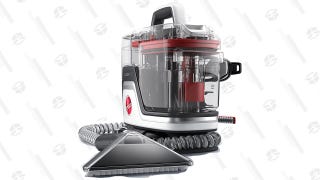 Save $10
Hoover CleanSlate Plus Carpet & Upholstery Cleaner
Carolina Holderness, the prosecutor in the case, saw things a bit differently.
"He has been told repeatedly by courts to leave these people alone and repeatedly disregards the court orders," she said as she argued for the maximum sentence the court could allow.
Hurd has appeared in court a total of three times for stalking the famous R&B performer, who was repeatedly forced to face her harasser as he defended himself on the stand. As Page Six further noted:
"A Manhattan jury convicted the indomitable fan earlier this month of felony stalking for bombarding Ashanti with vulgar tweets in violation of an order of protection.

This was Hurd's third trial for the same crime ​– and the third time Ashanti Douglas, 35, was dragged into court to testify against him.

Hurd, who represented himself, seemed to delight in pelting Ashanti with embarrassing question after question.

The fed-up songstress told Hurd she wanted him out of her life.

'You continuously tweeted over and over again disgusting, derogatory things to me,' she seethed. 'I just wish you would stop.'"
Hurd's defense? If former U.S. representative Anthony Weiner—who sent dick pics to his mistress—could do it, so could he.
Yes, the man once known as "Carlos Danger" is now our barometer of moral fortitude. Is it just me, or is there a pattern here, no?
"I didn't even send no nude pics," Hurd insisted. "I just talked some sexually explicit stuff from time to time. Why didn't he [Weiner] get arrested for doing the same stuff?"
Great thing we've set the bar so high, guys. Great. Thing.
Oh, also this: "the relentless fan [Hurd] was convicted in 2009 of stalking and harassment for sending crotch-shots to Ashanti's mom."

And the Lovely Human Award goes to...
---
Contact the author at jamie.reich@jezebel.com.

Image via Getty.