Gary Giordano (pictured, left) is being held in Aruba in connection with the disappearance of his traveling companion Robyn Gardner. Yesterday, we learned that he'd taken out a $1.5 million insurance policy on her prior to her death. Now it turns out that he may have had a camera containing nude pictures of her — pictures one source described as "beyond pornographic."
According to the Washington Post, Aruban Solicitor General Taco Stein (all right, yes, that is his name) says a search of the hotel room Gardner and Giordano shared revealed a camera with the photos on it: "We have a camera that's been confiscated. We surmise it's his camera but there's not yet a definite point of view on that. And there are explicit pictures on that camera."
Stein wouldn't tell the Washington Post any more about the pictures, but the New York Post claims they're "beyond pornographic." I'm not sure what that even means, but it does appear to answer the question of what kind of relationship Giordano and Gardner had. Gardner's roommate had previously described them as friends, and Gardner had an on-again-off-again boyfriend back home, but the pictures certainly imply a sexual relationship with Giordano. The Aruban police haven't said as much, nor have they commented on report that a rock bearing a handprint blood has been discovered. For now, they're still holding Giordano for questioning, and Gardner's whereabouts remain unknown.
G/O Media may get a commission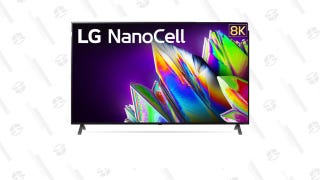 LG 75-Inch 8K TV
Authorities Probe Insurance Policy In Robyn Gardner Case [Washington Post]
Pal Had XXX Pix Of Aruba Gal [NY Post]