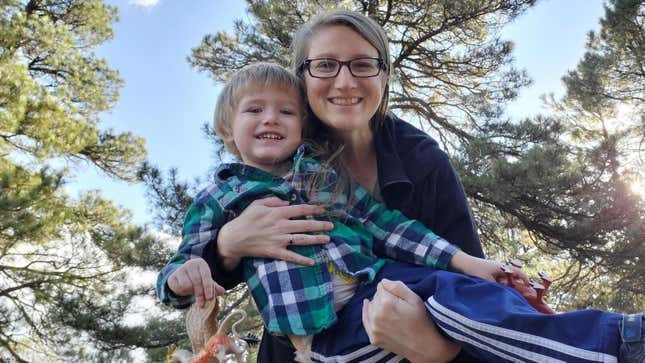 In 2019, Lindsay Ridgell was told she was a negligent mother because she used medical marijuana, which she'd been prescribed for a decade, during her pregnancy. Her difficult pregnancy was made worse by hyperemesis gravidarum, a condition that causes "extreme, persistent nausea and vomiting," according to the Cleveland Clinic. Ridgell used medical marijuana during her pregnancy, as she had for the past 10 years, to help alleviate those symptoms.
Activist Explains Self-Managed Abortions in Congressional Hearing
Arizona legalized medical marijuana more than a decade ago and legalized recreational use in 2021. Still, less than a month after her son's birth, Ridgell lost her job with Arizona's Department of Child Safety (DCS) and was put on the state's central registry for child abuse. The baby had briefly stopped breathing; the doctor called a code, and he was resuscitated. Medical staff ran a battery of tests, and he tested positive for marijuana.
Ridgell's son turned out to be OK: One week after the birth, and after a stint in NICU, he was discharged from the hospital. The doctors said he shouldn't have "lasting symptoms," Ridgell told Jezebel. But this didn't seem to matter to Arizona's child welfare system, which placed Ridgell on the state's child abuse blacklist.
Ridgell fought back, taking the agency to court multiple times. "I was on edge," she told me by phone. "Every couple of months, every year, I would get bad news, but we would appeal."
Ridgell appealed the finding to the administrative court, and the judge sided with her—but DCS took the case to county court, which agreed with the agency. Finally last week, after a few back and forth battles, she got her life back: The Arizona Supreme Court rejected DCS's petition for review, and a lower court's ruling in favor of Ridgell stands.
"She's been terrorized by this agency for four years. It was a constant threat. Her income has been cut drastically," Ridgell's attorneyJulie Gunnigle, who is also the legal director for marijuana advocacy organization Arizona NORML, told Jezebel after the decision. "She's elated. It's going to mean so much for her family."
Because of the stigma surrounding marijuana, Ridgell had never told anyone at the office about her medical marijuana card. Instead, she spent several months of her pregnancy puking, unable to keep food down. "I tried to stop [using medical marijuana] a few times, but I was never able to. I would get really sick," she told Jezebel. "I was nauseous all the time. I could barely hold anything down."
Ridgell was hospitalized twice—first in November 2018, when a doctor diagnosed her with hyperemesis gravidarum. The appellate court's opinion described what happened next:
Ridgell renewed her medical marijuana card in late December 2018, telling the certifying doctor that she was pregnant. The certifying doctor, Kim Muhammad, identified "chronic nausea [due to] slow gastric emptying" as Ridgell's "debilitating medical condition." As A.R.S. § 13–3620 [state child abuse reporting statute] required, she warned Ridgell that marijuana use during pregnancy might risk being reported to the Department during pregnancy or at the birth by persons who are required to report. Dr. Muhammad then certified that "in [my] professional opinion [I] believe that the qualifying patient is likely to receive therapeutic or palliative benefit from ... the use of marijuana to treat or alleviate the qualifying patient's debilitating medical condition."
While pregnant, Ridgell was working with DCS doing in-home case management, helping families in need of intensive services to help keep their children in the home. "I wanted to be a good person in a system that I heard so much bad things about," she told Jezebel. But after she gave birth, DCS was suddenly demanding she take part in those same in-home services from the other side. (Jezebel has reached out to DCS for comment on the lawsuit, but has not heard back as of publication time.)

Ridgell has joined a number of criminalized pregnant people around the country who were targeted because of their cannabis use. There is some murkiness around the issue: Pregnancy Justice, an advocacy organization for reproductive justice, found "no scientific basis" that in-utero exposure to marijuana necessarily causes a fetus harm; conversely, American College of Obstetricians and Gynecologists expressly advises against marijuana use during pregnancy. But criminalization does mean people are less open with their healthcare providers at a critical time.
The appellate court found that while Ridgell did not expressly disclose her cannabis use during pregnancy to her emergency-room physicians and OB-GYN, she was still a medical marijuana patient. "Under [Arizona Medical Marijuana Act], a 'qualifying patient' is presumed to be 'engaged in the medical use of marijuana' if the patient possesses a medical marijuana registration card and an allowable amount of marijuana," the court wrote, adding later in the opinion that "whether any of Ridgell's other doctors knew she was taking medical marijuana for her chronic nausea—and any dispute about that fact—is irrelevant."
Of course, during the court battles, Ridgell's job prospects took a hit. A different decision at a different court could mean she remains on the child abuse blacklist used to do background investigations on employees in her field, so she was forced to make a change. She eventually moved cities and changed careers, starting a new job in medical billing. But the biggest takeaway from the last four years, she said, is how "terrified" she is to get pregnant again. "Along with the terrible experience of being pregnant, I don't want another lawsuit," she told me.
Ridgell doesn't plan to stop using medical marijuana, which has greatly improved her quality of life. She's glad she decided to fight the system. She has a new job working with children at a community mental health center now, and she says her dinosaur-obsessed son—whose 4th birthday is only a few months away—is thriving.