After an investigation substantiated accusations of harassment from seven women, the Arizona House nearly unanimously voted to expel Rep. Don Shooter (that's his name, folks) from office for "dishonorable behavior," the Arizona Republic reports. He is apparently the first state lawmaker of the #MeToo era to be removed from office outright after misconduct allegations.
Shooter asked for the investigation after Republican state Rep. Michelle Ugenti-Rita, pictured in the foreground above, publicly accused him of sexual harassment; the Washington Post reported earlier this month that he initially apologized and then withdrew the apology, promptly accusing her of having an affair with a legislative staffer. Prior to his expulsion on Thursday he vaguely acknowledged his misdeeds and then dropped his mic on the table.
"I say stupid things and do stupid things I guess," he said. "And I stood up, I apologized to those that I hurt that were legitimate. I can't change the past, but I can change the future if I'm given the opportunity."
G/O Media may get a commission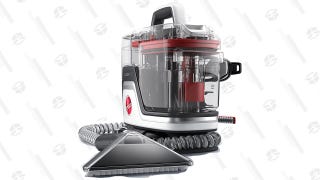 Save $10
Hoover CleanSlate Plus Carpet & Upholstery Cleaner
"There was an incident where he came to my office during the day and asked about my chest," Ugenti-Rita told a local news station in November, alleging that the harassment had gone on for years. "At a conference, he came to my room uninvited with a six-pack of beer. I never answered the door." Lobbyist Amy Love reportedly told investigators that Shooter "grabbed his entire crotch" and "shook it" at her during a meeting in his office, while Arizona Rep. Wenona Benally tweeted that Rep. Shooter had "repeatedly referred to his genitalia as a gun."
"I pleaded with Mr. Shooter to resign, to not force this vote. He would not back down," House Speaker J.D. Mesnard said.
The Republic reports that House leadership had initially proposed censuring Shooter before he sent a letter disputing the results of the investigation that amounted to what Mesnard called "a clear act of retaliation and intimidation, and yet another violation of the House's harassment policy."
Before House members voted 56-3 in favor of his expulsion, however, Shooter evidently took the opportunity to roam around the building scaring his colleagues. From the Republic:
Even before the vote, tensions escalated inside the House building.

Mesnard said Shooter alarmed some colleagues as he walked the halls, popping into offices and saying, "It's a great day for a hanging."

That led Mesnard, accompanied by law enforcement, to go to Shooter's office and remove a handgun along with a second object, described as a display gun. Shooter voluntarily handed over the firearm, Mesnard said.

"I asked for it, he gave it up," Mesnard said. "People weren't feeling safe."
Sounds like someone ought to look into changing his name. Dick-Shaker, possibly? Don Dick-Shaker? Sounds okay to me.