The wait is over, and Ariana Grande's music video for "thank u, next," the song that collectively soothed our hearts after her split with tall person Pete Davidson, is here.
As promised in several teasers, the video is an homage to millennial teen staples of yore: Mean Girls, Bring It On, Legally Blonde, and 13 Going on 30. Ariana wears many wigs, glues pictures of exes into her burn book, goes to law school, and much more.
In the beginning, Ariana assumes the role of Regina George. Here she is, sulking in bed and showing off her very nice French manicure. This is the first but not the last time in this video in which I think, Ariana looks good with blonde hair. A note from me to her.
Here she is with her burn book...

G/O Media may get a commission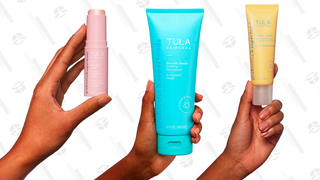 ...And a heartfelt note to Pete. "Sry I dipped."
And to Big Sean: "Could still get it" (👀).

Aaron Samuels is there, which is nice.
And Lindsay Lohan is not. But this girl gives it a good try!
The girls do the Christmas dance, and briefly squabble onstage, much like in the real Mean Girls.
"You're doing great, sweetie!" —Kris Jenner, probably.
Then there's a hat tip one of the scenes in Bring It On with the most sexual tension, and also a reminder to practice good dental hygiene:
Ariana receives a sweet gift from a secret admirer.

Bring! It! On!
So these were the cool girls in school.

Ariana shows off her excellent fake crying skills, and a new haircut, which I don't hate on her?? Consider it.

They'll let anyone into law school these days.
Still in Legally Blonde world, Ariana gets her nails done.
More fake crying.
Like getting over your boyfriend, law school is hard, but Ariana is no stranger to putting in the work and hitting the books. (Some men play football in the background? Or tag? Not sure.)
There's some dancing. There's some bending and snapping.
Gonna need that top immediately.
We're all in this together. Cute. Thank u, later!
I mean, thank u, next.