Donald Trump's candidacy has divided more than a few communities, but most inevitably, perhaps, it is dividing the third-graders of Powers-Ginsburg Elementary School, with whom he shares a reading level and emotional intelligence capacity.
ABC 30 reports that 9-year-old Logan Autry of Fresno, California, caused a stir amongst his classmates when he started wearing a "Make America Great Again" hat to school every day, which he acquired last month when he skipped school (natch!) to attend a Trump rally.
"It's my favorite hat," Logan told CBS 6 on Friday. "The First Amendment says I can wear my hat."
"The vice principal came up to me and told me to take my hat off because it brings negative attention from other students. And I said no a few times and then the principal told me again and I still said no and refused," Logan told ABC 30. Students had reportedly begun confronting him at recess, where Logan likes to practice speeches about Trump.
"I've told them his policies on illegal immigration, and our second amendment, and our first amendment and all of our amendments that need to be protected which are not going to be an amendment at all if Hillary Clinton or Bernie Sanders gets elected," the third-grader said to ABC 30, in a statement whose pointed dearth of logic feels very much in line with the ideals of his chosen party and candidate. "He supports Trump even at his age," Logan's uncle said, adding, "He knows a lot about politics."
G/O Media may get a commission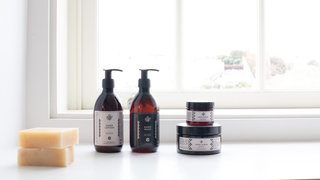 Exfoliate and Hydrate
The Handmade Soap Company
The Washington Post notes that many of Logan's pissed-off classmates are minority students, a group whom the Southern Poverty Law Center has reported are exhibiting "an alarming level" of fear and anxiety about a potential Trump candidacy. "When he said he was going to deport Mexicans, I was like, what's going to happen to my mom?" 15-year-old Vanessa Barfield told the Fresno Bee.
A statement released by the district reads:
Our job as educators is to facilitate a safe learning environment where we encourage robust conversations of diverse and thoughts.

We are proud that in this case, our school achieved that goal by allowing the student to wear his hat for several days.

However, it is also our responsibility to take precautions when the discourse begins to impact our school climate and interrupt school operations.
As Fox News points out, however, this specific hat is no longer an issue, as Logan's dog "ripped it apart" while Logan was swimming.
Sad!