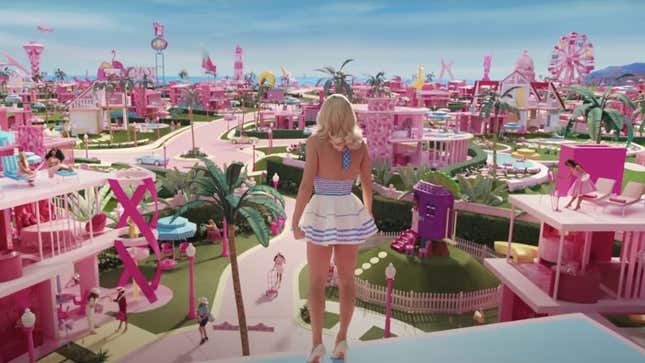 We're almost a month away from the cinematic event of the millennium, Barbie, releasing in theaters. For the last year, we've been gradually trained for the experience with leaked BTS photos, posters, DIY Instagram memes, limited trailers, full trailers, and cast interviews. Now that we're so close, the press cycle has ramped up to full throttle—and on Friday afternoon, Architectural Digest released a video tour of Barbie's Dreamhouse.
Last month, the outlet provided us with still photos, but as the kids say, that wasn't enough. I need to actually stick my grimy fingers in all the crevices of this hot pink wonderland. In lieu of that complete immersive experience, Margot Robbie's tour of the movie's set will have to satisfy our Barbie cravings until the next bit of content is doled out.
"There is no water in Barbie Land. There is no water or fire, there are no elements" Robbie explains about her character's non-functional home as she stands atop the painted pool water. The attention to detail is sort of astounding, from the decal food images stuck on the inside of the refrigerator to the supersize murals of the horizon that Barbie stares out at to greet the day.
"This is the product of so many discussions and references, and I can't even tell you the meetings we had about pink," director Greta Gerwig explains. "We sat with all these kinds of pinks, and we were like, 'what is the pink' and 'how do the pinks interact?' Because we didn't want it to be so classy...because when I was a little girl I liked the pinkest brightest things." The movie actually used so much pink paint in its production that it led to a global shortage.
If I may sidestep the think pieces being loaded into the content cannon over the feminist value of this movie, I'd like to just say that it's gratifying hearing such in-depth design talk about bringing Barbie to life. Gerwig discussing the need to have the set and costume design look something a child would want to rip out of its packaging feels super affirming to the overeager child I once was, roaming the aisles at Toys R' Us.
It's clear how seriously Gerwig and her crew are thinking about how young girls actually played (and continue to play) with Barbie, and I imagine it's going to add a really satisfying element to the very fun-looking film. Barbie, I'm ready to party.