Welcome back to our biweekly review of subscription beauty boxes. Which ones are worth it? Which ones are full of junk? Reader Brandi Kirchgessner guides us through this world of mystery treats. Here's what she's received recently.

Today is my birthday! It's my favorite day of the year. Because of this, I might not be quite as active in the comments today, but I will reply eventually!
First, a correction. In my last column, I wrote about my experience using the Mizon Water Volume Aqua Gel Cream to shave my legs. When I got it, I assumed it was a moisturizer. I wasn't entirely sure, though, so I read the card that came in the Beauteque bag. The card said, "to use: Apply shaving cream on skin, then use razor to shave off hair." It turns out that it is not really shaving cream. Someone at Beauteque must have somehow copied and pasted the instructions for the razor in the section for the Mizon cream. It is, in fact, a moisturizer, as reader Jojonana kindly pointed out. It works much better as a moisturizer than it did as a shaving cream!
Ipsy, $10 per month (also ships to Canada for $4.95 more per month)

G/O Media may get a commission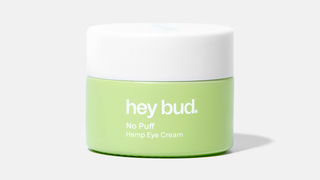 15% off
Hey Bud - No Puff Hemp Eye Cream
April was a solid month for Ipsy. I thought this month's bag, which is the colorful straw thing the products are on in the picture above, was really cute. Last month's bag was a monstrosity, so this was a nice surprise.
Here's what we got:
I had to estimate the size of the lipstick, so I am not totally sure of the value of it. It was a big sample but didn't look to be quite full size. If my estimate is correct, my April Ipsy is worth $31.14.
I was excited to try the Olive Lips lip balm. It was very moisturizing and I loved how it felt on my lips, but I really did not like the Oats and Honey smell. That's a problem because it goes right below my nose.

I didn't have high expectations for a $4 nail polish from a company I had never heard of. When I gave it a try, though, I was blown away. It had perfect coverage after one coat. I didn't even consider putting a second coat on. I often have to use multiple coats to get good coverage with my Ciaté, OPI, Essie, Formula X, Nails Inc, and Zoya polishes and those cost two to four times the price of this Julie G nail polish. The color wasn't my favorite, but the formula was great, so I thought this brand was a nice discovery.
Crown Brush makes some good quality, affordable makeup brushes. I was introduced to the company by Ipsy last summer, and have since bought quite a few of their brushes. Makeup brushes can be very expensive, so I was ecstatic to find inexpensive ones that weren't cheaply made and shedding synthetic hairs all over the place.
The Gallany lipstick sample was generously sized. The color looks darker in the tube, almost brick reddish, but it goes on more like a slightly brownish pink. The color was too similar to my lip color, so I probably won't use it all that often. It's supposed to be hydrating and contains lilac, edelweiss, and hyaluronic acid, according to the Gallany website. It was creamy and went on smoothly. This is a good quality lipstick, but the color just isn't for me.
People seem to either love or hate theBalm. Their packaging is a little silly, but I think it is generally pretty cute and I like the magnetic closure. The eyeshadow I got, Flirty, is a full size individual eyeshadow, but it's only available for sale in the Nude Dude palette. This isn't my favorite color, but it had good pigment and staying power. There was some fall out, but nothing excessive.
I'm happy with my Ipsy bag this month. Although the colors of three items and the scent of one weren't my favorite, I discovered some high quality products from companies I wasn't familiar with. Discovery of new products and companies is what beauty boxes are all about, so I count this as a win. And, I have to say, finding cheap nail polish that needed only one coat was awesome!
Kloverbox, $25 per month (US only)
This is my first month getting Kloverbox. They include only natural, organic, and cruelty-free items. It is not vegan. Besides beauty products, they also send food and household items. I really like that they feature products from small businesses instead of megacorportions.
Here's what was in my first Kloverbox:
The April Kloverbox is worth $55.48, a little more than double the price I paid.
I got the buttered oats in the original flavor, but other subscribers got different flavors. The original flavor is supposed to be reminiscent of French toast. I found it to have a bit of a French toast taste to it. It was okay, not my favorite.
Kloverbox advertised in the spoilers that this month would have a citrus theme, so I wasn't surprised to see a citrus candle in here. It's a soy candle and it has a 20 hour burn time. The smell is grapefruity, which I really liked. When I burned it, the smell was subtle, but it was nice. I don't really like candles with completely overpowering smells, so this one was perfect for me.
The spoiler Kloverbox released showing the lotion bar is what really convinced me to subscribe. I had never tried a solid lotion bar before and never knew they even existed. It is almost too pretty to use. I don't want to mess up the flower part, so I've been using the back end of it. I used it wrong at first because I didn't read the information that came with it. I put way too much on and my hands felt greasy and gross, so I didn't like it. Then I read that you need to use way less of this than traditional lotion and usually one swipe of the bar against the area you are trying to moisturize is sufficient. It worked much better when I used less. It absorbed quickly, made my hands feel great, and smelled citrusy. It has a beeswax base.
Although I'm getting a little tired of getting lavender scented things in my beauty boxes, I was happy to see the foaming hand soap. I love foaming hand soap, but it's just about impossible to find foaming hand soap that isn't antibacterial, so I was elated to discover this brand. Other subscribers got different scents. I liked getting hand soap in a beauty box. It's a little different.
I've heard a lot of good stuff about coffee scrubs, but I had never tried one myself. I finally got one in a subscription box! Besides coffee, it contains Himalayan sea salt, avocado oil, and cinnamon oil. I don't drink coffee, but I've always liked the smell of it, so I really enjoyed this. The company that makes this, Real Beauty for a Cause, claims that this can help with cellulite when used regularly. Whether it does that or not, I can't tell you as I haven't used it long enough, but it felt exfoliating and smelled great. The oils in it also moisturized my skin. It was a little hard to rinse all of it off, but that wasn't a big deal.
I am in love with Kloverbox. Everything in this box was amazing and I can't wait to see what they have in store for us next month. It definitely beats Boxycharm, the box it replaced. Besides loving the products themselves, I like that they choose natural, organic products without harmful ingredients and that they support small businesses. The fact that it isn't strictly beauty is also nice.
Petit Vour, $15 per month (also ships to Canada for $23 per month)
This is my second month getting Petit Vour. As you may remember from last month, Petit Vour is a vegan and cruelty-free beauty box. This was an okay month for Petit Vour, but they really failed to wow me for the second month in a row and one of their products angered me (more on that below).
This month's Petit Vour included:
This month's Petit Vour is worth $37.82 — not a bad value for a $15 box.
I've had konjac sponges before and love them. They're made from an Asian tuber and are supposed to be great for your skin. The konjac is often mixed with other things like the French green clay in this one. Green clay is good for combination and oily skin, so I was very happy to get that one for my oily T-zone. Besides clay, activated charcoal (good for acne), pink sea clay (good for damaged skin), and red clay (good for dry skin) are common types of konjac sponges. After removing your makeup, you use the sponge to wash your face. You don't even need to use soap with it. It's gently exfoliating and feels great on your skin. When you open it, it's a hard little puff, but it becomes very soft and porous when wet. If you have skin problems (and who doesn't?), I highly recommend them. This was my favorite thing in this month's Petit Vour.
The Lauren B nail polish is "5-free" — meaning it does not contain dibutyl phthalate,
formaldehyde, toluene, camphor and formaldehyde resin. I got a very pale green color, which I didn't like so much. Green is my least favorite color. Other subscribers got different colors, so I'm a little jealous. When I opened the bottle, it had a very strong nail polish smell, which surprised me. It is a nice formula and I got pretty good coverage with one coat. It definitely requires a second coat to make it look perfect, but the first coat was impressive. The coverage was not as good as the $4 Julie G perfume I got from Ipsy, but the Julie G is not 5-free, so if that's important to you, Lauren B is a good choice.
The Suntegrity 5-in-1 sunscreen is tinted and is also a BB cream. It came with a little pamphlet with information about Suntegrity. The company was started by a woman who lost her mother to skin cancer. She thought sunblock was very important, obviously, but she wanted a more natural option, so she developed her own line of sun care products. The cream is SPF 30 and contains zinc oxide and aloe, green tea, cucumber, hyaluronic acid, pomegranate, and red algae, so it's really good for your skin. It doesn't have that heavy feel so many sunblocks have and the tint helps it blend in well.
Finally, we have the Box Naturals towelettes. Yes, it's really called Box Naturals. One is rosewater scented, the other is lavender. The back says it's great for "hands, faces, and special places." According to the website, the company originally marketed it only for female hygiene, but then realized that customers were using it for other things and changed their marketing a bit. I'm pretty annoyed with Petit Vour for including these. I really don't like the message that in addition to everything else women do to be attractive, they better make sure their vulva doesn't actually smell like a vulva. I'll give Box Naturals credit for expanding their marketing, but we all know what it's really for. The towelettes smelled okay. I don't really have any use for them, so I would never buy them.
I don't like the products that I've gotten in my Petit Vour all that much, and the Box Naturals thing kind of just pushed me over the edge. So, Petit Vour is getting the axe and I'll subscribe to the Vegan Cuts beauty box instead. I'm hoping Vegan Cuts will be a better vegan beauty box. We'll find out in May!
PopSugar Must Have, $40 per month (US only)
As I said last month, PopSugar's box isn't strictly a beauty box. It is more of a lifestyle box that always has at least one beauty product. This month, it had only one beauty product, which made me sad.
Let's see what was inside:
Besides everything above, there were also coupon codes for Produce Candles and Flip and Tumble. This was an okay PopSugar box, but nothing to write home about. For a $40 subscription, I expect it to really be something special every month, you know? Yes, it's worth $99, not including the gift card, so the value is there, but the curation just isn't.
The umbrella was something I was happy to see in the box. I always have a hard time justifying spending more than a few dollars on an umbrella, so getting one that is of better quality is nice. It feels like a treat. I don't use umbrellas all that often because a little rain doesn't bother me, but I will probably start using this one because it's cute.
I didn't even know they made body serums, so I was intrigued, if nothing else, when I saw the One Love Organics body serum. I expected it to be like my face serums, but it was really just a body oil. The directions on it said to spray yourself with it while your skin is still damp after a shower to lock in moisture. I lightly rubbed it in, not sure if I was supposed to do that or not, but I didn't want my pajamas to get all oily. The smell was very subtle and it felt nice on my skin. Although I liked it, I just don't think I could justify spending $39 on a four ounce bottle of it. Four ounces doesn't go far when you're spraying it on your entire body each time you use it.
The rhubarb candle ended up being a disappointment. I couldn't remember what rhubarb smelled like, so I didn't realize that rhubarb kind of smells bad. It's a sweet smell and I'm sure that a lot of people would love it, but I did not. I hoped maybe it would smell better when I burned it, but no. My room stunk for two days afterward. If you love the smell, though, you will really appreciate the strong, long lasting scent. The company also makes radish, kale, cilantro, melon, and honey scented candles. That makes me glad I got the rhubarb. I do not want a kale candle.
The Flip and Tumble 24-7 is a reusable bag that folds up into a little ball. It's nice how portable it is. It's so small that you can stick it in your purse so you won't forget your reusable shopping bags in the car (as I do every single time). It's a very practical and environmentally-friendly item, but it's not something I want to get in a subscription box. I also didn't like the midnight/slate color. I wish I got the purple one.
The garden-in-a-bag basil is a cute idea, but it's not something I need. I have a green thumb (you must see my dahlias!) and some land, so I have grown basil outside a number of times. It would be a good gift for someone who lives in an apartment in the city and would like some fresh herbs but doesn't have a place to grow them. Again, it's nice enough, just not something I want to see in a subscription box.
Mott 50 sells clothing that protects you from the sun. The gift card is for $25 and is only for women's clothing and accessories. There isn't anything for $25 or under. The cheapest item I saw was for $38. I'm not going to use this, so if anyone happens to want it, let me know.
Each month, with every box, I try to ask myself to imagine if I saw a box with the items from a subscription in a store, would I both want that box and pay the amount I pay for the subscription? If I wouldn't buy it at that price after seeing that selection of products boxed together in a store, it makes me question whether I should continue with that subscription. I'm pretty forgiving with $10 boxes. The occasional off month is okay, but I still need to like more months than not. With a $40 box, I am much less forgiving. That's why this month is the last month I will be getting PopSugar Must Have.
Kloverbox takes this round, no question! If you're looking for a new box to subscribe to, Kloverbox is the way to go, in my opinion. This is only my first box from them, but from what I've seen, I have high hopes for this one. Ipsy takes second place, PopSugar third, and Petit Vour last.
In May, we'll be adding the new Asian beauty box 3B (Beauty Beyond Borders) and Vegan Cuts to the beauty box family in place of PopSugar and Petit Vour. Glossybox, Birchbox, Allure Sample Society, Beauteque, Ipsy, and Kloverbox will all be returning. Can Kloverbox dethrone Glossybox? Find out next month!
Brandi Kirchgessner has always loved getting mail and wearing makeup, so she was ecstatic to discover beauty boxes. She lives with her very understanding wife, three dogs, and five cats.
Illustration by Tara Jacoby.