Welcome back to our biweekly review of subscription beauty boxes. Which ones are worth it? Which ones are full of junk? Reader Brandi Kirchgessner guides us through this world of mystery treats. Here's what she's received recently.
Glossybox, $21 per month
Is Glossybox ever going to have an off month? The last time they had a month that I didn't absolutely love was November and even that month wasn't so bad. I keep expecting there to be a box that isn't so great, but they keep wowing me. I love five of the six products this month. The box that contained the products was also amazing. Instead of the usual pale pink box, there was a Lichtenstein-esque woman applying mascara on the lid. I liked it so much that instead of photographing the products inside the box, I put them on top of it so you could see how pretty it is!
Here's what was in the April Glossybox:
If my estimate of the cosmetics bag's price is correct, this Glossybox is worth $86.09.
G/O Media may get a commission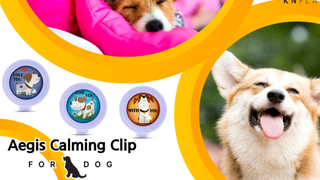 20% off
Aegis Calming Clip for Dogs
First, the product I'm not so into — the Julep eyeliner. It goes on smoothly and lasts pretty well. By the end of the day, it had smudged a little bit under my eyes, but it wasn't all that noticeable. I have been attempting to tightline recently and of the many, many eyeliners I have, it was easiest with this one. The information card that came with the box said that colors vary, so not everyone gets navy. My friends got plum and olive in their Glossyboxes. I always like it when I get a color other than black.
I'm a big fan of the Aerin Waterlily Sun perfume. I had never heard of Aerin before, but after trying this perfume, I'm interested in trying the others in their line. The website says that the top notes of this are Sicilian Bergamot and lush greens, mid notes are Jasmine Sambac and waterlily, and the base note is musk. It had a very subtle, floral scent, but it was long lasting. My wife Amanda thought it smelled like peonies.
I'm sure most of us have had the pimple that goes away and leaves a small dark spot in its place. Those dark spots can last for weeks or even months. This Estee Lauder dark spot correcting serum is meant to lighten those spots. I couldn't wait to try it. I have been using it at night before bed and have noticed the spots are a little lighter. I'm sure it would work better if I used it longer. It's a small bottle, but it's a quarter of the full size. I use only a teeny bit each night, so the sample should last for a while.
The Marrakesh Endz is an argan and hemp oil treatment for hair that is supposed to help with split ends and keep frizz and static in line. I don't have much in the way of split ends because I get my hair cut frequently, but it did make my hair feel softer and look shinier. I love argan oil products for my hair.
This Glossybox came with a cosmetics bag from Thursday Friday. It wasn't listed on the product information card and the Thursday Friday website didn't have anything exactly the same, so I had to estimate a price. It was close in size and style to the mini clutches on the company website, which were normally $35, on sale for $25.50. That seems like a lot for a makeup bag, but it's a good quality, heavy fabric bag (and a thousand times better than that cheap plastic bag in last month's PopSugar Must Have box), so I estimated its value at $15. There was also a card in the box that came with a Thursday Friday coupon code. I had to enter my code at checkout on the Thursday Friday website to find out what percentage of the price my coupon code took off. Mine was for 45% off any purchase.
I saved the best for last! I think everyone knows I'm a little obsessed with OCC Lip Tars. I was elated to get a stained gloss this month. I have a ton of the matte and metallic lip tars, but I had only one stained gloss, Nomad, before I got this one. Rhythm Box, the color I received in my Glossybox, looks like a dark magenta in the tube, but it looks like a semi-sheer magenta when I wear it. My friends got Androgyne (orange) and Jealous (orangey-red) stained glosses, so there is some variation in color. I tried the Androgyne out and it is very sheer. It looks like a bright orange in the tube, so it's a little intimidating, but it is very subtle once on. I haven't tried Jealous yet. Lip Tars are made for mixing, so it's fun to put a layer of stained gloss over one of the opaque lip tars to alter the color a bit. Some of the stained glosses are sheerer than others. The sheerer ones I would recommend wearing mixed with a less sheer color, but the less sheer ones you can wear on their own. I mixed the Androgyne and the Rhythm Box together and it was gorgeous. I have found that the stained glosses don't last as long as regular lip tars, but they still have pretty good staying power. The one thing I thought was strange was that they didn't include the lip brush OCC usually packages with each Lip Tar. I have plenty of those brushes, so I was fine, but just know that you will need a lip brush to apply these. Also, keep in mind that a little goes a very long way, so start with a teeny drop. I also recommend using a clear lip liner to prevent feathering.
I'm very happy with this month's Glossybox. Everything in here except the eyeliner is going to get regular use. The other boxes this month need to be really special to knock Glossybox off its pedestal. Let's see what was in some of the other boxes.
Beauteque, $24 per month plus $3.95 shipping and handling
I'm excited to be trying the Beauteque beauty bag for the first time! This bag has seven full size Asian beauty products each month. Most of the products are Korean, but there are some Japanese products, too. Korean skincare products are supposed to be some of the best out there, so I couldn't wait to try this subscription. It's also nice that I will get products I would never see in any of my other subscriptions. It seems as if this subscription focuses almost exclusively on skincare.
Here's what was inside the bag:
This bag is worth approximately $56.81. That's a good value, even though this is one of my more expensive subscriptions. These products are not readily available in the US, so finding websites that carried them so I could both estimate their value and link to them above was a little difficult. I could not find the Laneila razor anywhere online, so I just estimated its price. Beauteque listed the razor's value as $8 on their product information card, but I don't think there is anyone who would pay $8 for this razor.
This month's theme was Mad for Plaid and there was a really ugly plaid makeup bag that came with it. You can see it peeking out from behind the products in the picture above. It's a perfectly fine makeup bag, a lot bigger than the Ipsy bags, but I hate plaid.
I was excited that they allowed subscribers to choose the type of sleeping mask and lip balm they would receive. The sleeping mask was the product I was most excited about. There were three options: blueberry (fights blemishes), acerola (promotes collagen growth), and canola (moisturizing). I was having a breakout when I chose it, so I went with the blueberry. It's a cream mask you put on before bed, then sleep with it on and wash it off in the morning. The jar is pretty big, so I will get quite a few uses out of it. I was a little worried when I saw that it was a honey mask because I thought it would make a sticky mess in my hair and on my pillowcase. There was a little stickiness to it, but it was creamy more than anything, and it didn't make a mess at all. My skin felt nice and soft after washing it off. I am not sure if it fights blemishes because I have only had the chance to use it once and I would have to use it regularly to determine that.
There are eight items listed above because Beauteque counted the sheet masks as one item. I got a rose mask and a marigold mask. The rose mask said it was for "whiteness," but after reading about it, I think the translation is a little off and it should say "brightening." Like brightening products made in the US, it's meant to even out skin tone and get rid of the dark spots pimples can leave behind. The marigold contains vitamin A and is for oil control. Amanda used the marigold and I used the rose. The sheet mask was a little big for my face. My skin felt soft after using it, but I didn't notice any real brightening. I would probably have better results if I used the mask once a week. It had a soft rose scent. Amanda's marigold mask, fortunately, did not smell like marigolds. She thought her skin seemed a little less oily after she removed the mask.
The It's Skin Macaron lip balm is really cute! It's shaped like a little purple macaron. I got to choose from grape, strawberry, and apple. The grape smell is very strong and it has a slight grape flavor to it. It's your average lip balm, nothing special. A little kid would probably love this.
I was intrigued by the Hanaka Camellia Powder Wash as I had never used a powder face wash before. I emptied the contents of one of the little packets into my hand and mixed it with water. I am in love with this! It was like washing my face with silk. It felt so soft and creamy. Normally, I don't spend much time washing my face, but I washed it for a few minutes when I used this because it felt so nice. It smelled good, too. The only thing I don't like is that at $14 for a pack of seven, I can't really make this my daily facial cleanser. Two dollars every time I wash my face is a little more than I would like to spend. It can be a special weekly treat, though.
I wasn't entirely sure what the Mizon Watervolume Aqua Gel Cream was. I thought it was a moisturizer of some sort, but wasn't sure if it was for my face or body and the bottle didn't give me any information in English. Fortunately, the card that Beauteque included in the box said that it was shaving cream. That must be why they included the cheap razor as the lifestyle item this month. I tried out the razor and shaving cream together. The razor is a step below Bic razors, if you can believe it. It was that bad. I am surprised I wasn't bleeding all over the place by the end. The shaving cream didn't have much of a scent and was a little thin. Because it was so thin, it just kind of dripped off my leg instead of staying put so the razor could glide up my leg smoothly. These are not products I would recommend.
Finally, there was the Holika Holika S-Body Maker Jiggling Patch. This is a patch that you can put anywhere on your body and leave on for 30 minutes. It's supposed to firm and revitalize your skin, according to the package. There is carbonation in it, too. Amanda had her heart set on this, so I let her have it. She put it on her stomach and said it felt cold and weird and she did not feel any bubbles. Amanda thought it made her skin feel a little tighter. It's pretty small for a body patch. I don't really understand the point of this.
I really liked this Beauteque bag! It was a lot of fun to try some Asian skincare products and I can certainly see why Korean beauty has such a following. You definitely have to be a little adventurous with skincare because you might get something with snail slime or donkey milk in it. Often the information printed on the products is all in Korean or it has an English translation, but the translation doesn't make much sense. For this reason, the product information card Beauteque includes in its bags is very important. I am very tempted by Beauteque's other subscription, Mask Maven, which contains only masks for face, body, and hair. I might break down and subscribe to it at some point.
Birchbox, $10 per month
For the first time ever, I am not going to complain about Birchbox's sample sizes. The hair oil is on the small side, but a little goes a long way, so I'm okay with it. Usually, I photograph the products inside the box, but this month's box was so pretty, I put the products on top of the lid. Birchbox teamed up with Mad Men this month for the curated boxes. They had two curated boxes to choose from, Mad Men New York and Mad Men California. I almost left my box entirely up to chance this month, but I decided at the last minute that everything in the Mad Men New York box was something I would use. I am not sure that this box has anything to do with Mad Men, but I like it.
So here's what we have:
This month's Birchbox was worth about $28.66. I had to estimate the size of the hair oil because it wasn't printed on the bottle, so my estimate might be off by a few cents.
I loved my Model Co More Brows gel that I got in last month's Glossybox, so I really wanted to try the Anastasia Beverly Hills Clear Brow Gel. Also, the Model Co brow gel was too dark for Amanda and I really wanted her to try a brow gel, so I figured I couldn't go wrong with a clear one. I much preferred the Model Co to the Anastasia brow gel. The Anastasia gel was fine for shaping our brows, but it would have been nice to have some color in it. Also, I liked the formula of the Model Co way more than the Anastasia. I felt like I had put glue in my eyebrows after using the Anastasia and that is not a good feeling.
The Beauty Protector Protect & Oil worked fine. It was nothing special. I worked it into the ends of my hair and found it made my hair a little oilier than I would have liked. My hair isn't all that dry, though, so this might be a better choice for someone with dry hair.
I was worried that the Cargo blush would be too orange for my cool toned skin, but it was much pinker when I put it on my cheeks. It's a great color for me. This blush has some serious pigment, so use a light touch when applying it unless you want some clown cheeks. I wasn't able to check how water resistant it was. It definitely had some staying power. It looked as good at the end of the day as it did at the beginning.
The Liz Earle eye lotion isn't what I would call a lotion. It is a liquid, so it is more like a serum for your eyes. It's supposed to soothe your eyes so you don't have that tired, puffy look. Each morning, you put a small amount on a cotton pad and apply it to your eyes and the surrounding area. I was happy with the results. I would probably see even better results with sustained use. I loved how big the sample was! Because it is such a generous sample, I will actually get to try this product for at least a month and see how well it works.
Finally, we have the Whish shaving cream. I've gotten Whish shaving cream before in another scent, but this is my first time trying the blueberry. When I used the cheap razor in the Beauteque box, I had the Whish shaving cream on one leg, the Mizon on the other. The Whish actually stayed on my leg and provided some good lubrication for the razor. However, I did not like the blueberry scent. I love blueberries and the smell of blueberries (I am from Maine, after all), but this had a weird medicinal scent to it. I would choose a different scent if I were to actually buy this.
I think this might be the best Birchbox I've had in quite some time, possibly the best Birchbox ever. The blush and eye lotion made me so happy. Not one of the products will end up in my pile of beauty products to give away to my friends and family. Three amazing beauty boxes in a row this month?! It's going to be hard to choose a winner.
And now, for a bonus box!
Allure Sample Society, $15 per month
Allure magazine contacted me and asked me if they could send me their Sample Society box to review. I was happy to oblige. As I said in my last column, if I receive a box for free, for ethical reasons, I must give away the samples away after reviewing them. I've since given these to an acquaintance. The Allure Sample Society box usually comes with five deluxe sample size, higher end products. They also include a little magazine of sorts where they provide in depth descriptions of each product and explain why they chose each item in the box. There is also a coupon for "$10 off a $50 order" at beautybar.com enclosed each month.
My first Allure Sample Society box contained the following items:
This month, the Allure box is worth $14.79. I might be off a little bit because I had to estimate the size of the lipstick as there was nothing indicating how much lipstick was in the little tube. That's really not a great value for a $15 box. I've looked at their past boxes and they had much higher values, so this might just be an off month for them. They did include six items instead of the usual five and five of the six were new to me, so I really liked that. The samples were very small, though, which is why the value is so low. Boxes can get away with a couple small samples, but to put only small samples in one month's box is less than ideal. I would recommend that the curators of this box have a mix of the smaller and bigger sample sizes each month so one month isn't a low value box with tiny samples and the next month isn't a high value box with huge samples. I think most subscribers would prefer a mix each month and more consistent value.
The Jane Iredale lipstick supposedly plumps your lips with peppermint oil. I felt some tingling when I put it on, but my lips didn't seem to get any bigger. The Rio color is a light to medium warm brown and it's on the sheer side. It went on smoothly and felt moisturizing. It's a pretty color, but it wasn't the most flattering on me. In the booklet that came with the box, they say that this color looks particularly good on dark skin.
This is just one product in one box, so it's impossible to draw any real conclusions, but I hope this means that Allure is looking beyond the white demographic. I think any box that includes colors appropriate for many skin colors and hair products for people of all hair types will get a serious following. I have heard from many of my Black readers that they love the concept of beauty boxes, but that a lot of the products (especially for hair) just don't work for them. Beauty box companies, are you listening?
I reviewed Benefit's The PoreFessional last month because I got it in my PopSugar box. I still prefer the Smashbox primer to this one, but I do like it.
I've tried Marc Jacobs' Daisy perfume before, but never his Daisy Dream. According to the magazine included in the box, it has notes of blackberry, grapefruit, pear, jasmine, wisteria, white woods, musk, and coconut water. It has a light, fresh floral scent. This isn't something I would wear every day, but I would wear it on occasion. I think I prefer it to the regular Daisy. The only thing I didn't like about it was that the scent didn't last long. You only get a couple hours of scent from it, so bring the bottle along with you if you have a long, busy day and want to smell good all day long.
The Illume Tonka Noir candle smells amazing. The magazine says it has notes of mandarin, plum, rose, jasmine, tonka bean, musk, sandalwood, and vanilla. The musk smell is most prominent, so if you don't like musk, you probably won't like this candle. I love it, though, and would buy one if Amanda liked the scent. Unfortunately for me, she doesn't.
How did I not know about the Bumble and Bumble Hairdresser's Oil until now?!!! I cannot believe how good this stuff is. The sample is teeny, but a little bit goes a very long way, so you will get a number of uses from it. My hair was so soft, smooth, and shiny after I worked this into it. I don't really want to spend $39 on hair oil, but I think I have to. This is my favorite hair product ever. I need this in my life!
Finally, I tried out the Mt. Sapola Lavender-Chamomile lotion. It has a very, very strong lavender smell. I like lavender in small doses, but this was a little much for me. The lotion itself is good quality, very moisturizing, and made my skin soft.
The Allure Box had small samples and a low value, but it introduced me to an absolutely amazing product, so I am happy with it. I would rather have small samples that I love than big samples that I have no interest in. I liked the little mini magazine that came along with it. Each product had a thorough description and there was a section telling you why they liked that particular product. They are honest about the products and will tell you that a sample might not be for everyone and let you know about any shortcomings the product may have. I am looking forward to trying future Allure Sample Society boxes. I am hoping that next month's samples will be a little bigger and the value a little higher, but a beauty box that sends me a sample that ends up being my holy grail hair product is good in my book.
I don't even know that I can declare a winner this month. There was not one box that I hated and each box had at least a couple of items that I loved. April is shaping up to be a great month for beauty boxes. It is my birth month, so that makes me extra happy. Will the April PopSugar Must Have, Ipsy, Kloverbox, and Petit Vour be as amazing as these? Find out in two weeks in the special Brandi's Birthday edition of the Beauty Box Review! I can't wait to hear all about your beauty box subscriptions in the comments.
Brandi Kirchgessner has always loved getting mail and wearing makeup, so she was ecstatic to discover beauty boxes. She lives with her very understanding wife, three dogs, and five cats.
Illustration by Tara Jacoby.