In a sweeping and fairly disastrous opinion for reproductive health in Texas, a three-judge panel on the U.S. Fifth Circuit Court of Appeals has upheld nearly every part of HB 2, an extremely restrictive law that could make safe, legal abortion access virtually impossible in the state. All but eight abortion clinics in the state will have to close. Texas has a population of more than 26 million people.
HB 2 was first passed in 2013, but hasn't gone into effect because it's been in litigation until now. (State Senator Wendy Davis filibustered against it, as you probably recall, but her opponents in the Legislature simply scheduled a special session the following week and passed it then.)
According to the opinion from the 5th Circuit, Texas is permitted to broadly restrict abortion access because they're not placing an "undue burden" on someone seeking an abortion (the standard set in Planned Parenthood v. Casey). The opinion also, in my reading, writes a blank check for any other further restrictions Texas politicians might dream up, so long as they justify them by saying they're meant to further the state's "compelling interest" in "protecting life."
The court was considering three central provisions in HB 2, each of them odious. All abortion-performing doctors have admitting privileges at a hospital within 3o miles (which is impossible in rural areas). Only Whole Woman's Health in McAllen, Texas won't have to comply with that restriction, the only clinic in a fairly remote area. The opinion denied a similar motion from an El Paso clinic, Reproductive Services.
Besides that provision, HB 2 also says that abortion clinics will have to comply with the requirements set for ambulatory surgical centers, requiring costly renovations not required of any other facility that performs outpatient procedures. And abortion providers have to comply with the outdated FDA protocols for medication abortions (which will require them to prescribe those medications in amounts that physicians say are less safe.) The law, for no particular reason, will also require medication abortions to be performed in an ambulatory surgical center. A medication abortion involves swallowing two pills. It's not a surgical procedure.
G/O Media may get a commission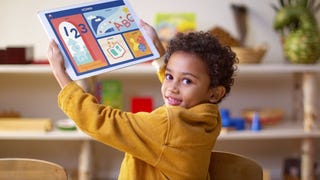 30-Day Free Trial
Homer Learn & Grow Program
NARAL Pro-Choice Texas released a statement from Executive Director Heather Busby calling the decision "a travesty." The Center for Reproductive Rights Nancy Northup says in her own statement:

"Not since before Roe v. Wade has a law or court decision had the potential to devastate access to reproductive health care on such a sweeping scale.

"Once again, women across the state of Texas face the near total elimination of safe and legal options for ending a pregnancy, and the denial of their constitutional rights."
Meanwhile, Texas Attorney General Ken Paxton is just tickled. In a statement, he said the ruling "protects the unborn," and accused abortion providers of operating under "substandard conditions:"
"HB 2 both protects the unborn and ensures Texas women are not subjected to unsafe and unhealthy conditions. Today's decision by the Fifth Circuit validates that the people of Texas have authority to establish safe, common-sense standards of care necessary to ensure the health of women. Abortion practitioners should have no right to operate their businesses from sub-standard facilities and with doctors who lack admitting privileges at a hospital. This ruling will help protect the health and well-being of Texas women. I am proud to have both supported this law in the legislature and defended it in the courts."
As the Texas Tribune points out, the abortion providers who sued against HB 2's implementation aren't likely to accept this ruling. They can ask for a full panel of appellate judges to consider the case, but given how notoriously conservative the 5th Circuit is, that likely won't go well either. Or they can take the matter to the Supreme Court, and God only knows what might happen there. The decision will go into effect in about 15 days.
---
Contact the author at anna.merlan@jezebel.com.
Public PGP key
PGP fingerprint: 67B5 5767 9D6F 652E 8EFD 76F5 3CF0 DAF2 79E5 1FB6
Texas Attorney General Ken Paxton, shown in January 2015 just after his swearing-in ceremony. Image via AP,