In presenting her idea of "fashion sex," Times of London writer Shane Watson explains: "You might think this would be pretty straightforward. Anyone can see that Scarlett Johansson is a Girl, who should stick to asset-flaunting bodycon dresses." Wait, what?
Watson claims that all of us have a "fashion sex," a "non-negotiable" type we should stick to, in order to look our best. According to Watson, Kristen Stewart is a "Boy," who looks uncomfortable in glamorous gowns as a result, while Carey Mulligan is comfortable with her "Girl" status and is "easily the most relaxed with her sexuality - don't you just love the way she never tries to look cool, or down and dirty, because it's just not her thing? Even the dimples are 100% Girl." Madonna, also a "Boy" in Watson's eyes, is given this assessment: "Madonna's DNA is probably 12% bloke - in a good way. It's the reason she looks like a man in drag in a pussy-bow blouse, but fabulously hot in a pair of chaps." Oh, dear.
I have to admit that I read Watson's piece at least 5 times and I'm still not exactly sure where she's coming from or how she actually defines "fashion sex," aside from her own personal beliefs that Scarlett Johansson looks better in a dress and Kristen Stewart looks more at ease in a hoodie and pants. I'm also not exactly sure how she defines the boundaries of gender in terms of articles of clothing or how one applies one's makeup. Calling out Carey Mulligan for being "comfortable with her sexuality" because she doesn't "trying to look cool, or down and dirty," makes very little sense to me, as it implies that woman can not be comfortable with herself or her sexuality if she's wearing smudged eyeliner, and that the act of "being cool" is a strictly masculine endeavor.
"The trouble is a lot of women refuse to accept their fashion sex, because they don't realise it's non-negotiable," Watson laments. Is that really the trouble? Or does the trouble lie in the complexities of gender identity being carelessly tossed out as "non-negotiable" fashion advice based on someone's own personal preferences for how a certain set of actresses look in a certain set of outfits?
I still can't quite wrap my mind around this one, so please feel free to share your own thoughts, as always, in the comments.
G/O Media may get a commission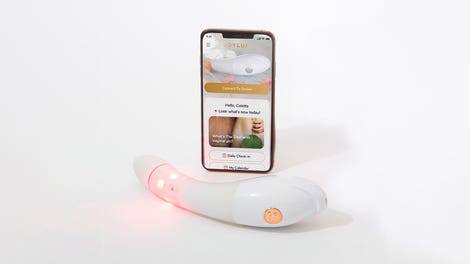 $50 Off
Joylux vFit Gold Device
What Is Your Fashion Sex? [TimesOnline]