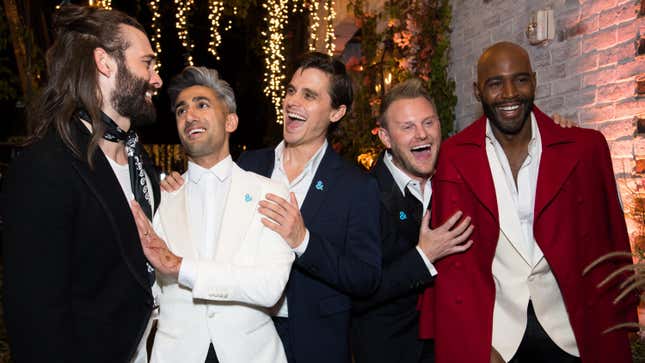 Netlfix's most "mid" cook is to be wed. Antoni Porowski of Netflix's Queer Eye and questionable cooking advice fame got engaged in November to a guy named Kevin Harrington, who aside from having an incredibly toned physique, seems to be just a normal dude.
Over the past weekend, Porowski and pals decamped to the mountains of Tennessee for a bachelor party. From the looks of the Instagram recap, it seemed like a perfectly lovely if not achingly 30-something-esque weekend away: walks in the woods, Fuji film cameras, and lots of lounging around in matching shirts. While I spotted Gigi Hadid and Queer Eye sartorialist Tan France in the coveted post-hang photo dump, Porowski's other co-stars of the hit show were not in attendance.
Perhaps curious minds were eager to hear more about their absence. I, for one, do not find it weird when someone does not invite all of their coworkers to a weekend away. But nevertheless and right on time, Andy Cohen asked Karamo Brown, Queer Eye's "culture expert" on Radio Andy on Thursday why he, Bobby Berk, and Jonathan Van Ness were not at the bachelor party.
"Listen, I'm all about being real and being upfront. We weren't invited," Brown responded after jokingly declaring "the shade of it all" a number of times. Again, seems normal and fine to be under no obligation to invite your coworkers to a weekend, non-work, getaway. Cohen then probed a bit further, suggesting that Berk had told him on an earlier show that he was invited but just couldn't make it. But Brown sort of doubled down and reiterated that they weren't invited.
"Here's the thing, when it comes to family things like that — family things, weddings — it costs money so I don't take offense to it," Brown said. He even offered, that should the situation be reversed, he probably wouldn't invite Porowski to his wedding. Again! Normal!
I understand that people have a parasocial relationship with the Queer Eye stars and it's maybe comforting to think that they all sleep in a big bed together like the grandparents from Charlie and the Chocolate Factory. But they're coworkers! Who are good at being affable and friendly and thoughtful on camera! That's their job!
Alllll that being said, however, I was sort of surprised JVN wasn't there. Considering all of the strange relationship baiting they and Porowski have done in the name of selling dog food, you think they'd at least be trauma-bonded from the backlash of it all.
As for the wedding, which Porowski hinted won't be until 2024, maybe the fellow hosts will be in attendance. But who knows! And if not, that's fine, too.
---