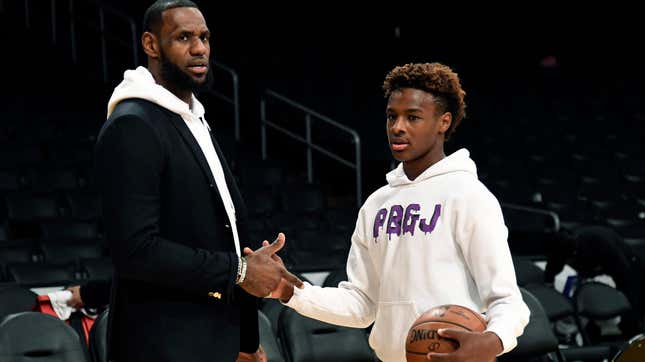 On Tuesday, LeBron James' son, rising college freshman Bronny James, was hospitalized and taken to the ICU after going into cardiac arrest at basketball practice at USC. Bronny was able to leave the ICU by Tuesday afternoon but remains hospitalized as of Wednesday morning. Despite the James family's statement asking for privacy at a difficult, terrifying time, anti-vax conspiracy theorists—with the help of Twitter owner Elon Musk—have been hounding the family with conspiracy theories that Bronny's hospitalization is a result of being covid vaccinated.

The Johnny Depp and Amber Heard Defamation Trial Has Begun
Specifically, far-right, anti-vax lunatics, including Musk, are tweeting that Bronny's heart issues were caused by myocarditis and that myocarditis is a side effect of covid vaccines. In response to a tweet from a right-wing influencer about Bronny's medical emergency on Tuesday morning, Musk wrote, "We cannot ascribe everything to the vaccine, but, by the same token, we cannot ascribe nothing. Myocarditis is a known side-effect. The only question is whether it is rare or common."
To be unequivocally clear: There's absolutely no basis for this. If anything, the American Heart Association says that myocarditis is extremely rare for vaccinated people and that the covid vaccination actually reduces the risk for myocarditis. Back to Musk's tweet, aside from how the serially divorced billionaire tweets exactly like a dumb person's idea of a smart person might (in contrarian riddles that fall apart under the mildest scrutiny), this doesn't make any sense. Myocarditis is not "a known side-effect." But of course, there's no real point arguing with a man who's pushed homophobic conspiracy theories about Nancy Pelosi's husband and the man who tried to kill him.
Musk's tweet comes amid a firestorm of similar, wildly insensitive speculation. "I'm not a doctor. I'm just a simple man of 37 years who pays attention to trends we can see with our own eyes," Benny Johnson, a far-right influencer and host of The Benny Johnson Show, wrote in a tweet pushing anti-vax delusions about Bronny. The tweet has since drawn tens of thousands of likes and came shortly after Musk's post.

"Unfortunately, we likely know what happened here," another far-right influencer with almost one million Twitter followers wrote in a nearly identical tweet. "When will people be held accountable for these crimes?" Also after Musk's tweet, Charlie Kirk, founder of the far-right youth organization Turning Point USA, sarcastically wrote "This is my Bronny James tweet. Nothing to see, no questions to ask."
But perhaps most alarming of all, as anti-vaccine disinformation and cruel speculation about a young man's health spread across Musk's website, the supposed "free speech absolutist" appears to be deleting fact-checks. Forbes reports that Musk's post, specifically, had a community-added fact-check attached which notes that the risk of myocarditis is much lower for people who have received a covid vaccine vs. people who are infected with covid. The fact-check cited articles were from CBS News and the Yale School of Medicine. By Tuesday night, they appeared to be gone. Twitter has yet to explain this, and it probably never will.
Per the latest update on Bronny's medical situation, the rising basketball star is recovering and "doing much better." Still, the last thing he or his family should have to deal with right now is anti-vaxers exploiting his medical emergency and harassing his family.