Emboldened by an administration that wants to repeal Roe v. Wade and empower white evangelical extremists at the expense of basically everyone else, some rightwing anti-abortion crisis pregnancy centers are seeking federal funding, Politico reports.

Crisis pregnancy centers deceive vulnerable patients, spreading misinformation about abortion and healthcare under the guise of offering comprehensive family planning services. As Republicans have demonized Planned Parenthood, which offers critical healthcare to mostly low-income patients, and repeatedly targeted it with restrictive legislation, however, anti-abortion clinics are spreading across the country.
Planned Parenthood does not receive direct federal funds; instead, it relies on reimbursements under Medicaid and the Title X family planning program for various medical services. The Hyde Amendment prohibits federal funding of abortions, except in cases of rape, incest, and threat to the mother's life. Now, Politico reports, anti-abortion clinics are trying to get some of that money.
Donald Trump signed a bill in 2017 that has allowed states to withhold Medicaid and Title X reimbursements from organizations that provide abortions, a move that will be catastrophic to the organizations and the millions of low-income patients who rely on it. In early 2018, the administration announced new rules that would open up Title X to accept applications from "faith-based organizations, as well as organizations that advocate abstinence-only education and 'natural family planning,'" Jezebel reported in February. Politico notes that the rules, which is being challenged in federal court, "could be finalized in the next month or so."

One such anti-abortion clinic, the Obria Group, offers what CEO Kathleen Bravo described to Politico as a "holistic" alternative to Planned Parenthood. The group was denied funding because Title X requires health clinics to offer hormonal birth control, so Eaton plans to partner with a provider that offers birth control and reapply:
"I didn't recreate the wheel," said Kathleen Eaton Bravo, the CEO of the Obria Group, a nonprofit chain of clinics that's now expanding beyond the West Coast. The chain has been adding medical services as part of its long-term vision — one that also lets it bill insurers and qualify for government funds. "I'm using Planned Parenthood's model, and it's working."

Scrapping the quotes from Scripture displayed on their walls, some pregnancy crisis centers are becoming licensed clinics by adding health services like prenatal care, sexually transmitted disease testing or treatment, and "natural family planning" or fertility awareness — though not FDA-approved contraceptives like birth control pills or condoms, and certainly not abortions or abortion counseling.
G/O Media may get a commission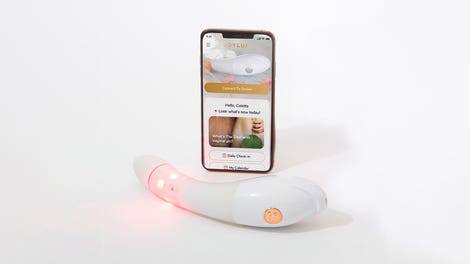 $50 Off
Joylux vFit Gold Device
Politico reports that, while anti-abortion facilities have not received reimbursements from Title X yet, "that could change under the administration policy now being finalized."