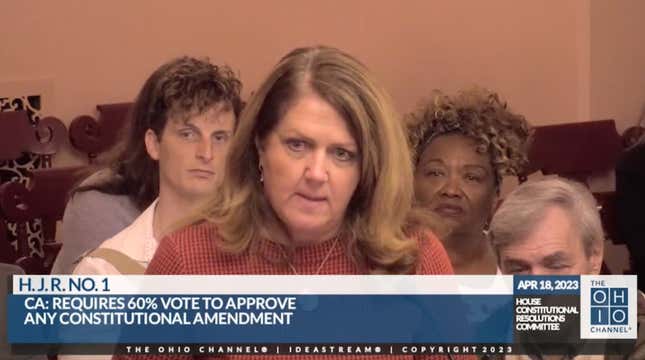 Ohio Republicans held hearings this week for multiple bills intended to block an abortion rights ballot measure from getting a statewide vote this November—probably because they know Ohioans would pass it. It's all a fairly transparent response to the results of last November's elections, which saw abortion rights win in all five states that put the issue to popular vote.

Republicans Pull Out All the Stupid Stops While Debating Abortion
At one of these hearings on Tuesday, Laura Strietmann, head of Cincinnati Right to Life, addressed the gutting case of a 10-year-old rape victim in the state who was forced to travel to Indiana for abortion last July, because Ohio's ban doesn't include a rape exception. "While a pregnancy might have been difficult on a 10-year-old body, a woman's body is designed to carry life. That is a biological fact," Strietmann said, referring to a child victim as a woman for political convenience.
This language, of course, is sadly common among anti-abortion activists and their Republican allies. They frequently adultify pregnant children, who are legally below the age of sexual consent, and refer to them as women or argue that they would make good parents—ironically, all while accusing LGBTQ people of child predation. Just earlier this year, a bill in Tennessee that would threaten rape victims who seek abortions with three years in prison for "lying" about being raped referred to child victims as young as 12 as "women."
Streitmann followed up her heinous comments with yet more disinformation: A child's body is "not designed to have disgusting death instruments remove her pre-born child from her womb," she said, claiming this "is a statistical fact." Actually, abortion is a highly safe medically procedure, whereas forcing a child or adolescent to give birth has a relatively high risk of death and severe, painful health complications like obstetric fistula.
Streitmann's purposeful disinformation is one thing, but I'm stuck on the unique cruelty of her comments. Ohio's abortion ban compounded the lifelong trauma inflicted upon a child rape victim by forcing her to travel across state lines for a health service she was denied in her home state—almost a year later, the child remains the center of gross lies and dehumanizing political talking points.
Streitmann further lied that Dr. Caitlin Bernard, the Indiana doctor who offered the child an abortion, "did not report the rape" (public records prove Bernard did) and said she was "sorry the mother permitted" the abortion. The Right to Life leader's dishonesty is a consistent through-line in her testimony, which makes sense: Anti-abortion leaders have to rely on deceitful tactics to make up for the fact that the cruel policies they're pushing are deeply unpopular with voters.