Remember all those things you forgot?
Remember when your kooky Great Aunt Millicent died and left you a crumbly old house and you thought, "Score!" and then some mystery liquid dripped all over your $258 polka-dot dress?
Remember how your sister showed up and you suddenly remembered that Aunt Millicent left everything to both of you?
G/O Media may get a commission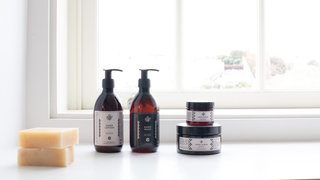 Exfoliate and Hydrate
The Handmade Soap Company
Remember when shoes started walking all by themselves and a bag fell on the floor out of nowhere and you wondered if Aunt Millicent was haunting the house or if the termite problem was really out of control?
Remember when you remembered that Aunt Millicent had questionable taste and a touch of dementia?
Remember when you were kids and you re-enacted the opening credits of The Brady Bunch using a portrait of Uncle Julius as a stand in for Greg?
Remember that time you thought a tea-cup print dress was a good idea?
Remember when you were trying to reflect on Aunt Millicent's death and really attempting to get deep in the throes of malaise and ennui but ended up wondering who was gonna win Top Chef instead?
Remember when you promised you'd buy these shoes for me and have them immediately shipped to 210 Elizabeth Street, 4th floor, New York, NY 10012?!?!?
Remember The Shining?
Remember barf?
Remember when you suddenly realized you'd much rather have a Florence Knoll sofa, a Saarinen Tulip dining set and a Heywood Wakefield vanity instead of the flea-bitten, cat-hair covered stuff Aunt Millicent left you?
Remember the time you dreamed you lived on a commune in New Hampshire and the guru, Bil, who had a long gray ponytail and a penchant for nudity and would get mad if you weighed his name down with an extra L was convinced you were a bodhisattva of compassion and therefore forced you to be the lead in the kids' play, which was loosely based on an Armistead Maupin story and involved you, at the age of ten, wearing a muumuu and oversized sunglasses while "selling" marijuana to your "neighbors," but then you woke up and swore you were going to burn all of Aunt Millicent's evil, evil quilts?
Anthropologie [Official Site]
Earlier: Who Needs Clothes When Crewcuts Kids Are So Freaking Cute?
Anthropologie, Translated As A Southern Gothic Novella
J.Crew's Summer Abroad: Sweet Swimsuits, Sharp Shorts & Dreadful Dresses
See also: All "Today In Catalogs" posts