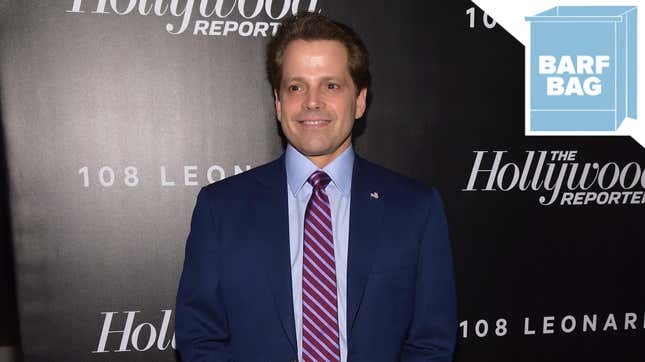 I finally got an AC, which means it's time to stay indoors, baby.
Here's all the shit we couldn't cover today:
As they say in fashion, and in the Republican Party that is currently cowering to President Trump: One day you're in, and the next day you're out. I guess Anthony Scaramucci has been coasting on whatever little relevance he had left since being fired as the White House communications director, but that couldn't save him from being disinvited from a Republican fundraiser in Palm Beach County, Florida. The Mooch was done in by calling Trump's tweets about Representative Alexandria Ocasio-Cortez and Ilhan Omar "racially charged." Unclear what happens next! [Politico]
Senator Chuck Schumer thinks John McCain was the reason why Republicans weren't as racist before. Buddy, I have some news for you:
Taylor Lautner Doesn't Even Remember Saying 'Bella! Where the Hell Have You Been Loca?'
The Wall Street Journal sucks. [The Wall Street Journal]
The Trump administration is throwing around the idea of bringing the number of refugees accepted into the U.S. every year to zero. [Politico]
The Scalia legacy might live on through Eugene Scalia, who Trump is considering nominating as his next Secretary of Labor. [Washington Post]
Some House Republicans are concerned that Amazon isn't selling nearly as many books on gay conversion therapy as it could be. [VICE]
The way Trump handles this conversation with a group of Yadizi women at the Oval Office is shameful. [Twitter]
Cory Booker's brother is named Cary Booker:
Here are some tweets the president was allowed to publish:
This has been Barf Bag.