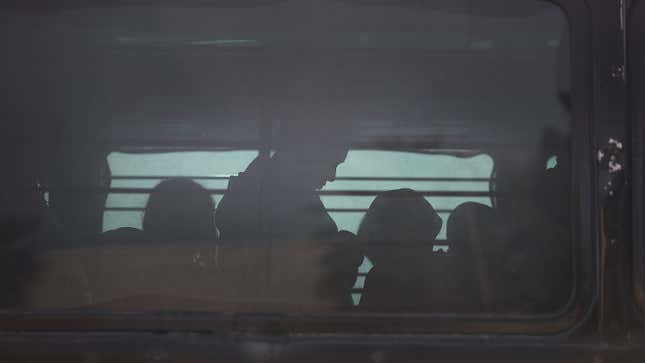 Johana Medina Leon, a 25-year-old trans woman originally from El Salvador, died this weekend after being detained by Immigrations and Customs Enforcement at a privately run detention facility in New Mexico.

Last Tuesday, Leon was taken to a hospital in El Paso, Texas, after she reported having chest pain. She died just a few days later. Leon, who entered the United States in mid-April at the port of entry in El Paso, had passed her credible fear asylum interview on May 18, but she was only "paroled from custody" on the day she went to the hospital.
It appears that Leon, who had tested positive for HIV, did not receive adequate medical care while at the Otero County Processing Center. From the Washington Post:

Nathan Craig, a member of Advocate Visitors with Immigrants in Detention (AVID) in the Chihuahuan Desert, said he has been communicating for months with two of the four transgender women detained at Otero; he said they frequently complained about conditions at the facility. He did not meet with Leon, but he said another transgender woman told him on May 24 that all four transgender women at the facility were sick and weren't given adequate medical attention.

Craig said he learned that Leon was not feeling well and that others had requested that she be given intravenous fluids but that staff said they couldn't administer that kind of treatment.
Otero is known for its officials mistreating gay and trans immigrants in their custody. Earlier in March, immigrant rights advocates detailed how LGBTQ immigrants faced rampant sexual harassment and abuse from both other immigrants and guards at the facility. When they raised concerns, the "solution" from detention center officials was often to place them in solitary confinement. Advocates also alleged that medical care at the detention facility was inadequate, from medical staff refusing to provide hormone treatment to trans immigrants to long delays—often weeks—when requesting other forms of medical care.
ICE officials are, of course, blaming Leon's death on her own actions, rather than the shoddy care she reportedly received while in ICE custody. "This is yet another unfortunate example of an individual who illegally enters the United States with an untreated, unscreened medical condition," Corey A. Price, the field office director for ICE Enforcement and Removal Operations in El Paso, wrote in a statement to the Washington Post.
In May 2018, Roxsana Hernandez Rodriguez, a trans asylum seeker from Honduras who was held at a different privately run ICE detention facility in New Mexico, died from dehydration and complications from HIV. An independent autopsy found that she had suffered horrific physical abuse while in ICE custody, from being handcuffed "so tightly as to cause deep tissue bruising and struck repeatedly on the back and rib cage by an asp or similar instrument while her hands were restrained behind her back." According to other immigrants who were detained at the same time as Rodriguez, she had suffered from dehydration "over multiple days with no medical evaluation or treatment, until she was gravely ill." The Transgender Law Center has sued ICE and the Department of Homeland Security over Rodriguez's death.
"These deaths are a direct result of U.S. government policy, and will continue unless we force dramatic change," wrote Transgender Law Center's Executive Director Kris Hayashi in a statement released shortly after Leon's death was announced. He continued, "Justice for Johana and Roxsana means an end to the conditions that killed them, conditions that transgender people in migrant prisons across the country continue to endure."