Senate Democrats are investigating yet another sexual misconduct allegation against Supreme Court nominee Brett Kavanaugh, according to a new report from Ronan Farrow and Jane Mayer in the New Yorker, this one from his freshman year at Yale.

The magazine reports that a woman named Deborah Ramirez allegedly endured an encounter with Kavanaugh at a party in a Yale dorm during the 1983-1984 school year, when both were enrolled as freshman. According to Ramirez, the party included a drinking game that both she and Kavanaugh participated in.
"We were sitting in a circle," she said. "People would pick who drank." Ramirez was chosen frequently, and quickly became drunk. At some point, a male student pointed a plastic gag penis at her while another stood by. But then:
A third male student then exposed himself to her. "I remember a penis being in front of my face," she said. "I knew that's not what I wanted, even in that state of mind." She recalled remarking, "That's not a real penis," and the other students laughing at her confusion and taunting her, one encouraging her to "kiss it." She said that she pushed the person away, touching it in the process. Ramirez, who was raised a devout Catholic in Connecticut, said that she was shaken. "I wasn't going to touch a penis until I was married," she said. "I was embarrassed and ashamed and humiliated." She remembers Kavanaugh standing to her right and laughing, pulling up his pants. "Brett was laughing," she said. "I can still see his face, and his hips coming forward, like when you pull up your pants." She recalled another male student shouting about the incident. "Somebody yelled down the hall, 'Brett Kavanaugh just put his penis in Debbie's face,' " she said. "It was his full name. I don't think it was just 'Brett.' And I remember hearing and being mortified that this was out there."
Ramirez was hesitant to come forward with the story because of her own inebriation, though the account was independently corroborated by others who were there. Other classmates of Ramirez, however, insisted that had Kavanaugh actually exposed himself to her, they would have known about it.
"This is a woman I was best friends with. We shared intimate details of our lives. And I was never told this story by her, or by anyone else. It never came up. I didn't see it; I never heard of it happening," one said.
G/O Media may get a commission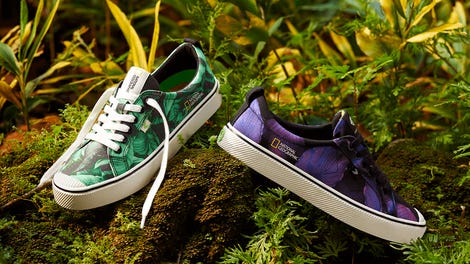 New New New
Cariuma + National Geographic
Ramirez said she never spoke about the incident because she "blamed herself for drinking too much:"
"It was a story that was known, but it was a story I was embarrassed about," she said. More recently, she has begun to reassess what happened. "Even if I did drink too much, any person observing it, would they want their daughter, their granddaughter, with a penis in their face, while they're drinking that much?" she said. "I can say that at fifty-three, but when I was nineteen or twenty I was vulnerable. I didn't know better." Reflecting on the incident now, she said she considers Kavanaugh's male classmates culpable. "They're accountable for not stopping this," she said. However, "What Brett did is worse." She added, "What does it mean, that this person has a role in defining women's rights in our future?"
What a great question. For now, Ramirez and her attorney, Stanley Garnet, are calibrating their next steps. "I do believe an F.B.I. investigation of this kind of character-related information would be appropriate, and would be an effective way to relay the information to the committee,"Garnet said.
Kavanaugh, for his part, has denied the accusation. In a statement, he said:
"This alleged event from 35 years ago did not happen. The people who knew me then know that this did not happen, and have said so. This is a smear, plain and simple. I look forward to testifying on Thursday about the truth, and defending my good name—and the reputation for character and integrity I have spent a lifetime building—against these last-minute allegations."
Update: Lawyer Michael Avenatti wrote in a tweet that he is working with still another Kavanaugh accuser, and also suggested in an email to Mike Davis, the Chief Counsel for Nominations for the Senate Committee on the Judiciary, that he has reason to believe that Kavanaugh and his friend Mark Judge "participate[d] in the targeting of women with alcohol/drugs in order to allow a 'train' of men to subsequently gang rape them."
Looks like Republicans' hopes to hastily push Kavanaugh through the confirmation process might not pan out.