About ten months into dating my boyfriend, I stumbled into his apartment at 1 a.m. after an impromptu night of drinking with coworkers. Because his apartment is a 20-minute walk from my office, and because we had kept in touch throughout the night and he knew the state I was in, this wasn't an issue.

That is, until the next day when, brutally hungover and working off a whole four hours of sleep, I realized I didn't have my makeup bag on me.
I've kept some skincare products at his place for months now, because the thought of schlepping cleanser, a treatment and toner back and forth every night I stayed over was too much to handle. But that day, I decided it was time to stop lugging my overstuffed pink Glossier bag full of makeup and keep a small stash of effective, affordable products at his place.
It sounds stupid, but having one less item to lug back and forth (on a typical sleepover day, I'm bringing my laptop, my gym clothes and a tupperware container full of leftovers) between my Harlem apartment, my office, and his spot in the East Village is no small relief.
Plus, I've kind of fallen in love with my home-away-from home routine. Like, maybe more so than my actual boyfriend. 😬
G/O Media may get a commission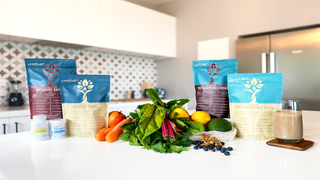 Love Is a Battlefield (Also, Why Am I Like This)
I usually start blogging at 7:30 a.m., which means my beauty routine starts somewhere between 6:10 and 6:30 in the morning, depending on whether I'm working from his place or heading straight into the office.
On my own, getting out of bed is no problem, but I'm loathe to get out of bed before my boyfriend, who typically wakes up around the same ungodly time as I do. My deep competitiveness (whoever is first out of bed is clearly the loser) is amplified by my equally deep desire to have the bed to myself. The man sleeps like a gotdamn starfish, and I long to be free from his tyranny for just ten minutes.

He has no idea I've been playing this game, by the way. And the danger here is if I play it for too long, I'll be late for work.
All of this to say, my morning routine starts with war. After his alarm clock has gone off the 18th time and he drags himself out of bed before me, I declare victory. Then, I wash my face.
Morning Skincare
Because it's early and I'm not in my own space (and because any skincare regimen past five steps is overwhelming and thus, runs counter to the idea of self-care), I keep my morning routine pretty simple. I start off with Kiehl's ultra facial cleanser—this is bar none my favorite cleanser I've ever used, and the 2.5 fl oz version is only $10 and lasts me a good while. Up next is a vitamin C treatment. At home, I use Drunk Elephant's C-Firma day serum, which is expensive enough that I get mad anxious about taking it anywhere outside of a three-foot radius from my bathroom cabinet. So I don't ever encounter my boyfriend pumping three gotdamn pumps of a $72 serum onto his hands, I keep The Ordinary's Vitamin C Suspension 23% with HA spheres on deck. This is a pretty polarizing product; I personally don't mind the grittiness or the tingling sensation, but I can understand how other people are put off by it. Still, it does the business and it's affordable, so it stays in my rotation. Up next is Kiehl's ultra facial cream, which was a godsend this winter. Now that the weather is warmer, I'll probably cop the gel version of this moisturizer to better suit my oily/combination skin, but I'll still hold on to this as a night cream.
I don't wash my hair daily, so chances are I'm also spritzing my hair with dry shampoo in the morning—I use Dove fresh coconut dry shampoo because throwing "coconut" in the name is a good way to get me to buy anything.
After this, I usually take a 10-minute break to do some productive journaling. Writing on the internet is a wild, distracting and disorienting practice on a lot of days, and taking a little bit of time in the morning to sit down and write some shit I'm grateful for and reflect on the kind of work and energy I want to put in the world has been an immensely helpful self-care practice for me.
Plus, it gives everything a chance to sit and soak in.
Entonces, Makeup
I keep a Neutrogena Hydro Boost Hydrating Tint in his bathroom cabinet—a recent purchase that I'm going to add to my at-home roster, I'm that impressed with it. I don't like wearing a ton of product, and this goes on nice and light, blends smoothly and evens out my skin's texture. If I feel like I need a little more coverage, I'll take a foundation brush (I use this little cheap Wet and Wild one) and dab on NYX Total Control Drop Foundation. I like this for traveling because it's tiny but effective, which, come to think of it, is a description I aspire to live up to.

Side note: I also try to chug at least half a 500 mL bottle of water while I'm putting on my makeup. If I start drinking water early in the morning, I'm better about keeping up with it throughout the day, but also, a not-so-small-but-definitely-not-that-reasonable part of me imagines the hyaluronic acid products will grab onto the water I'm drinking and retain it like a dewy fucking sponge. Again, I know this is not how it works, but, shit, whatever gets me to drink water.
Next, I take a Wet and Wild blush brush and apply NYX ombré blush in strictly chic across the apples of my cheek and up to my hairline. I love how this peachy, shimmery color pops against my winter skin—it reminds me a bit of Glossier Cloud Paint in Beam, but with a touch more of a lit-from-within glow. For my eyes, I use NYX's liquid lingerie in Sweet Cloud—I'm a bit of a makeup idiot and have always been terrible about eye makeup in particular, but this product is impossibly easy to use and equally pretty. I top that off with NYX Worth the Hype mascara, which I used to keep at my boyfriend's place before realizing I liked the product so much it was worth toting perennially in my purse. For brows, I use Glossier's boy brow in brown—it's lighter than my natural brow color (which is black), but I find using a black gel is too much drama for my face to handle.
I'm a lip junkie, and have an entire pot full of balms and glosses at my apartment. That being said, absolutely nothing has worked better and faster than Aquaphor lip repair for keeping my lips moisturized (if I misplace my tube, I also keep a Palmer's Cocoa Butter swivel stick in my purse for moisturizing emergencies). I let that sit for a couple minutes as I get dressed, then finish off with NYX matte lip cream in Cannes (My go-to color for spring: it's close to my natural lip color, but with a nice mauve pop that pairs nicely with a peachy blush).
Because my skin eats up makeup, I top everything off with a few spritzes of NYX Matte Makeup Setting Spray to make everything last, another few generous spritzes of Glossier You, put some "Bickenhead" on my headphones, and face whatever news hellstorm comes my way.
Nighttime at the Crib That Is Not My Crib
I'm a night shower person; by the time I'm done with the day, I feel like I literally need to scrub it off of me. Whatever my boyfriend has in his shower is what I use, since I'm not terribly picky about body wash, shampoo or conditioner. Right now, I'm using his Dr. Bronner's soap magic soap in citrus orange, Trader Joe's Tea Tree Tingle Shampoo and OGX coconut milk conditioner (okay, fine, I'm the one who bought the conditioner).
Then, I wash my face at the sink with Yes to Coconut Coffee Scrub/Cleanser stick—mostly because I wanted to experiment with a cleansing stick and this was an affordable option. Also, one less liquid to carry if/when I need to hop on a plane. As a treatment, I use The Ordinary's Granactive Retinoid 2% in Squalene—this is probably my favorite product of theirs, and the difference on nights I use it is noticeable. After letting it sit while I brush my teeth, I return to my Kiehl's moisturizer to lock it all in.
Recently, my boyfriend put all my products into a plastic bin, which of course prompted me to ask, "Are you trying to break up with me?" (He really loves it when I make this joke, which I know because he responds with "MAYBE I NEED TO.")
"The bathroom was mad cluttered," he texted (it's his fault, not mine, I promise). "I'm going to get a new shelf for the bathroom to put your stuff on it."
Wait, an extra new shelf for my beauty products? Whoa. Is this the deepest commitment I've ever experienced? Is this what it feels like to be truly loved?
I guess his starfish-sleeping ass ain't so bad.