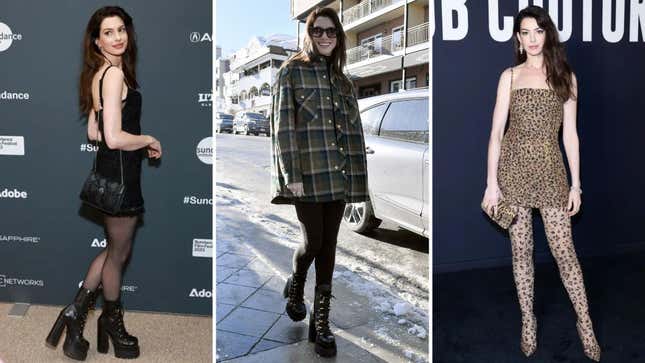 In appearances at the Sundance Film Festival and Paris Couture Week in recent days, Anne Hathaway has proven that she's no longer Andrea Sachs laughing at the difference between belts. No, she's now fully Andy Sachs post-Stanley-Tucci-in-the-Runway-closet makeover. It's not exactly difficult for someone as beautiful, wealthy and successful as Hathaway to look good, but something about this latest run has been especially fabulous.
On Saturday, while promoting her new dark comedy, Eileen, at Sundance, Hathaway bundled up in a black Versace corseted puffer jacket with sheer stockings and combat boots. While I've looked like an upright sleeping bag in my down jacket all winter long, Hathaway looked nothing short of a grunge queen. I never thought I'd string "corset" and "puffer jacket" together into the same phrase, but look, the fit works. She then dropped the puffer coat to reveal a little black dress with a bit of mesh and a subtle shimmery pattern.
Later at Sundance, Hathaway wore a Taylor-Swift-Evermore-esque flannel jacket on the IndieWire blue carpet. It's a look that college students have tried to pull off since time immemorial—but Hathaway appears to be one of the few people who could actually master it.
Finally, in an outfit that I'll probably be thinking about for at least the next decade, the Les Miserables actor rolled up to the Valentino show at Paris Haute Couture Fashion Week looking anything but miserable. Accompanied by her husband Adam Shulman, Hathaway was in head-to-toe leopard print: mini dress, clutch, tights, shoes. That's a distinctly difficult combo to pull off, but she did it with aplomb. And as recent footage has shown, the fit is party-proof, too. Whoever is styling her these days must have noticed how smoothly she posed in animal prints for Vogue Hong Kong's November issue.
G/O Media may get a commission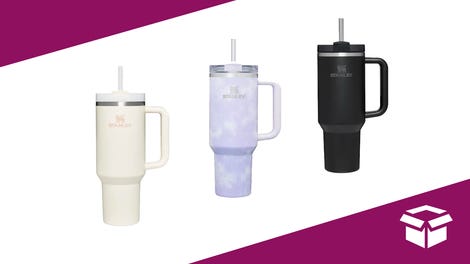 Up to 45% off
Stanley Cup Sale
For some reason (primarily misogyny, internalized or otherwise), Hathaway was the target of a lot of hate about a decade ago. She laid low for a while, but has in the past few years, slowly emerged from the trenches of the random hole we kicked her into—and has done so with a vengeance. I, however, was a little too young to board the Hate-away train, and am still just patiently waiting for her to continue her reign as Mia Thermopolis in the highly anticipated Princess Diaries 3. I can't imagine the Queen of Genovia looking anything less than dazzling in her public appearances.
Anyway, I have no notes—except that I want MORE ANNE. How could I not?? But in the meantime: Give that stylist a raise.