Anna Wintour went on Late Night with Seth Meyers on Tuesday night and, like a Chanel-patterned butterfly nudging itself out of its soft cocoon, made herself vulnerable unto the world with one strangely humanizing tale about getting lost in the basement of Madison Square Garden.
Wintour was there for Kanye's dual debut of The Life of Pablo and his third Yeezy collection for Adidas, and was—awkward!—the first to arrive in the VIP section by about 30 minutes.
I hate it when that happens!!!
Anyway, both shows were "wonderful," Wintour said, but that does not mean she was trying to stay the whole time.

G/O Media may get a commission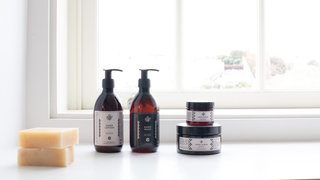 Exfoliate and Hydrate
The Handmade Soap Company
"After 45 minutes I did happen to notice that Jay Z had slid away, so I thought maybe I could sneak out after him without anybody noticing," she told Meyers. "I slid into the basement of Madison Square Garden, and I was lost there for half an hour asking various people to let me out. I don't know if you've ever been into the basement of Madison Square Garden—"
"No, because I don't wear sunglasses inside so I see exit signs," Meyers quipped.
"I was really in tears," Wintour said, adding that she was finally rescued by a "little security guard" who happened to have coached her son's baseball team.
Nothing about this is relatable, and also everything. I, too, cry a little bit when I get lost. I, too, would be annoyed if the Kardashians were late and and I had to sit by myself in front of an entire stadium.
What is happening?