Hillary Clinton, Bill Clinton, and Oscar de la Renta welcomed such fashion leaders as Anna Wintour to Little Rock, Arkansas, last night, for the gala opening of an exhibition of de la Renta's work at the Clinton presidential center.
Wintour has criticized Clinton in the past, most notably when the then-Senator backed out of a planned Vogue cover story during the 2008 campaign; Wintour used her next editor's letter to imply Clinton was "mannish" and a coward.
But last night, Wintour and Clinton were all smiles. "It's anyone's guess what the next chapter will be for this extraordinary woman," said the Vogue editor and prominent Democratic fundraiser. "I can only hope that all of you here in Little Rock will be celebrating her come November 2016." [AP]
---
G/O Media may get a commission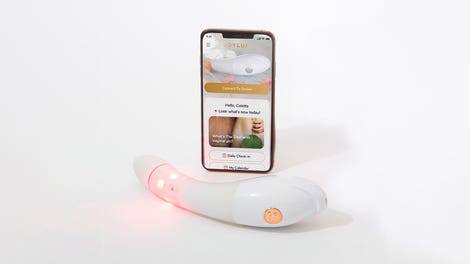 $50 Off
Joylux vFit Gold Device
Women's Wear Daily, which initially ignored Malaika Firth's presence in the fall Prada ads, not even mentioning the new face model by name in its article, apparently took notice after other news outlets drew attention to the fact that Firth is the first black model to be a face of Prada since Naomi Campbell in 1994. In a new interview, Firth describes shooting the campaign:
"Everyone was so nice and friendly. I felt completely different — like a changed person when I put the jacket and big heels and the bag on. I didn't feel like Malaika. I felt like someone else. When I shot with Steven Meisel, he was very humble and very straightforward. It was amazing."
She also says she was buying a sofa at Ikea when she heard the ads had come out. "I screamed in Ikea," she says. "I couldn't help it." [WWD]
---
James Franco is in (some more) Gucci ads. [WWD]
---
Carmen Dell'Orefice, 82, is on the cover of the U.K.'s You magazine. [DS]
---
Willie Nelson, 80, sports some braids in the latest John Varvatos ad. [WWD]
---
H&M posted this "sneak peek" at its upcoming Isabel Marant collaboration on its Instagram. [Racked]
---
Kenzo's collaboration with Pierpaolo Ferrari and Maurizio Cattelan's Toilet Paper magazine is just completely 100% perfect. [Refinery29]
---
Robyn Lawley, the plus-size model who has been a face of Ralph Lauren, launched a swimsuit collection in sizes 8-18. [Refinery29]
---
If you enter the Konami Code, a famous Nintendo-era game cheat, on British Vogue's Web site, dinosaurs wearing jaunty hats appear. [BuzzFeed]
---
• After meeting in Geneva, the E.U., the International Labor Organization, and Bangladesh came up with a formal agreement on safety in the impoverished South Asian nation. The U.S., which attended the meeting, is still evaluating whether it will officially sign on to the pact. WWD, quoting Karel de Gucht of the E.U. Commission on Trade, reports:
De Gucht said the compact commits the EU, Bangladesh and ILO to a number of time-bound actions. These included "reforming the Bangladesh labor law to strengthen workers' rights, in particular regarding freedom of association and the right to collective bargaining, and to improve occupational health and safety," he said, as well as improving building and fire safety, especially structures of buildings and fire safety in RMG [ready-made garment] factories by June 2014, and recruiting 200 additional inspectors by the end of this year.
[WWD]
• Among the things Abercrombie & Fitch doesn't like: black clothing. The company doesn't sell it and bans it for all employees — even for outerwear that they might wear on the way to or from work in the winter. The company considers black a "formal" color unsuited to its "casual" brand. [BI]
• Amare Stoudemire, who plays one of those sports with a ball, had Lanvin make him a custom red suit for his wedding reception because red is "an elaborate, regal color." He looked pretty amazing. [T]
• Kate Hudson, who is already the face of Ann Taylor, is launching a line of athletic clothes with JustFab. It's called Fabletics. Nauseating quote from the press release: "As a working mom, I know what it's like to be on the go and running around from one activity to the next. Sometimes you just don't have time to change, but you still want to look cute, whether you're taking a yoga class, running errands or meeting up with friends before you pick the kids up from school." [WWD]
• Sky Ferreira says she considers herself "lucky" to have modeling as a side gig for her musical career. (Although given the long list of brands and magazines she's posed for and the relative paucity of her musical output so far, one could argue that it's modeling that's the career.) She tells Bullett that there's no reason she shouldn't be a face of Forever 21, Calvin Klein, and Saint Laurent Paris:
"Forever 21 is not Calvin Klein or Saint Laurent Paris. People of all ages listen to my music, and half of them are teenage girls who can't afford designer clothes. So why not do something cool for Forever 21 instead of just blowing it off?"
[Bullett]
• Fashionista talked to the Dutch designer Koos van den Akker, the man who designed many of Bill Cosby's most famous sweaters. (Van den Akker's signature infinity scarf is also pretty boss.) [Fashionista]
• Tom Ford is "flattered" that Jay-Z named a song for him, because duh, wouldn't anyone be? [Billboard]
• Jones Group is apparently investigating its options in the market — most notably acquisition. The apparel giant has enlisted Citi as an investment bank. [WWD]
• Louis Vuitton Moët Hennessy just acquired an 80% stake in Loro Piana for $2.56 billion. [WWD]
• And now, a moment with Nick Gruber, who is currently on-again with Calvin Klein. (Gruber says that tell-all memoir he was shopping, What Came Between Me and My Calvin, was "a stupid idea.") Nick, what's your best memory of the Hamptons?
Billy Joel's birthday! Bruce Bearstring performed. Am I saying that right?

Do you mean Springsteen?
Yeah! Him [laughs]. There were so many celebrities. I had a blast.
[DFR]