Anna Paquin says she was there when Brett Ratner allegedly looked at a woman standing next to Ellen Page and said: "you should fuck her to make her realize she's gay"–while Page was only 18, before she had publicly come out. Page alleges Ratner said this at a "meet and greet" before filming X Men: The Last Stand, in which Paquin was a co-star. Paquin tweeted:

"I was there when that comment was made. I stand with you. @EllenPage"
"If you can't think of the glaringly obvious reason I remained silent then perhaps you've forgotten that I've been in this victim grooming industry since before I hit puberty."
G/O Media may get a commission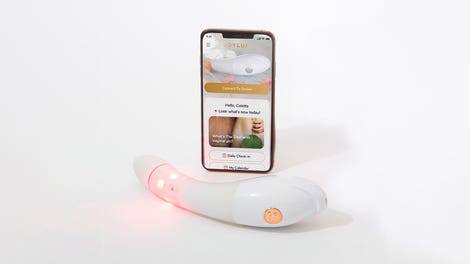 $50 Off
Joylux vFit Gold Device
To review, Page also recounts Ratner commenting that another woman had a "flappy pussy" and another director fondling her under the table when she was 16 and telling her to "make a move" on an older man.
Why even be an actor.
---
It's all fun and games when you're Instagramming Cherokee-inspired headwear for #springbreak, but living in the wild with normal people is another story. In other words, the inevitable test of the Gwen Stefani/Blake Shelton relationship has arrived: Shelton has joked about leaving fame and fortune to head back to Oklahoma and run his new chain restaurant called Ole Red in his Tishomingo hometown of 3,000. CBS This Morning reports:
"As for the next chapter, Shelton said, "Well, I'd like to give you a really honest answer to that question. And – and I will. Every year for probably the last five years I say, 'You know what guys? Next year, next year is – I'm out after that. I'm gonna go pick pecans and I'm goin' fishin' for here on out.' You know, why not?" he said. "I think there is a part of me that realizes even though this is – you know, it gets exhausting and it feels like it never ends, that I would probably miss it."
He's not really going to do it, but thank you for the image of Gwen Stefani hanging up the old Spring 2012 Love. Angel. Music. Baby. cheetah trench, throwing on the old Levi's and grabbing a pack of night crawlers out of the icebox and every once in a while wondering what the Harajuku Girls are up to.
---
The semi-weekly Britney Spears check-in: she's tweeted "secret project"(!!!) in front of a set with floodlights, pointing to a man who looks very much like fashion photographer Peter Lindbergh. He's shot Kate Moss, Nicole Kidman, and Cate Blanchett. This is all we know.

---
FOLLOW THE FUNYUNS.

---