Anheuser-Busch, the makers of Budweiser and Michelob beers, had an ad in the first half of the Super Bowl for one of its smaller brands: Bon & Viv Spiked Seltzer. It's a 30-second spot in which two women—they're mermaids—named Bonnie and Vivian pitch their beverage to a group of sharks, remaking on how great it tastes but how it has zero grams of sugar; the sharks all clamor to invest. The women are wearing cropped button-ups and, of course, have tails—but, as the New York Times points out, some connected the dots between the spot and a Vice essay published in December titled "My Bikini Audition From Hell Shows How Little Hollywood Has Changed."
Anheuser-Busch has now confirmed that the essay is about the Bon & Viv spot. The head of the company's "Beyond Beer" division, Chelsea Phillips, said (per the Times):
"The behavior described in the Vice article is completely unacceptable and goes against everything that our brand and company stand for," Chelsea Phillips, vice president of the company's Beyond Beer division, said in a statement. "I regret that this individual had this experience. Anheuser-Busch does not tolerate any discriminatory or demeaning behavior. I reached out to the production company who produced the commercial, because we hold our business partners to this same standard."
Phillips is the same executive who told Ad Age a few days before the Super Bowl that the commercial was meant to depict women in a different way than most beer commercials do:
"It has two females in a founder position and presented in a different way than we have ever seen alcohol present females characters before," she says. "The strength of these women is very important to me. As a female VP, I want to see more of that representation in this space, but I didn't want it to be a trope. I just wanted it to feel natural...versus more of an overt statement."
G/O Media may get a commission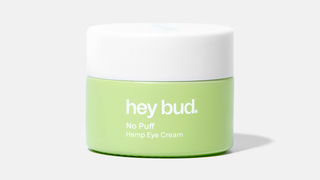 15% off
Hey Bud - No Puff Hemp Eye Cream
The Vice essay was written by Ingrid Haas, an actor who arrived at the audition knowing she'd have to wear a bikini but intrigued by the spot because the women characters had speaking lines and were funny. When she arrived, a casting associate said the actors would have to dance to music for 30 seconds at the beginning of their take. Haas objected multiple times, asking why the dancing was necessary when it wasn't written into the script:
[The casting associated] answered me pointedly, "Welcome to corporate America. This is how we sell stuff." I shit you not, he's a real-life movie bad guy. Then he got up, walked into the audition room and slammed the door behind him. He doesn't like actors saying "no" apparently.
When Haas posted about the dancing requirement on her Instagram story, a friend told her the same associate said the day before that "It's been a while since he's done a bikini audition, so he's having a particularly great day."
Haas decided not to dance, and didn't get the part. Whether those two things are related is open to interpretation; the majority of the actors who auditioned, obviously, weren't cast either. But in her essay, Haas says she feels certain that the dancing wouldn't have been required at all if more women were involved in the casting process:
I guarantee with absolute certainty if the directors or casting directors were female this would not have happened. It takes a lot of people to make anything for TV. This happened because there weren't any women in power on this job or no women who felt secure enough in their position to say, "No, these actors shouldn't have to do that."
The casting company that ran the audition told the Times: "[E]ach actor was asked to dance at the beginning of their audition as this was a way to show one's level of confidence." The associate who slammed the door after Haas's question no longer works for the production company that worked on the ad.