For most of us, the usual post-breakup routine goes something like this: Hit the nearest dive bar in your least appropriate bodysuit, throw back two shots of Disaronno and stick a fiver in the jukebox—enough to hear Suedehead exactly five times. On the second Suedehead, scream into the face of the most defenseless looking guy there that "we're gonna fuck, cowboy." Throw the tiny man into the burlap bag you're using as a purse and, ignoring his pleas for mercy, bring him back to your place to do the Lord's work. (That's a euphemism for boning.)

Standard practice, right? Well, apparently Angelina Jolie is trying a fancy new approach following her split from Brad Pitt: Extended celibacy. Huh? From Hollywood Life:
"Angelina's mind is so not on romance or sex these days, she's totally celibate and she's embracing it," a source close to the By The Sea actress tells HollywoodLife.com EXCLUSIVELY. "She's been reading a lot about how to transform sexual energy into creative power and she's pretty fascinated by it. She's started practicing yoga, which she used to hate but in the past year it's really helped calm her mind."
You cannot convince me that Angelina Jolie—or any celebrity—has ever hated yoga. The source (who, if I were Jolie, I would have killed) went on:
"One of the gurus that she's following preaches about the distractions of sex so it's not like she's getting these ideas out of nowhere," our insider revealed. "Plus the fact is she really doesn't identify with her own sexuality anymore. She's still as sexy as ever but she doesn't see herself that way anymore. She's totally shut that side of her down and she says she's found a lot of peace in that. Her children and her humanitarian work is what she really cares about right now."
G/O Media may get a commission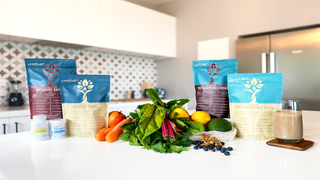 As long as she's got her guru's blessing!
---
Stormi Bree gave birth to her daughter last month, and is rightfully in awe of what her own body went through to make that happen.

It IS amazing. It's actually totally insane! Maybe we don't think about that enough. Let's hit the bowl and contemplate that one, and also the fact that this kid is going to have the poutiest lips of any existing mortal.
[People]
---