The news that Angelina Jolie has been cast to play Cleopatra in a film by Oscar-winning producer Scott Rudin induces mixed reactions.
The project is based on Pulitzer Prize-winning biographer Stacy Schiff's new book, Cleopatra: A Life, which hits stores in November but is already being called a "masterpiece." Rudin's office confirms that the project "is being developed for and with Jolie," and Schiff describes Angelina as having "the perfect look" to play the character.
The problems:
Cleopatra wasn't necessarily gorgeous.
Angelina is stunning. When it comes to Cleopatra, accounts vary. E!'s Ted Casablanca points out, "Even the great Elizabeth Taylor… discovered in her research (and later dished to us) that Cleopatra was 'a really homely woman.'" But according to Cassius Dio, Cleo's personality had a lot to do with it:

"She was a woman of surpassing beauty, and at that time, when she was in the prime of her youth, she was most striking; she also possessed a most charming voice and knowledge of how to make herself agreeable to every one. Being brilliant to look upon and to listen to, with the power to subjugate every one, even a love-sated man already past his prime, she thought that it would be in keeping with her role to meet Caesar, and she reposed in her beauty all her claims to the throne."

Cleopatra died when she was 39.
It's not that Angelina Jolie — 35 — looks old, or can't play younger. But Cleopatra became queen when she was 18. When Julius Caesar was assassinated and Cleopatra aligned with Mark Antony, Cleo was 25. Why not cast a twenty-something?

Cleopatra was probably not light-skinned with blue eyes.
This is the most controversial issue: Greeks often claim she was Greek; North Africans often claim she was North African. According to Cambridge Univeristy's Dr. Sally Ann Ashton:
G/O Media may get a commission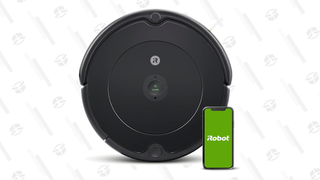 35% Off Black Friday Deal
iRobot Roomba 694 Robot Vacuum
"She probably wasn't just completely European. You've got to remember that her family had actually lived in Egypt for 300 years by the time she came to power."

Dr. Ashton, with the help of Image Foundry Studios, created a digital likeness of Cleopatra based on her extensive research. The result — seen above, on the left — is a woman who is not, ethnically, French and German — as Angelina Jolie is. It's safe to say that the Mediterranean was, in those days, somewhat of a melting pot. So much trade, so many empires, so many different ethnicities mixing, enslaving, fornicating and conquering each other. There were some pharoahs, like Piankhi, who were dark-skinned Nubians. It's clear from the digital face construction that Dr. Ashton believes Cleopatra was not an alabaster-skinned queen. (And actually, the woman used on the cover of Schiff's book appears to be have a slightly bronzed skin tone.)

A few years ago, Angelina darkened her skin and wore a curly wig to play Mariane Pearl, which angered some and didn't bother others. Theoretically, casting race-blind sounds like a good idea — actresses like Maya Rudolph and Rashida Jones have played characters who were not written to be black or biracial. The talent of the actor should be what's most important. Yet this is Hollywood, where an A-lister like Angelina Jolie can play whomever she likes. But surely there's some amazing, brown-skinned, non-European actress who would jump at the opportunity to play an iconic queen? So often, white people are "allowed" to play characters who are not white… When do minorities get the same kind of chance?
Angelina Jolie to Play Cleopatra [The Wrap]
Cleopatra: A Life
Angie's Perfect as Cleopatra-for the Wrong Reasons [E!]
Elizabeth Taylor's Cleopatra 'Nowhere Near Reality' [Telegraph]
The Real Face of Cleopatra
Earlier: Portrait Of A Lady
[Digital images via Image Foundry Studios]