Until recently, my adult life had been characterized by negligence when it came to beauty and skincare. I'd slather coconut oil all over my face and body and call it a night. In the mornings, I'd forget about SPF like a UV-irradiated degenerate. Laziness was the deciding factor — but it wasn't without an aversion to capitalism (lol) and lifestyle advertising.

Somewhere along the way (and probably aided by noticing wrinkles and eyebags!), my laziness subsided a bit, and my feelings became slightly less conflicted. This shit is fun and feels good. I'm here for it.
Morning
My alarm goes off at 8:30 on weekdays, which is typically only six-ish hours after I've managed to drag my ass to bed. I'm usually already awake, thanks to next-door construction and neighbors clomping around upstairs, but I remain paralyzed in a delirious stupor. I peel off my Alaska Bear eye mask and hit snooze at least once, finally stumbling into the bathroom by about 8:55. Every morning, I resolve to get more sleep and fail.
For years, I washed my face in the mornings by splashing tap water on my skin and toweling it dry. I finally Googled this practice recently and discovered that this is an inadequate way to cleanse one's face. I still splash-and-towel-dry for the fun of it, but now I follow it up with a cotton ball half-soaked with Garnier All-in-One Micellar Cleansing Water. I use the other side of the cotton ball to swipe Thayer's Rose Petal Witch Hazel toner over my face. I'll pat on The Ordinary's Caffeine Solution under my eyes if they're puffy, or their Niacinamide 10% + Zinc 1% formula if my skin seems congested. Then, I'll apply Mizon Snail Recovery Gel Cream, which contains snail mucin.

G/O Media may get a commission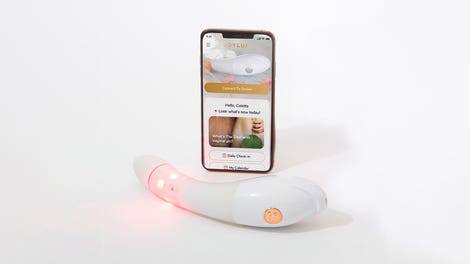 $50 Off
Joylux vFit Gold Device
Weirdly enough, not long after I got into snail products (my fave is the Benton Snail Bee High Content Essence, which I'm currently out of), I found a giant snail (okay, a slug) on my bed. It was kinda gross and extremely bizarre. Judging from its slimy mucus trail, I think it came in from outside, traversed my wall, and found its way onto my pillow. I'm glad that never happened again! After the snail stuff, I typically use CeraVe AM Facial Moisturizing Lotion.
Onto the makeup. I have the Fenty Beauty Matte Skinstick in Bamboo, which I'll use to cover up the reddish areas around my nose, as well as any blemishes I might have. That includes zits, hyperpigmentation from picking at my face, and mosquito bites during the summer. A rogue mosquito entered my room and bit my face five times on an unseasonably balmy winter night not long ago, and I'm still bitter about it. Along with my purchase of the concealer, I now keep a pouch of mosquito-repelling Chinese herbs above the bed and an emergency mosquito net in the closet.
I admit it: Glossier trapped my ass with their damn Instagram ads. I own all three shades of their Haloscope highlighter, among other good and bad products. Lately, I've been reaching for Haloscope in Moonstone, my least favorite of the three, partly in an effort to use it up faster. I've also been dabbling with the Fenty Beauty Shimmer Skinstick in Yacht Lyfe as a blush. On my eyes, I use the more neutral pigments in the Urban Decay Naked Smoky Palette, which I purchased because it was heavily discounted prior to being discontinued. I then smudge some Clinique Quickliner in Black/Brown on my eyelids and finish with Japanese Nivea Bright Up Lip Balm, a light and sheer peachy-pink. If I'm feeling less lazy, I'll swipe Glossier Boy Brow in Black over my eyebrows.
Sometimes hair stuff happens, and sometimes it doesn't. I duped myself into buying a Mason Pearson brush a couple of years ago — an outrageously expensive plastic-and-boar-bristle brush that is supposed to work better than your average drugstore hairbrush. I run it through my hair when it seems tangly. On days when I have time to spare, I work Kusco-Murphy Dry Leave-In into my hair with my fingers. It was gifted to me, used, by the hairstylist at a commercial modeling gig I worked last fall. I have no idea how old it is or what effect it has, but it smells pleasant, and the experience of spritzing your hair with something feels nice.

My morning routine takes 15-20 minutes start-to-finish—longer if I've forgotten to think about an outfit the night before. I arrive fashionably late to my job at about 9:50.
The Rest of the Day
The hour grows late. Smoke rises from mountain of Doom. I bite my lip nervously and smooth on many layers of Jack Black Intense Therapy Lip Balm. Nothing else really happens during this period, product-wise.
After Dark
If I'm going out or feeling gross, I might dab a tiny bit of LUSH Karma solid perfume onto my wrists. It's slightly mushy and unquestionably past its shelf life — I bought it like half a decade ago — but it still smells so good and so musky. I own the solid shampoo in the same scent.
Around midnight, I hop into the shower or bath. Night showers are my jam; I love getting into bed clean. I start by double cleansing my face with DHC Cleansing Oil followed by CosRX Low pH Good Morning Gel Cleanser. I switched to using Japanese Salux washcloth on my body last month after discovering a thriving colony of mold inhabiting my loofah. I do not recommend that experience! I do recommend the Salux cloth, though. It lathers well and dries super quickly.
On nights where I've gone to karate or yoga, I wash my feet thoroughly with Dial or Good Soap bar soap — but tbh, if I haven't broken a sweat all day, I tend to forgo soap altogether. Three or four times a week, I wash and condition my hair with TRESemmé. Baths happen when I'm injured, sore, or stressed out, with a scoop of sea salt.
Post-shower, I use The Ordinary's Vitamin C Suspension 23% + HA Spheres 2% on my face, followed by Squalane and sometimes The Ordinary's Natural Moisturizing Factors. When did I acquire so many things by The Ordinary? They were all so affordable, and I was so weak. I lotion with Nivea Daily Moisture Body Lotion—a bit too thin and fragrant for my liking. Because I'm constantly nursing minor injuries these days, I keep a cornucopia of pain-relieving topicals on my nightstand. My favorite is Boiron Arnicare Gel. It's homeopathic, but I think I Believe.

My day ends with the Laneige Lip Sleeping Mask, which I currently have in a sample size. This shit seriously completely undoes aforementioned lip-biting I do during the day. It is magic. After smearing it on and falling down some Internet rabbit hole, I crash.