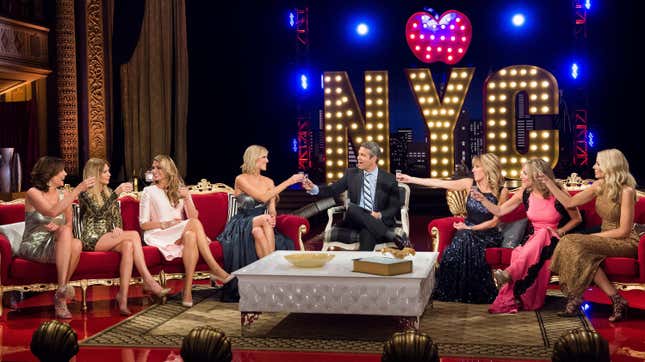 As of late Monday night, it appeared the suits at Bravo issued an unceremonious CLIP! to the Real Housewives of New York City spin-off, RHONY: Legacy, per a new report from Page Six. While Bravo initially declined to comment, network exec Andy Cohen weighed in less than 20 minutes after the report went live, tweeting a cryptic: Don't believe everything you read. #RHONYLegacy"
Could Cohen simply be staving off rabid RHONY fans such as myself? Is there still a chance that the women who brought us iconic moments like this one will grace our televisions once more? Currently, it's anyone's guess. But as a card-carrying member of the Bravoverse since 2010, I need some hard truths. I'm talkin' harder than the way former RHONY housewife Aviva Dresher slammed her prosthetic leg on the table in the middle of a midtown eatery. In the meantime, let's look closer at the Page Six report, shall we?
Sources close to the network told the tabloid that as of this week, all talks surrounding the potential series hadn't just stalled—they "collapsed." As of Monday evening, Bravo allegedly withdrew its offers to the stars—reportedly Luann de Lesseps, Sonja Morgan, Jill Zarin, Kelly Bensimon, and Dorinda Medley—and there are no contingency plans in the immediate future.
If you happen to be unfamiliar with the ins and outs of Bravo's twisted, torrid world of excess and excrement, you likely already know what could've prompted Legacy's supposed demise—or, at the very least, its delay. In short: contract negotiations. According to sources, "the talent" had the notion that the network wasn't going to pay what they're worth, nor would it guarantee they would appear in "enough episodes" in the spin-off's pilot season.
"It's just not worth it," one source "sniffed." Medley, is that you?
The network reportedly offered its patented "never say never" and the promise that the show could be revived in the future, referencing the Real Housewives of Miami franchise, which took an eight year hiatus. Meanwhile, Cohen has recently promised the new—and hopefully, improved—RHONY franchise, starring a cast of newcomers like Jenna Lyons, will be a "different show."
When it comes to Legacy, I have some hope. But if Cohen is deflecting, as he's shown a particular gift for doing, to quote The Countess: How could you do this to me...question mark.
---