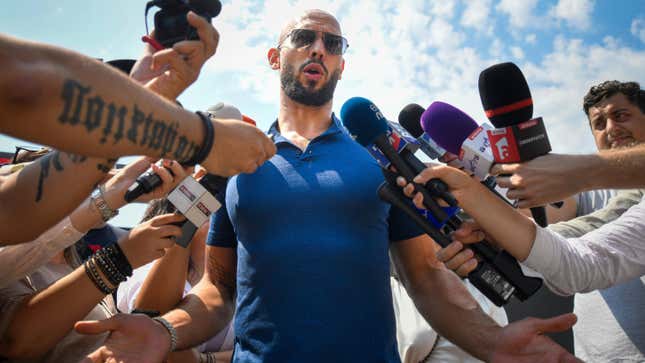 A new report from BBC identified at least 45 female victims of a group of top followers of Andrew Tate who pay $8,000 per year to be members of Tate's "War Room" community. BBC's report draws from "12,000 pages of encrypted Telegram messages sent by hundreds of War Room members," in which the roughly 434 members share tactics and discuss results in their quests to seduce, "groom," and deceive women into doing sex work for them.

Tate faces rape and human trafficking charges in Romania over alleged crimes that closely mirror the grooming and exploitation tactics discussed in his War Room. The misogynist mega-influencer was just released from house arrest in Romania at the beginning of August, pending his forthcoming trial. Earlier this year, Tate also received a legal letter from four women accusing him of sexual assault and physical violence, warning Tate of imminent legal action in London's High Court. Tate denies all of the allegations against him.
Per BBC's reporting, members of Tate's War Room pursued a course to get their "PhD"—that is, their "Pimpin' Hoes Degree." The group's leaders, called "generals," trained members at best practices to manipulate women, pressure them to perform adult web cam work, and then take the majority or all of the money the women made. Members pursuing their "PhD" talked about using "Pavlovian conditioning" on victims of their schemes, and one member wrote, "this is how you train dogs."
Another leader of the group, identified as a man named Miles Sonkin in Chicago, instructed members on a "series of gradual steps to remove [a woman's] entire support structure from her life." He explained, "Then we 'punish' her for a transgression—real or imagined—by having her get our name tattooed on her," as a "test of submission," and "leaving her's family's home/apartment/town/country, WebCamming/stripping/walking the track for us, getting us girls, escalate, escalate, escalate." According to Sonkin, "isolating [a woman] from her family, friends, past, is the KINDEST thing you can do for her IF you are taking RESPONSIBILITY for having SOLE AUTHORITY over her."
Another leader of the war room, identified as a man named Joe Lampton, described acts of physical abuse he perpetrated on one of his victims when she complained to him about her work. "I took her keyboard and hit her in the head with it," Lampton's post said. "She went into the room and worked 7 hours without any break."
BBC, which identified 45 different female victims described by the members, spoke to two of the women who recounted being exploited, isolated from their friends and family, and physically abused by members of Tate's War Room. According to BBC, one of the women "gave away up to 80% of what she earned at any one time—a total of $95,000—to two War Room members" and was slapped across the face by one of the "generals."
A spokesperson for Tate told BBC that its report "not only present[s] false accusations, but insult[s] the massive community that considers Andrew Tate a life changing positive force."
Tate and his brother Tristan were arrested at the end of 2022 and held in Romanian jail through the end of March on human trafficking charges. The brothers were under house arrest until Aug. 4. No date has been set for their trial yet, but despite or perhaps because of the horrific allegations against them, the brothers maintain their mega-influence among men—especially young men and boys—around the world. The tactics Tate has taught his followers through his videos and social media posts have always been disturbing, and it's especially disturbing to learn about how his followers have put his teachings into practice in their own lives.