Andrew Garfield would be into playing a gay Spider-Man — after all, MJ can stand for anything.
He told Entertainment Weekly: "I was kind of joking, but kind of not joking about MJ. And I was like, 'What if MJ is a dude?' Why can't we discover that Peter is exploring his sexuality? It's hardly even groundbreaking! So why can't he be gay? Why can't he be into boys?" Any one boy, specifically, Garfzes? "I've been obsessed with Michael B. Jordan since The Wire. He's so charismatic and talented. It'd be even better—we'd have interracial bisexuality!"
Apparently he has even regaled director Marc Webb with the idea. ("Michael B. Jordan, I know.") Damn his lack of enthusiasm. [EW]
---
G/O Media may get a commission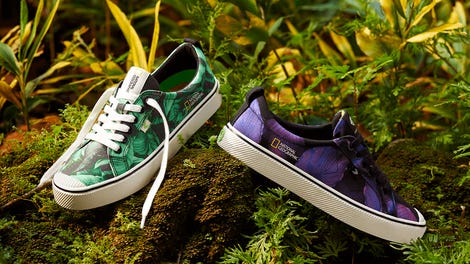 New New New
Cariuma + National Geographic
Justin Bieber has apologized on the phone to Bill Clinton after drunkenly shooting a jet of restaurant cleaning fluid at a photo of the Big Dog and yelping "Fuck Bill Clinton!" like the COOLEST PERSON IN THE UNIVERSE. Bill forgave him, probably because he engaged in similar shenanigans at Beebs' age, like eating a doughnut suggestively while looking directly into the eyes of a nun waiting for the bus.
[Gossip Cop, Extra]
---
142,000 greasy backstage pictures of Lady Gaga and her cohorts snapped by her friend Terry Richardson when he followed her around during her 2011 "Monster Ball" tour (not to be confused with the one where Halle Berry goes "Make me feel gooooooooood") are now being used as evidence in former assistant Jennifer O'Neill's lawsuit.
She claims that her appearance in the pics indicates her working insane overtime hours that she was not paid for. Gaga insists that she's "a fucking hoodrat who is suing me for money she didn't earn." [NYDN]
---
Charlie Sheen is in Scotland, blowing through the jasmine in his mind. JK, he's on a private jet with two friends and looking for the Loch Ness monster. When he finds it, he plans to do coke with it and pontificate a mile a minute about the traffic on the L.A. freeway. [TMZ]
---
Images via Pacific Coast News