Late on Friday, Governor Andrew Cuomo released a list of 13 companies and institutions that his administration determined had supported or participated in the Boycott, Divestment, and Sanctions (BDS) campaign against Israel. Per an executive order he issued over the summer, the state of New York must end any business relationship it has with those firms. As it turns out, none of the named entities actually do business with the state—so what, then, was the point?

The thirteen companies on the list are mostly Dutch and Nordic in origin. At least one—the Copenhagen-based Danske Bank—has divested from Israeli firms that have also been subject to divestment and sanctions from entities that do conduct business with the state. In 2010, Danske Bank divested from Africa-Israel Investments Limited, a real-estate development firm run by the billionaire Uzbek diamond tycoon Lev Leviev after it became clear that an Africa-Israel subsidiary, Danya Cebus, was involved in illegal settlement construction in the West Bank. It also divested from Elbit Systems, Israel's largest publicly-traded arms and security firm; their drones have been aggressively deployed in the Gaza Strip.
Danske Bank is not the only firm to have divested from Africa-Israel: so too has Norway's Ministry of Finance, which announced in 2014 that it would drop the firm from its government-run pension fund, and the financial colossus BlackRock, which just today awarded received $25 million in special tax credits. Neither Norway nor the $5 trillion BlackRock are included on Cuomo's blacklist. Danske did not immediately return a request for comment.
(Incidentally, Africa-Israel reached a settlement agreement with New York Attorney General Eric Schneiderman earlier this year over its ludicrous development practices in Manhattan: Leviev went on a three-quarters-of-a-billion-dollar spending spree in 2007, buying up condominium buildings across the city, which he then let fall into disrepair when the recession hit.)
According to Cuomo's order, the list is to be updated every six months. So, who knows, maybe the Office of General Services (the agency tasked with administering the list) will add Norway and BlackRock to it, though that seems unlikely for a number of reasons—not least because entities like those two have the means to fight such an action in court. They are not, it would seem, the actual targets of the blacklist tactic. "Some activists have been celebrating because the list is so limited" Radhika Sainath, a staff attorney at Palestine Legal, told Jezebel. "This is a rolling blacklist, however, and no one can be sure what is to come. It's not clear if Cuomo is going to blacklist domestic groups as well, for example. This instills fear and confusion—especially in marginalized communities that might now think twice about supporting BDS."
G/O Media may get a commission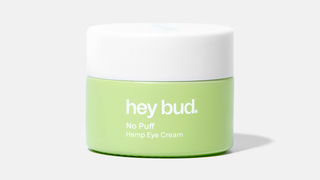 15% off
Hey Bud - No Puff Hemp Eye Cream
Palestine Legal is considering ways to challenge Cuomo's order in the courts, either on First Amendment grounds (boycotts to effect political change are protected speech) or on Fourteenth Amendment grounds—the way that the blacklist actually works is so vague as to be potentially constitutional. In a statement, one of the listed companies—Royal Haskoning DHV, a Dutch consulting firms—said that it was not made aware of its inclusion on the list until after its publication. This is contrary to the text of Cuomo's order, which states that the OGS commissioner must allow any institution or company being consider for inclusion on the blacklist a period of at least 90 days in which to present "evidence that the institution or company does not in fact participate in boycott, divestment, or sanctions activity targeting Israel, either directly or through a parent or subsidiary."
"Royal Haskoning DHV regrets that it is included on the list and is investigating the matter," the statement reads. "We don't boycott Israel and have been working on projects in the country for water, the environment and infrastructure for many years since the early seventies." Troidos Bank issued a similar statement: "Triodos Bank does not boycott Israel, nor does it have a policy to exclude Israel. Triodos Bank has requested the removal of our company name from the New York State list." Neither Royal Haskoning nor Troidos immediately returned requests for comment.
No one in the Office of General Services was available answer Jezebel's questions about how the blacklist actually works on Thursday, although Electronic Intifada was able to get someone on the phone earlier in the day:
OGS told The Electronic Intifada that "the state stands by the executive order" and referred to a 2012 list the governor compiled against companies invested in the Iranian energy sector.

When pressed for details about the procedures for compiling and maintaining the list, the OGS spokesperson replied that "several constitutional scholars, including Alan Dershowitz … support the executive order."

Dershowitz, a former Harvard law professor and staunch Israel advocate, has long smeared Palestinians and the BDS campaign.

He recently defended Steve Bannon, President-elect Donald Trump's chief strategist who was previously the executive chairman of Breitbart News, a platform for the white supremacist and anti-Semitic "alt-right" movement.
In the meantime, Sainath said, Cuomo should consider how his actions are understood in the context of Trump's America.
"Boycotts are protected by the First Amendment," Sainath said, "but Donald Trump does not seem to care about the rule of law." (Trump has proposed "opening up" libel laws and jailing flag-burners.) Mario Cuomo, the governor's father, supported divestment from South Africa when he was in office, she pointed out, and the governor himself has backed the boycott of North Carolina over its discrimination against transgender people.
"Andrew Cuomo should be vigorously defending people's right to dissent," she added. "Not restricting it."
Update, 12/9/16 – In a statement provided to Jezebel, Thomas Hyldahl Kjaergaard, Danske's Head of Responsible Investments, characterized the Danish bank's inclusion on the list as a "misunderstanding." In fact, the bank has "several Israeli companies included in our investment portfolios."
The statement continued: "However, we do invest based on our principles for responsible investments. Thus, when we invest on our own and on behalf of clients, we strive to invest in companies that adhere to international principles for corporate responsibility such as the UN Global Compact regardless of where they have activities."

"Consequently, and as a precautionary approach, we can avoid investing in companies that for instance are involved in production of controversial or illegal weapons, or are temporarily challenged by misconduct."