I'll be moving out of my apartment this month, which means that I should take a hard look at my belongings and eliminate the unnecessary. However, I'm a hoarder and will most likely be packing up every insignificant article that I've collected since moving to New York, much to my expense.

When I examine my skincare arsenal, I realize how doomed I really am in terms of the packing process. I have too many products and yet I somehow feel like I need more. I'll try to exercise restraint for the next month but I've been eyeing a few more things to add to my current routine. Pray for me.
7:30 a.m.
I try to wake up around 7:30 on most mornings—but I always linger in bed for approximately an extra 15 minutes in order to prepare myself for the arduous act of getting my shit together. Eventually, I gather the courage to leave my heavenly bed and start my morning by washing my face. I'll use Lancome Crème Radiance—a foam-based cleanser that I massage into my skin to clean off last night's skincare regimen. A luxury facial cleanser may seem extravagant, but this product truly rejuvenates my face in the mornings and, since I'm a horrible night owl, I'm willing to shell out a few more bucks for a product that will give me that awakening sensation.

G/O Media may get a commission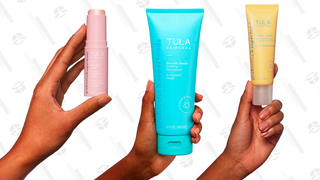 I'll tone my face with Thayer's Alcohol-Free Rose Petal Witch Hazel, which helps mitigate my naturally oily skin. I need to truly get in a mood to get my face right for the rest of the day, and this is a necessary first step. I'll apply the witch hazel with a cotton pad on my face, ears, and neck (including the back—a relatively new addition to my routine as I feel it's a neglected area). I have a sample sized version of Drunk Elephant's C-Firma Day Serum that I'm looking forward to finishing up (the overly saccharine scent reminds me of cotton candy) on the same areas and I wait a couple of minutes for the serum to absorb into my skin. I don't want to look like a wet seal on my morning commute, so I need everything to dry a little before I commence my makeup routine.

Next, I apply a fairly generous amount of Kiehl's Creamy Eye Treatment with Avocado around my eye area, including the outer temple. I've noticed a few fine lines developing in the area, which doesn't scare me and hasn't caused the existential crisis that I thought it would. But these lines do remind me that I need to pay more attention to hydrating the eye area during this harsh winter. I'll follow up with Shiseido's Pureness Moisturizing Gel Cream. Again, I wait a minute or two to let it dry.

I've been increasingly concerned about refining my suncare routine (which was pretty nonexistent six months ago). I use Shiseido Ibuki Protective Moisturizer that I use after my moisturizer on my face and neck. I'll probably need something with a higher SPF in the warmer months but this is a fairly gentle product that I enjoy.

I fucking love putting on makeup—it's like finger painting but with more finesse, vanity, and reward. For foundation, I typically use the Lancome Teint Idole 24H Foundation in 340 Bisque N (which also contains Broad Spectrum SPF 15). However, my mom recently gave me a sample-sized version of Clinique Chubby Stick Foundation in Normous Neutral, and I'm amazed by how closely it matches my skin tone in addition to its easy blendability. I'm also a fan of portable makeup products that I can carry with me to touch up throughout the day when my face inevitably shows signs of fatigue and grease.

I have prominent undereye circles, which I don't necessarily mind—a part of me wants the world to know that I'm tired because trying to get all of my responsibilities done within a certain amount of time is tiring. However, the other part of me recognizes how very purple and puffy my undereyes truly are. If I'm feeling attentive in the morning, I'll use a cushion-based foundation from a K-beauty brand called Missha as a concealer. It's another gift from my mom that she got from the Korean market. Unfortunately, she managed to get a product that was at least two-and-a-half shades lighter than my actual skin tone (which makes me think, does my mother even know me?). The texture, however, is creamy, doesn't crease, and has an SPF of 40. So I'll take what I can get —I apply a thin layer under the eye and around areas of hyperpigmentation—typically around the nostrils where there's redness and over some dark spots from acne scars that refuse to fade.

At this point, I'll hopefully be pleased with whatever I see in the mirror. It's hit or miss, honestly. On the fair chance that I'm not, I continue onwards. I then apply Glossier's Boy Brow in black to give me the eyebrows that God hath not given me. By this point, I'm satisfied with what I'm working with now that I have brows.

The one product that I openly admit to having too much of is highlighter—I'm obsessed with the idea of manipulating light to bring forward facial features while simultaneously creating a youthful glow. It's amazing and I hope it's a trend that will continue for generations. If not, I'll still use highlighter until my final days. I use RMS Beauty's Gold Luminizer (from a gift set that was given to me), or Benefit Watt's Up Crème Highlighter. I also like the Becca Cosmetics Shimmering Skin Perfector Crème Highlighter as well as their liquid highlighter in Moonstone. I have a problem. But different days require different glows.

Although highlighter may be my favorite product, my favorite step in my routine is blush. Until recently, I never understood how to apply blush on my face— smiling while applying seemed disingenuous since I rarely smile. But I recently (ashamedly) bought all four of Glossier's Cloud Paints and I enjoy how easily they blend out and create a painterly look on the skin. It also does remind me of acrylic paint and I feel like a toddler in art class whenever I use these. My favorite shades are Beam (a coral tone) and Dusk (a dusty rose). I'll use those shades on my eyelids as well.

Most days, I stop there. On a good day, I'll do what I can to bring some more life to my face—sometimes that's It Cosmetics bronzer, to bring warmth to my cold soul and try to add some dimension to my empty and tired eyes. I have double eyelids that get very oily throughout the day, so I need a stubborn-ass eyeliner that won't let me down. Makeup Forever's Aqua XL Eyeliner (in brown) has been pretty reliable. If I'm feeling cheerful, I'll use Becca Cosmetics Slimlight Highlighter as an eyeshadow and use Too Faced's hyperbolic Better Than Sex Mascara. This finished look brings me joy for approximately 15 minutes until I realize that the eyeshadow will most likely crease by lunchtime.

I finish up with Fresh Tinted Lip Treatment in Honey and maybe the Fenty Beauty Gloss Bomb if I'm feeling invincible. I go to work looking and hopefully feeling fresh.

The Rest of the Day
Sometimes I touch up with some concealer and apply Aquafor for my lips throughout the day. If I'm bored, I'll apply whatever perfume I have in my makeup bag. Keeps me entertained.
7 p.m.
It's the end of the day and I feel like slush. Onto my nightly skincare routine; it's extensive and I do not mess around. In the past year, I've found that these products are gentle enough on my skin to not cause extreme reactions or breakouts yet are effective enough to create and sustain my glow for the upcoming day.

After work, I almost immediately remove my makeup, and I make sure that every molecule of my makeup is off my face. I wash my face with Lancome Oil Cleanser. I used to be extremely skeptical of cleansers as the only tool for makeup removal, but I found my previous removal method (makeup wipes) to be wasteful and slightly abrasive on my skin. Surprisingly, this cleanser does the job and removes everything.

I'll follow up the double cleanse with a sulfate-based facial cleanser prescribed by my dermatologist. It smells slightly acerbic, but it prevents breakouts and has evened out my skin texture so I endure its less than satisfying scent.
I always take a night shower. I like to be clean of whatever germs that I have picked up from the office and subway earlier in the day. I also love the feeling of taking a steaming hot shower and going to bed feeling refreshed.
I rinse my hair with Pantene Shampoo and follow up with TRESemmé conditioner; both are brands that I've been using for years and haven't caused problems. Therefore, I've stuck with them. I then use Mistral Bar Soap in "Water." I'm not entirely sure whether this is actually hand soap, but it smells nice and therefore is nice enough to use on the rest of my body.

I used to treat my post-shower hair with Biosilk Silk Therapy (another product that I've been using for years) but I recently ran out and am currently too lazy to buy another bottle until after I move. As of right now, I'll use a few drops of The Ordinary's Moroccan Argan Oil on the ends of my hair to keep them hydrated. I very recently tried Kocostar's Hair Therapy Mask which left my hair feeling very soft and moisturized. I'll try to incorporate it on a weekly basis but, with the moving process, it's doubtful at this very moment.

For some reason, my approach to hair care is minimal and borderline nonexistent. It honestly probably needs more attention but my hair rarely ever makes a fuss and looks healthy enough (at least in my eyes) that I can't be bothered to add more products to my already extensive skincare/body routine. I wear my hair up about 90 percent of the time (leaving my hair down is extremely distracting to me—I'm always in awe of anyone who can be productive while keeping their hair is down). It's probably why this segment of my self-care routine is bare boned. I assume that I'll probably regret my negligence a decade from now, but so far my routine hasn't caused my hair to fall out. I'll take fish oil and biotin supplements occasionally when I remember to take them and I hope they're actually helping to sustain healthy hair. However, I I don't take them often enough to get substantial benefits from them.
For my face, I'll use Kiehl's Ultra Facial Oil-Free Toner as the base of my extensive routine. After, I use The Ordinary's Hyaluronic Acid 2% + B5 Serum on my face and neck. Hydration is key! I'll also use the Kiehl's Avocado eye cream again at night. If I feel that my skin is acting up or getting a breakout, I'll use The Ordinary's Niacinamide 10% + Zinc 1% and pray that it works (it usually does). I'll then use Drunk Elephant's TLC Framboos Glycolic Night Serum to aid skin retexturizing. I then drench my skin in Shiseido Revitalizing Essence and Ibuki Softening Concentrate.
I look alarmingly unctuous at this point—it's kind of incredible that my skin can absorb this much product without breaking out. On the contrary, my skin looks healthy the next morning, so I assume that these products have been good to me.

I'll moisturize the rest of my body with Nuxe Huile Prodigieuse Riche, which has been necessary for the winter. I feel pretty oily and have wait a few minutes for it to dry before rolling into bed. I've always had trouble sleeping; I'll set an alarm for 6 a.m. to go to the gym, but once 2 a.m. rolls along and I'm still wide awake, I'll set off that alarm and mentally postpone my working to the evening. I'll probably fall asleep around 3 a.m. as I dread the fatigue that I'll experience in the morning. I get about four to five hours and rely on my very long but ultimately necessary skincare regimen to hide the fact that I'm suffering from lack of sleep. I hope that no one can tell.