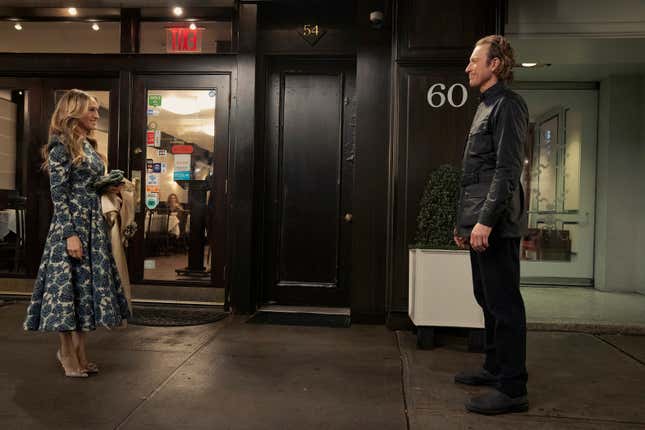 Reenter: Aidan Shaw. This week's episode of And Just Like That..., "February 14", lassoed Carrie's ex-fiancé back into her televised multiverse of Manolo Blahniks. In the last episode, Carrie sent Aidan an email with the romantically delusional subject line, "Hey Stranger..." This week, we got a response. Aidan wanted to meet up with her on Thursday, which in another moment of romantic delusion, was Valentine's Day.
After waiting at the wrong restaurant, Carrie wanders outside to check the address, slowly twirls around like a lost doll, and bam! Aidan appears. It's a bit of a jump scare, not because I wasn't expecting him, but because I wasn't expecting him to look so batshit.
He's wearing a sleek black belted jacket with not two, not three, but four front notebook sized pockets. I wouldn't think twice if I saw a character on Succession wearing the $595 Belstaff jacket. It is stupid-looking in the way rich people with zero taste buy expensive things thinking a price alone can certify a sense of style. He looks like a Civil War soldier who rode into battle on a souped up Ducati.
This jacket isn't new to the diehard fans. Behind-the-scenes set photos emerged last winter showing Aidan—in this military lewk—and Carrie strolling hand in hand like they're about to start belting "Seasons of Love" in the middle of Canal Street. It was upsetting then; it's upsetting now. As Carrie Bradshaw might muse, some things don't grow better with age.
But my biggest issue with the jacket is that it dramaturgically doesn't make sense (cc: Jeremy Strong.) Aidan—the woodworking, bar-owning soft-boi—wore chambray shirts and sleeve rolled-up button downs in earth tones. On his working hands he wore turquoise rings; imagine the guy from your creative writing class who waxes poetic about the power of the great outdoors. That, spiritually, is Aidan. And Aidan doesn't wear a waxed cotton, belted jacket that looks like a bell hop on his way to go clubbing.
Among a sea of characters dressed to perform in a Vivienne Westwood inspired Cirque du Soleil show, Aidan dressed positively normal. And that was his appeal! Though also, arguably, maybe his downfall: His sartorial and overall tameness were no match for Carrie, which is why this visceral disgust I have at his horrendous jacket feels like such a betrayal. Be wary, Carrie!!
Of course, a lot has happened since we last really spent time with Aidan. We know that he's gotten married to another furniture designer, had three kids, gotten divorced from said furniture designer, and sold his company to West Elm. Individually none of these are particularly noteworthy, but together might create a petri dish ripe for growing a particularly gnarly midlife crisis. My best guess is that is what we're seeing happen with Aidan and this jacket.
He's come into some money, he's single, his hair is still miraculously mousey brown, and he wants a jacket to make people look at him and say, "Wait a goddamn minute, what is this guy's fucking deal!" And if that's his goal, it's working.