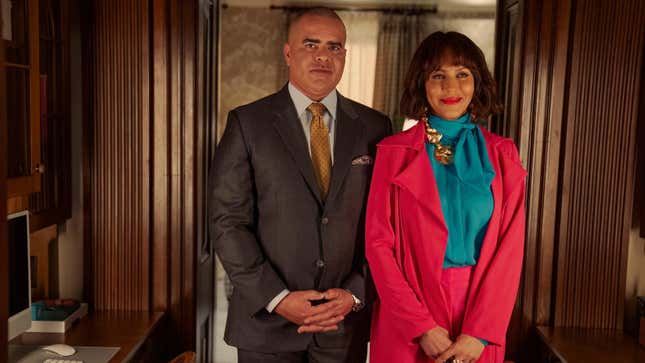 Last week on And Just Like That, we learned Charlotte's new friend, documentarian Lisa Todd Wexley, is pregnant—an unplanned, crushing outcome for Lisa, who was about to return to her career after taking years off to raise three kids. (PBS just picked up her documentary on trailblazing Black women for a 10-episode series. Hooray!) And this week, with part one of the season's two-part finale, we learn Lisa is even more devastated by the unplanned pregnancy than previously known.

Uterus Weekly: 15-Week Abortion Bans
Lisa wakes up in the middle of the night distraught and berates her husband for not getting the vasectomy she'd asked him to get eight years ago. Earlier in the episode, she reveals her pregnancy to Charlotte, asking while on the verge of tears: "How am I going to do a ten-part series with a newborn?" She continues, "I will be failing at both jobs. When the baby comes, even with help, it's just so much, so many moods and schedules to manage."
"I just, I thought it was finally my time," she says, crying.
It's clear Lisa doesn't want what would be her fourth child, and she was thrilled by the prospect of finally returning to the work she loves. But the topic of abortion—and certainly not the word "abortion"—hardly comes up. "Should we be having the other discussion? It's your decision, Lisa, whatever is best for you. That's what I want," Herbert tells her. Lisa replies, "I really appreciate you saying that. I thought about it, but I can't. I mean, I'm really grateful that I have that option but I just need to wrap my head around this new reality. I will."
This isn't the Sex and the City cinematic universe's first unplanned pregnancy. In the original series, Miranda discloses her unplanned pregnancy and her immediate decision to have an abortion. She puts it in admirably simple terms: "I'm not having it… This is not in my plans right now." Samantha immediately volunteers that she's had two abortions herself, while Carrie—a little more tentatively—shares that she had one in her twenties. Carrie accompanies Miranda to the abortion clinic, but Miranda ultimately changes her mind, and thus, today, we have her hell-raising teenage son Brady.
It's not lost on fans that AJLT's approach to unwanted pregnancy this week feels like something of a regression compared to the commendably open conversations Carrie, Miranda, and Samantha had about abortion two decades ago. Lisa and Herbert allude to the possibility of her getting an abortion, but they don't even say the word aloud. No screen-time is given to her even considering the option. This may be true to many people's lived experiences—it's entirely possible to support the right to an abortion and be determined to not have one yourself. Still, it's a bit eyebrow-raising for the show to depict Lisa as deeply upset and clear-eyed about not wanting the pregnancy without once offering real consideration to abortion.
As Steph Herold, who researches media representation of abortion at the University of California, San Francisco, put it: "It's wild that an ep from 2001 is more progressive than an [episode] from 2023." Where the word "abortion" comes up within five minutes of the aforementioned Sex and the City episode, in this week's AJLT, Herold notes that "they barely mention abortion (& just w/euphemisms)," because "[Lisa] 'can't' even consider it"—only for the episode to end with "a convenient miscarriage."
"What a 90s retro abortion plotline," Herold wrote.
SATC's 2001 discussion of abortion was imperfect to say the least. I vividly remember Aidan's bizarre, MRA-adjacent rant about men's rights to be fathers or have a say in whether someone has an abortion. But the fact that the series' main characters shared their abortion stories in such clear terms was progressive and important, nonetheless. In this week's AJLT, the fact that dismissal and hushed, ashamed euphemisms have replaced open and frank conversation—at a time when on-screen representation of productive conversations about bodily autonomy would be especially powerful—is just disappointing.