What's in a gnome? According to the world of British gardening, that which we call a rose by any other gnome would NOT smell as sweet (ok, I will stop now).
The New York Times reports that the Royal Horticultural Society has lifted their immemorial ban on the common garden gnome — for this year only — at the Chelsea Flower Show, and now everyone's knickers are all in a twist. This is because the Chelsea Flower Show is "the horticultural society's most important and influential occasion in this gardening-mad country," drawing the nation's top gardeners and garden enthusiasts — some of whom can spend up to hundreds of thousands of dollars creating entire gardens to compete for gardening titles. Predictably, garden gnomes do not fit into the traditional aesthetic.
"Gnomes?" gasped on anonymous exhibitor when asked about the diminutive plaster menaces. "I can't comment on gnomes." Why not? Maybe because the bearded sprites are nature's little anarchists. According to gardening celebrity Laurence Llewelyn-Bowen, "Gnomes are very symbolic in English gardens as an anti-class statement."
Gnomophobia is thus the result of a Marxist class struggle. Further evidence of this: the owners of large estates in Cornwall apparently have a "humorous habit" of hiding gnomes on one another's properties (#OccupyMyNeighborsCastleWithGnomes). In a sick inversion of the French Revolution, the penalties for gnomes are severe: "Once, someone decapitated one of our gnomes," notes one estate owner.
So, just how gnomophobic were the festivities? One renowned landscape architect "hid a gnome in a tree in his display, lost his nerve, and took it out again before the judges could see it." Two other guests, a pair of brothers, showed up in gnome outfits they'd purchased on eBay and homemade false beards, only to find no gnome supporters in sight. Said the elder brother, 50, "We thought there'd be loads of people dressed as gnomes."
G/O Media may get a commission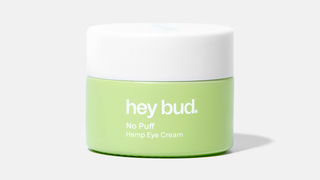 15% off
Hey Bud - No Puff Hemp Eye Cream
No, sir. Just GNOMES DRESSED AS PEOPLE. The horticultural society gave a group of gnomes to celebrities to decorate in human garb (Sir Elton John put his in sunglasses with pink rhinestones, because duh). These erstwhile class warriors will be auctioned off to raise money in order to... teach children about gardening. And so the cycle continues. Sigh.
"Common Gnomes Pop Up at Rarefied Flower Show, to Horror of Many" [NYT]
Image via Ben Stansall/AFP/Getty Images