Skinnydipping is one of life's great free pleasures.
Even the New York Times thinks so:
Skinny-dipping, a hot-weather pastime that calls to mind rustic swimming holes and summer camp double dares, has always been strongly correlated with extreme heat and an available body of water. But it is not often associated with New York's miles of densely populated shoreline.

Here, an extra level of daring — or, possibly, intoxication — is needed to make the dive. Naked swimmers act quickly under cover of darkness or in permissive pockets of the city: at the gay-friendly patch of Riis beach in the Rockaways or at a marina on City Island where Ivy League sailing teams sometimes bare all. [...]

At the beach in Jacob Riis Park, Tony Husereau, a 37-year-old antiques restorer from Richmond Hill, Queens, said his upbringing on a Missouri cattle ranch could explain his desire to go nude into the water, despite the hundreds of onlookers. "With my family, we would throw our clothes off and jump in the pond," Mr. Husereau said.
Husereau says there's something "kind of spiritual" about skinnydipping. I think he's right. Skinnydipping is that rare transgression against everyday mores that is too small to cause anyone any real harm and yet big enough to remind you that you're alive. It's fun. It's free. And it feels freeing: the nudity of it can be unconnected to sex, which is a pleasure in itself — skinnydipping has a kind of gorgeous, childlike naïveté to it. It's not necessarily any more "sexy" than swimming clothed.
To be fair, I'm not talking about skinnydipping just anywhere, anytime. There are a lot of contexts where it wouldn't be appropriate at all — during the day on a crowded beach, for example, or any other time you're around strangers who may not want to see your tanlined ass in full moon as you sprint into the waves. You have to exercise good judgment. But a few friends stripping off to jump in at a deserted beach or lake after dark doesn't hurt anyone. It harms nobody's social contract. A discreet skinnydip is a lot less deleterious to others' enjoyment of a public space than, say, playing a loud boombox on a crowded beach at noon. Or getting drunk there.
And I love that even the professional killjoys in the N.Y.P.D. seem to turn a blind eye to skinny dipping. It's rarely charged as an offense; sometimes junior officers are even assigned the nighttime beach beat because their superiors find the rookies' embarrassment about confronting skinnydippers funny. ("They'll just come right up and start talking, get real close, telling the officer how good he looks in uniform," says Sgt. Grant Arthur of the United States Park Police. "Nothing bad — it's kind of funny. We put the new guys down there, and it'll kind of catch them off guard.")
After the lifeguards have gone home and the sun has set, after the twilight beachcombers and the last of the families have packed up and gone home, when the surf gleams in the moonlight, why shouldn't you strip off and jump in? I'm not sure how it started, but it's been an annual tradition among my friends for as long as we've been going to the beach outside New York City.
G/O Media may get a commission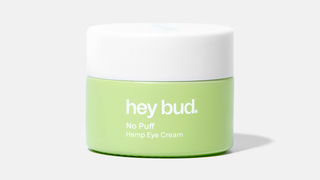 15% off
Hey Bud - No Puff Hemp Eye Cream
If you live on the East Coast, right now is just about the perfect time for it, too: the water temperature is perfect, and the jellyfish won't start arriving for another month or so. Under cover of darkness, you can swim out past the waves, lie back like a starfish, and just float in that top current of water, the one that's been warmed by the sun all day, and look up at the stars. There's really nothing like it.