Last December, Paper featured Kim Kardashian and her butt in their now infamous Break the Internet issue. This time, the magazine decided to go a different route, choosing four different subjects to grace their Fandemonium edition, including Neville Jacobs, Marc Jacob's dog, and ironically, Paris Hilton, the former reality star, current globetrotting DJ and Kardashian's ex-friend and former boss. But the real magic of this issue lies inside the pages, where John Stamos's bare ass awaits.

As Stamos's number one fan, I knew it was my responsibility to give a fair and unbiased review of his literal man buns. I closed my eyes, took a deep breath, and put on my monocle to closely inspect those Grecian buttocks. Before I delve deep into my analysis, though, I must begin with a short tale depicting the origins of my obsession.
Like many children of the '80s, I first caught sight of Stamos as Blackie Parrish on General Hospital (I watched many soaps in my youth) and of course, in his career-defining role as Uncle Jesse in Full House. While appreciating his leather vests, carefully-styled mullet and seductive performance of the Beach Boys song "Forever," at the time my more ardent crushes had been reserved for the likes of Eddie Furlong and Jonathan Brandis.
It wasn't until many years later, during an episode of MTV's House of Style, that the flames of my desire for Stamos would finally become fanned. In the episode, Dave Navarro explains to Rebecca Romjin (Stamos's now-ex-wife) how he worships Stamos's good hair. He shows off a framed photo of Stamos he keeps surrounded by candles and a feather boa. At some point, the feather boa catches on fire. Something about that moment sparked something deep inside my heart, and, my loins. And the rest, as they say, is history.
G/O Media may get a commission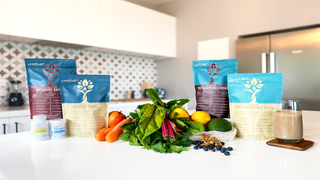 In Paper's black and white photo, shot by Brian Bowen Smith, Stamos is Porky Piggin' it, wearing only a shirt with no pants. There is a knowing look in his eyes, which are as blue as the Caribbean sea. It is mischievous, yet kind. Intense, yet peaceful. And then there is his ass. All in all, Stamos's butt looks good. There is no sign of a random tattoo (sadly) or a hidden birthmark. It is a fine rear, especially considering the age of which it is. Bobby Finger said it was definitely the ass of an AARP member (don't think I didn't notice that, Bobby). But he's right, it is the ass of an AARP member. Stamos is 52 years old—but the ass don't look senior citizen. Stamos has aged like a fine wine, in a way that is almost supernatural.

With those good genes bestowed to him by his Greek ancestors, It's easy not to think about his age until you compare him to someone else, as evidenced by Stamos's retweet of a side-by-side photo of him and Wilford Brimley, aged 51 in 1985.


It's no surprise Stamos was selected for Paper's Fandemonium issue. With the success of Grandfathered and the upcoming Fuller House, he's experiencing somewhat of a second Renaissance. As one of the first celebrities who fully embraced social media, he knows what his fans what and gives it to them. Stamos is a man of the people.

I do like to imagine how that photoshoot went. A behind-the-scenes video shows Stamos dressed in a nice suit, posing outside. But Paper was smart; they knew this was the only ass that could follow after Kim Kardashian's. If only I could have known when and where that photoshoot was taking place. I would have disguised myself as a garden bush with sunglasses and placed myself on the other side of that window, or trained myself to successfully astral project into that moment. I would watch over the photoshoot like a ghost, haunting him, as I like to do on social media.
Paper describes their process for the issue: "We gathered our editorial team, removed all boundaries and asked the question: what would make fans go nuts?" As I sip my mug emblazoned with a (Photoshopped) portrait of me with my king, I whisper a thank you to the fine folks at Paper magazine for their gift. For they understand what makes me, the number one fan of John Stamos, truly go nuts.
---
Contact the author at marie.lodi@jezebel.com.
Images via Marie Lodi, Twitter, Paper Magazine.