Empire's debut season frequently featured its star player Cookie Lyon in furs, mammal prints and flashy post-prison vintage. Coupled with the other characters and their glitzy music industry gear, the show has become a vehicle for the most exorbitant and sometimes gaudy fashions.
Wardrobe wise, all the characters had some growing up to do. Think, for example, of how Hakeem and his young looking outfits perfectly matched his mentality, but now that he wants to be a "mogul" his style is maturing. Cookie's transformation has meanwhile found her in more Dolce & Gabbana, Fendi, Versace and Louboutins, still in line with her business-hood aesthetic.
After working the pilot episode, Empire stylist Paolo Nieddu is back for season 2, this time having the benefit of designers like Gucci and Moschino clawing to get their looks featured—particularly on Cookie. Here's a lightly edited interview with Nieddu on the show's fashion evolution, his styling challenges and Cookie's gloriously ridiculous wardrobe.
The biggest difference this season, styling wise, is that designers are now dying to have their clothes featured. Tell me about your process of selecting outfits and weeding out what should and shouldn't be worn.
I reach out to designers that I have relationships with and I'll look at the collection, think of what the scene is and what I think would look good on Taraji and others, and that's how I make my selects. Then I go from there with them to say, "Okay, what's available? Is this in town this week? Is this something that I can get my hands on?" That's the logistics. Moschino, Fendi, Altuzarra, Versace, Balmain, they have all been really helpful.
G/O Media may get a commission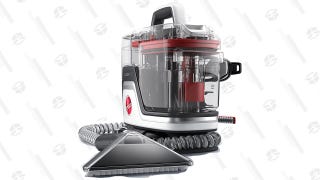 Save $10
Hoover CleanSlate Plus Carpet & Upholstery Cleaner
What notes or critiques from the first season's wardrobe were you focused on changing?
Obviously, when a new stylist comes, there's always a different sensibility. I definitely wanted to change Jamal a little bit. He was one that I wanted to still keep the opposite of Hakeem. But it was his style that I wanted to make a bit more masculine sexy. Everybody kinda maintains their sensibility from the pilot through the season. So having set that tone, I felt like it had been there. It was just about heightening them and having a more evolved sense.
Right, Jamal wears a lot of R&B singer V-necks and he's also sometimes like a sexy monk.
[Laughs] He's done some collarless shirts. We keep him kind of body-con, and his color palette is very quiet.
White and muted colors.

A little bit more earth tones with him, less patterns.
Whereas, Hakeem is glossy. Since he dresses more like the younger generation, have streetwear brands approached you?

Not anybody in particular. With him, I definitely try to do higher end and much more designer streetwear, which I think is appropriate for his character. I always say Empire is a riches-to-riches story. These kids have grown up with Lucious as their father, so they grew up with a private plane, sort of in the same way that Blue Ivy or North West is growing up, sitting on their parent's lap in Paris. So they're less in tune to streetwear and more in tune to runway.
The first season was all about Cookie's furs and old '90s gear. What was the plan for how to evolve her wardrobe now that she's out of prison and re-acclimated to society?
Yeah, she's a businesswoman. She's a savvy woman and she's paying attention and would have the types of people around her that are helping her when she's going into stores. She has the money. She's in the music industry, so for me it was important that she can't be dated.
She's wearing Louboutins, Dolce & Gabbana...
Yeah, the polka dot blouse, which I love, when she pulled the tablecloth. The whole outfit, you couldn't see it when they filmed it. It was so pretty. She had a sequin skirt on with ruffles and Dolce shoes with red crystals on them. That's why I made that one of the Cookie's Closets, so people could see the whole look.
Are there scenes where you'll be like, "Show the outfit in this shot!"? Are you on set?
Our DP will make fun of me 'cause I'll come up and be like, "Make sure you get the shoe! Make sure you get the shoe!" And he's like, "Yeah, yeah, we're getting it." I love to show the whole outfit if we can.
That gold chain top that Cookie wore got Lil Kim comparisons. What was the reasoning behind that outfit selection?
It was from the designers The Blonds. They did stuff for Nicki Minaj's tour and the VMAs. I've known them for over 10 years and they dress for entertainment. Their clothes are so bold and fun. I was dying to use something of theirs and they sent me that piece. I had actually pulled it for the Empire poster shoot when we were doing the promotional pictures and Taraji saw it and she loved it. It didn't end up working out for the photo shoot, so I remembered it and when we found out about this one scene where she announces Hakeem in Leviticus, I was like, Oh this top is perfect for her to come in wearing. It was sort of inspired by Mad Max. It was like a hip-hop Mad Max.
Will we see any of the first-season furs recycled? I know they were mostly borrowed vintage pieces.
Yeah, we won't see any of those same furs. I'm working with people for some new ones. We just got into using coats [in the next few episodes]. She's worn a couple. I did keep the coat from the pilot 'cause I loved it so much—the Gucci trench coat when she first comes into Lucious' office. I like to have some things like that filter through where it's like, you pull out something that you've had for a few years. To keep it real.
What type of feedback have you gotten from the fashion community and peers as far as the styling? Any constructive criticism?
So far, everybody tells me that they love it. The fashion people that I work with that are supporters of the show and people that I have relationships with, they love Cookie, they love the boys, they love the style. It's all been good. Obviously, with clothing, not everybody's gonna love everything and that's what's fun about it. Some people are like, Ugh, I would never wear that. Or, I think that's ugly. And what some people think is bad, some people don't. That's just the nature of the beast. I don't always like every dress that comes down the runway.
With a budget of $45,000, does that allow you enough freedom to pick and choose? Is there a better variety of stores and options available?
Not necessarily. We all know how expensive clothes are, even when you're in stores that aren't designer. Look at brands like J. Crew. Clothes cost a lot of money. It's not like we have the time to be calling everybody and saying, "Okay, we think we need a navy blue pant. Can you send us one?" And then we wait for it to come. I mean, budgets can always be bigger. Let's just put it that way. [Laughs] There's never enough money.
Stylists always say that. As far as the performance outfits like the Blank Panther looks that Jamal and Hakeem wore, is there a different approach?
Definitely. Once we get the choreography and we know the song and then we see what the set's gonna be, I talk to Jussie and Yazz about my idea. And then I'll talk to them about their idea and what they feel comfortable moving in, 'cause all that plays into how it's gonna be shot. I definitely always look at the performances as completely separate to the style of their normal clothes.
---
Contact the author at clover@jezebel.com.
Images via Fox