Jeremy Meeks, aka Hot Felon or Prison Bae, became a source of madness in 2014 when his severely sexy mugshot hit the internet. Last we heard, he had dreams of launching a modeling career. Where is he?
Still in federal custody. But non-prison fame is still a possibility, as we learn in this New York Mag piece, "The Felon Is Hot." That the story focuses on Prison Bae from the perspective of his obnoxious talent agent Jim Jordan exemplifies how much Meeks' life right now is about other people controlling and owning him, whether it's the prison system, entertainment world or the internet.
Sad news: Meeks won't be out until July 7. But New York managed to score an interview with him by way of that agent.
The story begins and ends with Jordan, who's lounging poolside in his Calabasas mansion. He'll be responsible for shaping whatever becomes of Prison Bae, who's so far gotten requests for club promo, porn and reality TV. "I don't want Jeremy just going on shows and being like, 'Hey, I'm a prisoner,'" says Jordan.
G/O Media may get a commission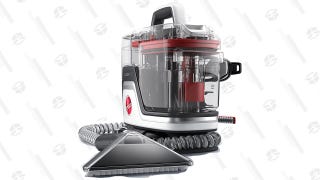 Save $10
Hoover CleanSlate Plus Carpet & Upholstery Cleaner
Writer Jessica Pressler describes the agent, 55, as "tanned, with bleached-blond hair that swoops up and out in a way that might cause people his age to recall the band A Flock of Seagulls." He seems like a typical Hollywood shark. When Jordan attempts to FaceTime Meeks in prison, the conversation is light:

"'Sup, buhhdddy," Jordan says, as FaceTime summons the image of a striking young man whose cheekbones and ice-blue eyes give off the impression of intensity even through the fuzzy connection. Jordan grins — a flash of white teeth that might, if the light up here were not so golden, look predatory. "How you doing today?"

"It's all right!" the head, which belongs to Jeremy Meeks, nods. "I'm doing pretty good!"
Prison Bae's popularity grew to the point that a news station interviewed him inside San Joaquin County jail. Not much is known about him, except that he's 30, from Stockton, California, and used to be a forklift operator.
Pressler reveals that his sister Leanna Rominger took custody of him in place of their mom, who was frequently in jail. Meeks dropped out of school in 10th grade and left home, stole a car at 18 and spent two years in prison. He later did 71 days on separate forgery charges. He's married to a nurse named Melissa Curl and has a son with her.
Pressler goes on to outline the details of the arrest that led to Meeks' notorious mugshot. Meeks was apprehended as he drove up to his Stockton home, which police were about to raid. Cops found a gun in his trunk. Describing the mugshot photo as "a virtual work of art," Pressler writes:
Later he would tell Jordan it was the realization that he was well and truly screwed that caused him, when he faced the camera for his mug shot, to pout ever so slightly, and cock his head in a way that not only emphasized his cheekbones but also played down the gang-related tattoos on his neck while rendering almost poignant the teardrop inked just below his left eye.
So what about Jeremy? What is the plan for him? Jordan tries to share some good news with Meeks over the phone, "clutching a list that includes names like Steven Klein, Bruce Weber, and Ryan Seacrest." He's a real character. He works under White Cross Management and claims to have discovered Gigi Hadid:
"You know, I discovered Gigi Hadid," says Jordan, who has a Trumpian ability to take any thread and spin it into a self-affirming tale of questionable authenticity. He'd spotted Hadid on the beach, he says, with a friend who knew her parents, and taken some pictures, but it didn't work out. "But Mohamed," her father, "is all like, 'You discovered Gigi!' " he finishes. "I'm not out in the world saying, 'I discovered Gigi.' But that's what happened."
Jordan also says:
"Some people are like, I want to go to Haiti, and I want to go to Thailand, and I want to get orphans, and I want to get prostitutes off the street. I realized that my heart was to help beautiful people. This is my mission."
Jordan also cries at one point. Jordan is a weird dude.
Everyone—on the internet—simply sees Meeks as a potentially successful model. "He's going to walk in the shows in Paris," says Jordan. Jordan asks Meeks if he'd still like to get rid of his tattoos, and Meeks says yes, as soon as possible.
It's hard to tell if Meeks will transcend his debut as Prison Bae. But we'll see in a couple months.