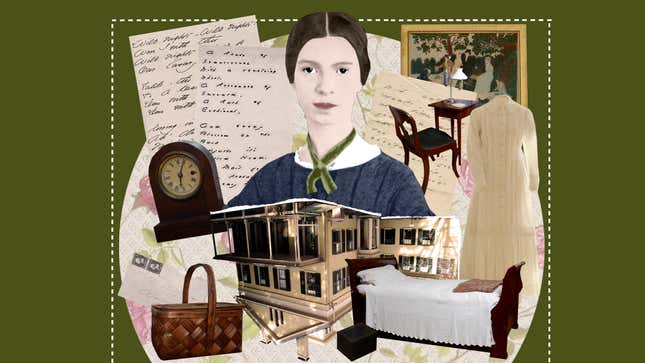 "Sweet hours have perished here;
This is a mighty room"
You can visit the café in Edinburgh where J.K. Rowling supposedly sat penning Harry Potter, tour Ernest Hemingway's house in Key West, still crawling with cats, or see William Faulkner's Rowan Oak, a Mississippi home flanked by cedar trees. But few writers have written their entire life's work—nearly 1,800 poems, in Emily Dickinson's case—in just one room.
Betsy Wolfe Reveals the 'Most Embarrassing Thing That's Ever Happened' to Her on Stage
For one hundred dollars an hour, you can rent the second-floor bedroom in Amherst, Massachusetts where Dickinson spent a huge portion of her life. The Dickinson Homestead on Main Street was purchased by the Parke family in 1916, and sold to the Trustees of Amherst College in 1965 (it quickly became open for public tours). After twentieth-century wallpaper and floorboards from Dickinson's room were removed, clues to the original floor coverings and interior design during the Dickinsons' occupancy were discovered.
In 2003, Amherst College acquired "The Evergreens," a dwelling directly next-door to Emily's house, once inhabited by her brother Austin. The buildings were merged to create the Emily Dickinson Museum. In further attempts at historical accuracy, the two-year restoration of Dickinson's specific room was completed in 2015. Although the Museum has been visited by thousands every year—eager to peer inside the eminent poet's room on the guided tour—this is the first time her chamber has actually been rentable.
As a girl, Dickinson was sociable and gay. She attended school, played piano, and did normal kid things, giving no hints of impending misanthropy. By her thirties, she was serious about writing. She began living in increasing seclusion from society, though maintaining lengthy letter correspondences with friends and close relationships with her family (who also lived on the property—so she was technically never alone). By the time she reached forty, Dickinson hid from houseguests she had previously received, and attended to the outside world only in her garden and her verse.
It's from her bedroom that Dickinson composed everything. "Dickinson's genius always kept a fixed address," Dan Chiasson wrote in a December 2016 issue of the New Yorker. "She was a scholar of passing time, and the big house on Main Street was the best place to study it." The room has pink-flowered wallpaper (based on 19th-century wallpaper fragments found during the restoration), lace curtains, a small single bed, a chamber pot, a writing desk with ink and convincingly scribbled-upon paper, six tattered books, a stove, a face-washing basin, a picnic basket, a rocking chair, and a clock forevermore reading 6:05—a time that could indicate dawn, when the birds rise, or the golden-soaked dusk of summer. There is a headless mannequin at the center of the room, cloaked in a white dress, as popular legend stipulates Dickinson only wore white. (This theory hasn't been proven; though her one surviving dress is white, and friends and townsfolk have described her garbed in the color, she makes no reference to such a preference in her work). The dress is a facsimile, and the original is kept at the local historical society.
If you "rent" her sun-flooded corner room now, you can bring along a laptop or pencil and paper, and stay for up to two hours—though you can't close the door behind you, as the cherished hope of many a pervert is probably to drop trou inside. The bed and stove alone are items originally kept by Dickinson in the mid-1800's, though there are exact reproductions of the other furniture, like a writing table and bureau, and everything is arranged so as to imitate her tenure. The genuine writing stand and bureau both reside at Harvard (those bastards get everything); the desk is tiny, barely 18 inches across, and probably more appropriate for a nightstand than for scribbling rhyme. The bureau is one of the places where hundreds of Dickinson's poems were found stashed after her death. The room's authenticity is only marred by two brazenly modern lamps and a folding table where guests are meant to sit and feel inspired. You can't touch anything— and there is a small, polite rope barring you from approaching the bed.
All four windows look onto Main Street, once and still now bustling with life. Dickinson observed that remotely. The view has changed a bit since she last gazed out; I noticed rows of parking meters, a UPS truck, a parade of school buses, and an American flag curling in the wind. I considered what Dickinson would think of such things. What of climate change? Of Twitter? Of Donald Trump?
There was also a dead ladybug on Dickinson's windowsill when I was there. It was funny to see—a personification of femininity and good luck—almost as though the Museum staff had placed it. Dickinson would have written a verse about the bug, so often noting birds, bees, and snakes in her work. In one poem, she refers to a web-spinning spider as an unemployed artist, a "neglected son of genius."

---
I was obsessed with Dickinson as a kid. In fourth grade, everyone dressed up like an historical figure for a school assignment, and I went as Emily with an austere bun and long skirt. My mom was impressed by my budding literary interest, though my other role model that year was Drew Barrymore. I loved Dickinson's accessible, jerky rhyme schemes, her overuse of emphatic dashes, her rumination on nature's simple joys and life's little routines. I loved that she stayed inside her house, reading and writing and imagining. Most introverts can identify with those qualities, I'm sure; anyone who prefers their own company to that of others, or needs frequent respite from the efforts of socializing. Most impressively, Dickinson's poems made sense to a nine-year-old—not those about death, especially—but those about the outside, natural world and the inner, brainier one.
Eventually I stopped thinking Dickinson was cool. As I aged, I felt embarrassed by her clandestine qualities. By sixteen, I wanted grander, more romantic poetry about love and sex, as I started having some form of those things myself. I was reading work by men I suspected really lived life—Pablo Neruda and Frank O'Hara and Allen Ginsberg. I was annoyed by Dickinson's strange punctuation (so many dashes! Random capitalization!) and odd rhymes, which her mentor Thomas Wentworth Higginson called "spasmodic." Her poems sometimes didn't rhyme right at all. She seemed fond of sucking you into a rhythm, then spitting you out without resolving it.
I'm twenty-eight now, and have come back to appreciating Dickinson. People always imagine her solemn and celibate—but they're wrong, because she did fall in tumultuous love, apparently more than once. At least one time was unrequited, as research and wounded poetry imply; but there was also a requited affair with an elderly man and friend of her father, Judge Otis Lord, whom she had known all her life. Many of Dickinson's verses are steeped in eroticism, though in phrasing I didn't understand as a teenager ("Rowing in Eden/ Ah - the Sea!/ Might I but moor – tonight/ In thee!")
Comparatively, her words are chaste. But below, they simmer with opinion, perspective, agony, lust, dolor. Twin companions Death and Eternity elbowed their way into just about everything she composed. Maybe no man could handle such intensity; either way, she didn't appear eager to marry or bear children. "She rose to his requirement, dropped/ The playthings of her life/ To take the honorable work/ Of woman and of wife," one of her verses lamented. Maurice Sendak, writer of dark and ferocious children's books, once spoke about his apparent attraction to Dickinson's autonomous spirit: "I have a little tiny Emily Dickinson so big that I carry in my pocket everywhere," Sendak said. "You just read three poems of Emily. She is so brave. She is so strong. She is such a sexy, passionate little woman. I feel better."
Health problems and heartbreak likely contributed to Dickinson's retreat from the world as she aged, though it's hard to be sure. Some people begin as shy children and get bolder—some, like Dickinson, do the opposite. I think I'm growing more fearful as I age, though I'm also more creatively powerful. Dickinson, too, began writing with fervor in her late twenties.
No one wants to hear about millennial pressures—we're the "me" generation—but I still feel sorry for us, because we can't really sit in our rooms and write like she did. Not if we want to be successful in our lifetimes. (Dickinson never was). Writers have to network, pitch, apply for day jobs, tweak resumes. Even novelists must sell themselves, finding publishers and niches to fill. You can't retreat to a bedroom. You are meant to go to college, study abroad, live in a big city at least once. It's terrifically exhausting.
---
Most people suspect they have a hole that needs filling by another person or a community of their own. But arguably, we are less ourselves when accompanied. We play-act each time we face the world. We keep some secret, dirty pieces hidden. We compromise and adapt, abandoning our personal needs and instincts. Dickinson lived on her own terms, away from prying minds.
Anthony Storr's famed Solitude: A Return to the Self makes a strong case for the connection between solitude and creativity. The late psychotherapist argues happiness isn't only to be found via personal relationships, but also and more importantly in our respective interests and work. By contrast, in a more dramatic seclusion than even Dickinson sought, the subject of Jon Krakauer's Into the Wild cast away the heavy arm of civilization, waved goodbye to friends and family, and walked into the Alaskan wilds to be alone. Right before Christopher McCandless' death, however, he jotted down five memorable words in a battered copy of Doctor Zhivago: "Happiness only real when shared."
I'd argue Dickinson did share herself, despite her miniature sphere, more than most of us do in a lifetime. Her limited existence was full. "The Brain — is wider than the Sky/ For — put them side by side/ The one the other will contain/ With ease — and You — beside," Dickinson wrote of the prodigious cosmos we carry within ourselves. Some writers explore the world; others explore the prickly forests of their own mind, the canyons of a bedroom, the landscape of a human face, the silence of a ladybug on a windowsill.
Anya Jaremko-Greenwold is a freelance culture writer for IndieWire, BOMB Magazine, The Atlantic, and more. Twitter: @anyajaremko.