If it wasn't clear already (it was), the weeks following the Weinstein revelations have proven beyond doubt that the entertainment industry has a sexual harassment problem, both in the high number of perpetrators and in the way that sexual harassment complaints are handled.
So how does an industry largely based around the sexualization and objectification of women fix a system that feels irreparably broken for victims of assault and harassment by powerful men? This week on DirtCast, we welcome Caroline Heldman, political scientist, Associate Professor of Politics at Occidental College, and representative for the Geena Davis Institute on Gender in Media to discuss the resources currently in place for survivors and what needs to be changed.
Heldman, who has personally experienced the backlash of accusing powerful men of sexual harassment after opening up about being harassed by Fox News's Bill O'Reilly and Eric Bolling, says the current options for victims are depressingly limited and ineffectual.
"Your employer, regardless of whatever state they're in, are required to have a clear complaint process for filing that doesn't make you go through your regular supervisor," Heldman explains of the current process for reporting sexual harassment. "They're also required to have a policy against retaliation, so even if they're so small to not have a human resources department, they are mandated to have not only a handbook, but a clear process within that handbook, and a mechanism that doesn't require you to go directly to your supervisor."
But, as Heldman notes, retaliation is commonplace and often, even in companies that have functioning HR departments. And such protective mechanisms aren't taken seriously, leading many victims feeling that they're ultimately safer not reporting their harassment.
G/O Media may get a commission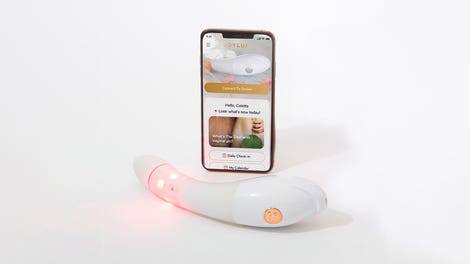 $50 Off
Joylux vFit Gold Device
She offers:
"There are options. If you experience something in the industry and you don't get the remedy you're looking for, you have legal options so you can contact your bar association or the National Employment Lawyers Association and they can put you in contact with legal resources. You can also file a complaint with your state's Fair Employment and Housing division and at the federal level, you can file a complaint with the Equal Employment Opportunity Commission. But at the end of the day, the options are probably that you need to get out of the situation, get some serious self care, probably therapy, certainly look into options elsewhere doing something similar. But at the end of the day, if this is an epidemic in the industry—which I believe it is—I think that the options are pretty terrible..."
---
DirtCast can be found on Apple Podcasts, Stitcher, Spotify, Google Play, and iHeart Media.

Our show is produced by Levi Sharpe. Mandana Mofidi is our Executive Director of Audio. Our theme music is by Stuart Wood. This episode was mixed by Jamie Collazzo. Listen to our politics podcast, Big Time Dicks, here.