Jezebel staffers must apologize. We didn't get it together in time to acquire this magnificent office building designed to look just like a giant Longaberger basket, and therefore we cannot turn it into a large workspace, event space, and destination experience for our readers. Boy, we really blew this one.
Curbed reports that after three years on the market, this beautiful and bizarre building—constructed to be the corporate home of the Longaberger Company, designed to look just like one of their once wildly popular trademark maple wood baskets—has finally sold for $1.2 million and $800,000 in back taxes. (That's down significantly from the original list price of $7.5 million.)
A Bloomberg Businessweek piece on the difficulty of selling this thing opens with the memorable line: "'You might see it three or four miles off before you come around the bend, and then you say, "That is a basket. That is unquestionably a basket,"' said Tom Rochon." The Columbus Dispatch provides the backstory:
No one would have predicted more than 20 years ago, when company founder Dave Longaberger broke ground for the building, that it would come to this. After months of wrangling with architects who had created designs that were merely suggestive of a basket, the colorful, quotable Longaberger stormed out of a meeting, grabbed one of the company's medium-sized baskets, came back in, put it on the conference room table and said, "Make it look exactly like that," said Brenton Baker, director of communications and special initiatives and a longtime employee.
According to Atlas Obscura: "The basket building's handles, which collectively weight 150 tons, are heated during the winter to prevent ice from smashing the skylight's glass." "It's safe to say it's one of a kind," Jeff Hall, the mayor of Newark, Ohio, told the Dispatch. "It's truly unique."
The buyer is unfortunately not Gizmodo Media Group, Jezebel's parent company, but rather Coon Restoration, a firm specializing in retooling old buildings for new uses. "The Longaberger Basket Building is known all over the world, and I can't tell you how excited I am to preserve and renovate this building and put it back into use," said principal Steve Coon.
G/O Media may get a commission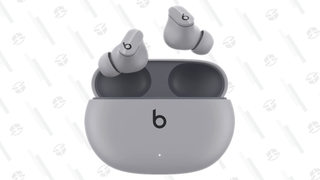 We really dropped the ball this time.